Indoor Storage Bench: The Much Needed Extra Space + It Looks Great!
Regardless of the size of your house or apartment, the space you have available IS limited and you should always use it as efficiently as possible if you want to achieve a balance between functionality and aesthetics. Versatile and multi-functional furniture is a growing trend in recent years since people want to have proper storage, bedding, sitting, and work space solutions without ending up with a home that look like an overcrowded warehouse.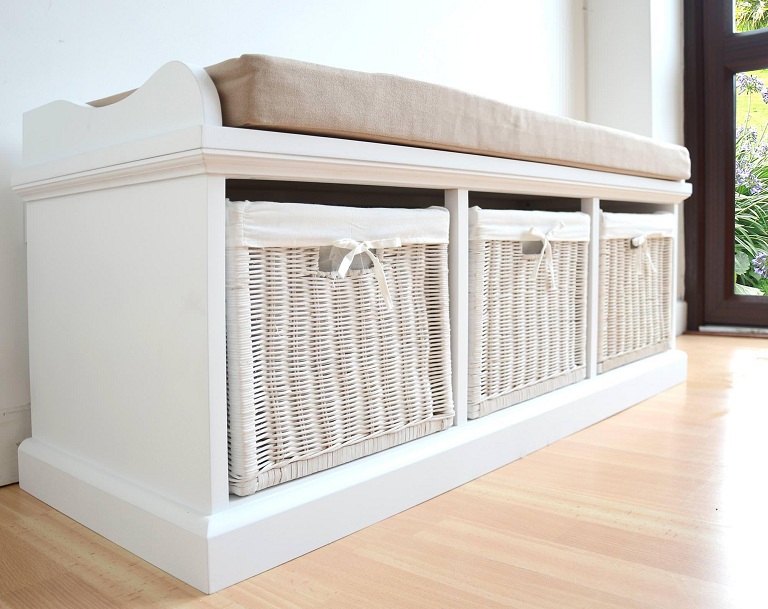 A perfect example for such furniture is the indoor storage bench seat. Storage benches have a distinctive compact and rectangular shape and with it you can keep all kinds of items such as shoes, blankets, toys, out of sight while providing comfortable seating.
Storage benches come in a variety of different shapes, sizes, materials, and may contain different features such as padded seats, armrests and backrests, different number and size of compartments, shelves, drawers, baskets and so on.
You know how convenient a bench in the park can be, when you have been running around all day and just want a moment to sit down and rest your feet. Well, an indoor storage bench seat is even more convenient. You can use it to add extra seating in the living room, in the bedroom for storing blankets, place it next to a window and stack it up with books for a great reading spot, in the entryway where u can sit and comfortably put your shoes on, and even combine it with a similar style dining table in the kitchen.
When choosing an indoor storage bench seat, make sure you consider the materials. The material is important not only because it determines the durability of the bench but it also needs to match the rest of your home décor, and of course, your personal preference. Choose between wood, metal, a combination of both, different finishes, and so on, to make sure your bench complements or even enhances your home space. Consider a lighter material such as wood if you want to move the bench around with ease.
Size is another thing you need to think through before choosing a bench. Take all the necessary measurements of the spot where you plan to place the bench. If you want to put it in the hallway, make sure it isn't too wide so that it obstructs traffic. Check if it is high enough for you to sit comfortably at the dining table, and also consider how many extra seats you need, and what you plan on storing in it.