3 Steps to Achieving Classic Modern Design
What is Modern Classic?
We've all seen photos of rooms from the past so tacky, that we wonder "how in the world did someone find this beautiful and comfortable for their home?" But we've also seen rooms that, although from a long time ago, look like something that's from our time, or simply out of any time. Well, one thing good design trends (or their combos) have in common is that they make spaces feel calm, clean, inviting, or simply put – pleasant.
Of course, not all combinations of styles will result in something beautiful to look at. Timelessness is not achieved easily; it's not something intentional, and it's definitely not simply putting different things together. Styles that linger on, for example, all produce high-quality furniture that's built to last, with designs with clear lines and alluring simplicity, without losing beauty and comfort, leaving nothing to be desired.
Modern classic interior design does precisely that: it creates a melding of the best of two worlds. This fusion of the minimalism and simplicity of the modernist school of thought, and the beauty and impressiveness of the features of classic designer furniture, is without a doubt the style that, when looked at by people in the future, will evoke a sense of relevance and timelessness.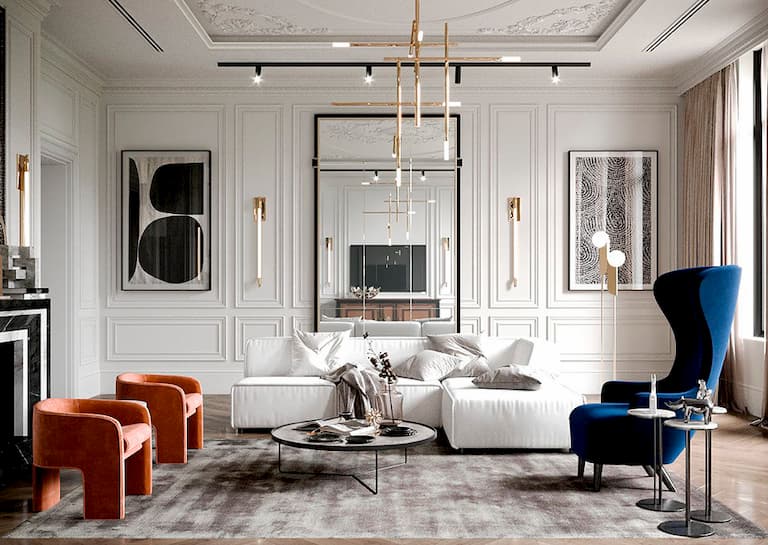 How to Achieve Classic Modern Design?
"Don't go overboard" should become a recurring theme in your endeavour to create a modern classical home, and it's important for all aspects of the process. Clutter is not only an enemy of your peace of mind, it's also an enemy of timeless interior design. Bringing modern and classic designs together in your home is really simple when you have this in mind, and what's more, though a treasure in itself, timelessness won't doesn't have to cost a fortune.
1. Furniture and Materials
If you wish your interior design to stay timeless, you can't incorporate current passing trends and crazes. Classic modern design shouldn't be overwhelming and shouldn't feel overly busy and cluttered. Just the opposite, it's clean and simple, and it reflects sophistication. If you can't tell if a trend is passing or here to stay, it's better to err on the side of caution.
In other words, incorporate furniture that's long lasting and considered a classic. Busy, overly decorated patterns and shapes, very colourful designs, oversized furniture don't play in favour of timelessness. Modern classic furniture should fit perfectly in your room, and it shouldn't take over all the attention.
To achieve timeless style in your home, incorporate natural materials, such as wood, bricks and stones, as well as natural fibres, like cotton. Modern classic design is all about simplicity, sophistication and elegance, so, again, with patterns, like with everything you incorporate in your room, this's what you should aim for. Choose classic designer furniture with patterns that can go well in this style are stripes, plaids, chickened, or anything simple and soft.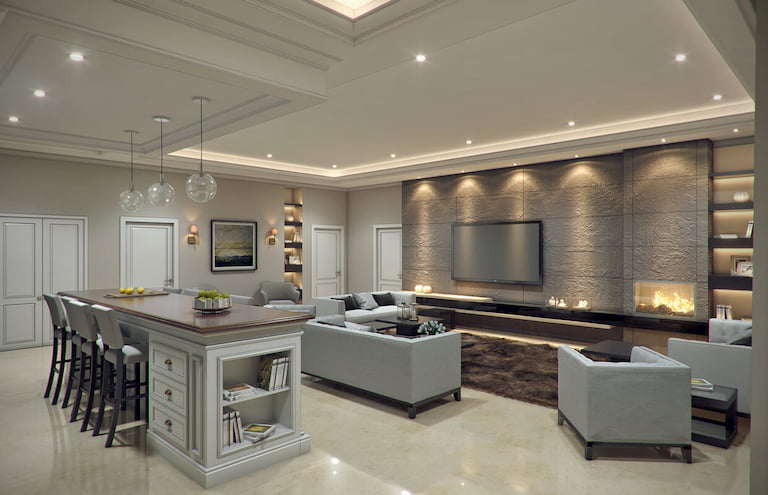 2. Colours
Colours play a crucial role in the attempt to achieve timeless style. Neutral, pale, colours (white, off-white, beige, greys) have the ability to open up the space, visually enlarging it, while forming a perfect backdrop for your artwork, your furniture, etc. But timeless style can also incorporate other classic colours like navy-blue, dark greens or black, complemented by the naturals.
White is a common colour for modern classic design, since it can highlight the timelessness of the architectural features and mouldings of your home.
You can also add a different colour or shade, by making a statement wall, but always with muted colour palettes. If you wish to incorporate a vivid colour, that's trendy, or you simply like at the moment, it's best to do so with accessories and accent pieces.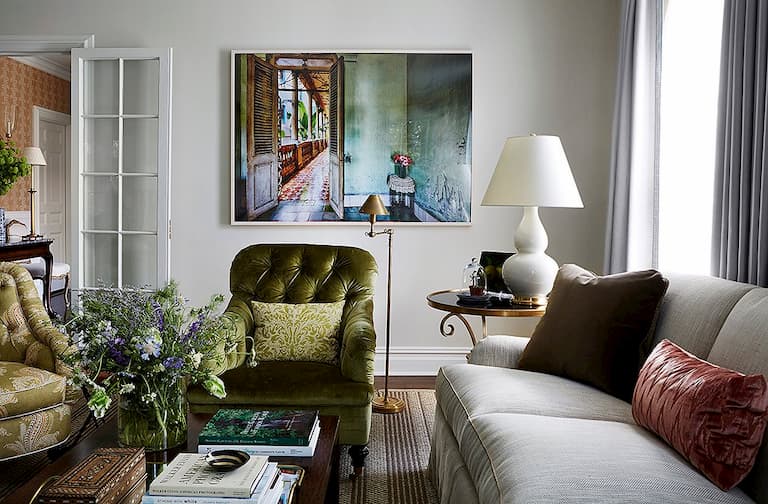 3. Accessories and Artwork
Accessories can add a lot to the timeless sense of your home. The combination of modern and classic styles gives many opportunities when it comes to the decór. Artwork, such as paintings, or statues, decorative elements like vases, cushions with geometric patterns; can all be accent pieces that will add to the uniqueness of your home. They can also give you a good opportunity for bringing in some drama to your room.
Accent pieces are also where you can add a colour that defers from the classical and modern styles. But, when it comes to adorning your home, moderation is very important, both in the number of accessories, and in the colours.
Same goes for patterns. It's the accessories where you can play with something bolder, like big geometrical shapes, but remember that less is more, so don't choose something too flashy and busy.