Bring Your Garden to Life – Steps to Choosing the Right Outdoor Lighting
There is nothing better than having a glass of wine while breathing in fresh air in the comfort of your patio, after a long work day. And if you have one, I bet that you have thought about redecorating it at least a couple of times while sitting there, only if you had the money to spare… But what many people fail to realize is that one functional design element can change the entire feel of your outdoor space without breaking your bank. Lighting!
Properly lighting your outdoor area will enable you to enjoy its perks after the sun has set and move around safely. Not to mention how it will help set the perfect ambiance for dining, socializing or relaxing on your own. Regardless of the style of your patio, there is a huge range of outdoor lights that you can choose from to make the most out of it. Here are some great tips to help you get started.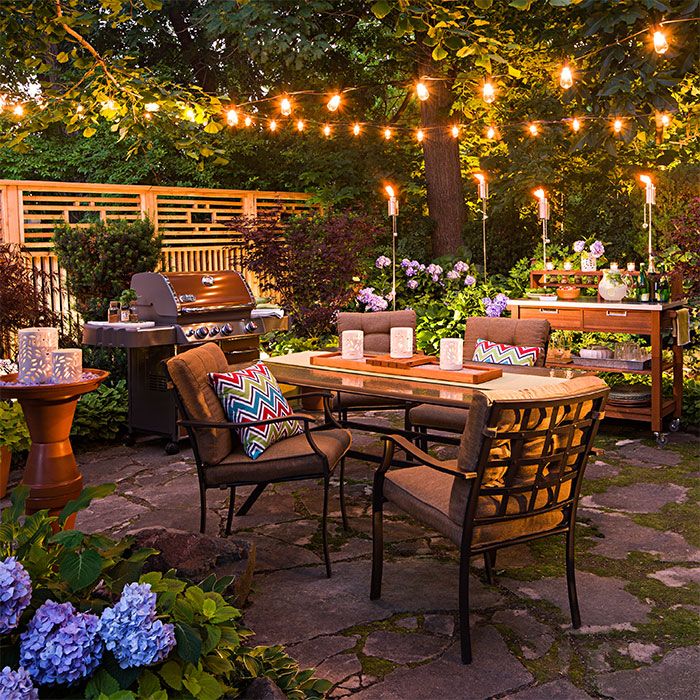 Consider the area – The type of the outdoor space that you need to illuminate should indicate the type of outdoor lights that will work best. For example, if you need to illuminate your garden path then your best choice is to opt for navigational lights. They provide the ideal light for safely walking around, as opposed to the decorative kind, which only cover a part of the path. Downlights need to be installed on a high level, such as the roof. Surface lights are usually installed into walls, steps, or for emphasizing the deck for improved visibility and security.
Portable or not portable – Think whether you will want to move your lights or you want them to always stay in the same place. This is almost always determined by the power source. If you want to adjust the amount of lighting based on your outdoor activities or you want to illuminate an area that is on a further distance from your house, then solar and battery-powered alternatives are your best choice. On the other hand, fixed outdoor lights need to be connected to the mains, which makes them the preferred choice for illuminating the area around the house.
Functional or atmospheric – The wide range of garden lights is divided into two main sections – models that are used to provide functionality, and models with more aesthetic characteristics. The first ones are usually fixed in one place providing you with the needed amount of light and are mainly used to illuminate the back or front garden, paths, alleyways or a driveway. Atmospheric lights, on the other hand, are more used to set up the mood and ambiance. They are the perfect choice when throwing dinners and hosting parties.