Crystal-Clear Vision on the Road: The Importance of OE-Spec Windscreen Wipers
Whether it's from airborne dust and sediment, organic debris like bugs and tree sap, or freeway non-exhaust emission (NEE) particles like brake dust and tyre particulates, a dirty windscreen is more than just an unpleasant distraction. Even thin layers of windscreen buildup can worsen the glare from sunshine or oncoming headlamps, leaving you with dangerously impaired vision while you're driving.
The steps you need to take to resolve the problem are simple: cleaning your windscreen thoroughly and regularly, and inspecting and replacing your wipers frequently. However, when you replace them, you don't just want any old pair of generic wipers. You want genuine OE-spec wiper blades that will clean your windscreen without streaking or scratching but aren't overly deterred by Australia's relentless heat and UV exposure.
Keep Your Vision Clear with New, OE-Spec Windscreen Wipers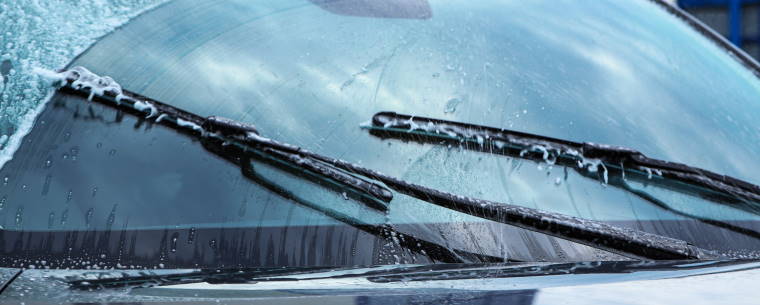 Let's be honest: while wipers may be the most ubiquitous consumable items on your vehicle, it only takes a light coating of dust and an equally light occasion of inclement weather to illustrate just how crucial they are. A sudden shower or change in humidity can mean an instant loss of visibility behind the wheel, which is why you want to invest in OE-spec window screen wiper blades, and ensure that they're in top condition at all times.
There's an unavoidable reality with all wiper blades: no matter which type of blade your vehicle comes equipped with or which type of replacement you buy, none of them are designed to last forever. That's why drivers should be committed to checking their window screen wipers every time they refuel, and proactively replacing them every 6 – 12 months. And even within that period, the unmistakable signs that they've reached the end of their useful lives and need to be replaced soon shouldn't be ignored, and can include:
Stuttering, or squeaking and chattering noises;
Excessive windscreen wiper streaking;
Worn or missing pieces along the leading edge of the blade;·
Bent blade framework; or,
Brittle or dried-out wiper blade bodies.
If you're not replacing your windscreen wiper blades on a regular schedule, then you need to do so. And the fact is, ensuring that your blades are in serviceable working order isn't just a matter of complying with roadworthiness guidelines. It's about your personal safety; and regardless of whether you're doing the big lap during the rainy season, or navigating the muddiest tracks you can find, regularly mounting a new pair of OE-spec windscreen wipers is going to let you see precisely where you're going.
OE-Spec Replacement Wipers Delivery Factory-Level Quality
You can buy high quality, OE-spec replacement windscreen wipers online for every model of car and truck sold in Australia. And unlike conventional aftermarket, or any of the other types of hybrid replacement windscreen wipers for sale, OE-spec wipers are an exact match for your vehicle's factory wipers in fit and performance, and host a range of key features that include:
Superior glass cleaning due to precise pressure distribution;
Evenly contoured pressure along the entire edge of the blade;
A heat-treated steel frame for greater stability;
Less surface friction for smoother and quieter operation; and,
Greater stability at high speeds and in gusty winds.
Make no mistake: OE-spec window screen wiper blades are manufactured using the exact same design standards as the ones your vehicle was delivered with, and they provide the exact same aerodynamic, low-profile durability as the originals. And even when it comes to materials there's no deviation, as OE-spec window wipers use only all-natural rubber.
See the Difference Between OE-Spec Rubber and Aftermarket Silicone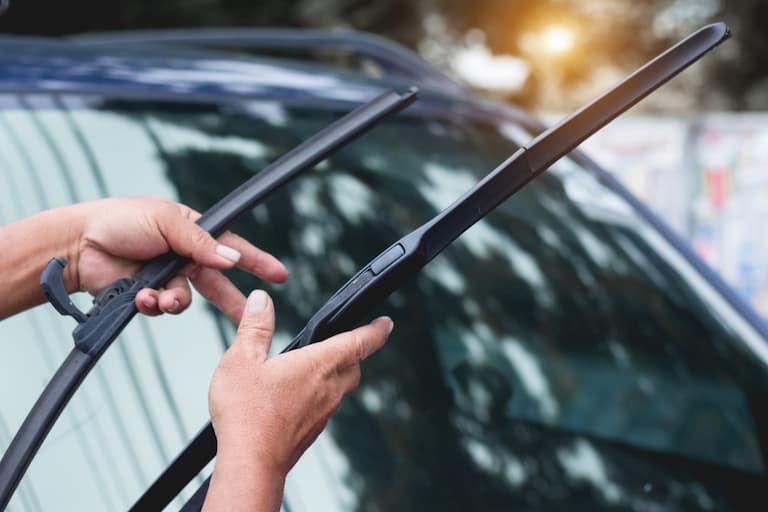 Although the majority of wiper blades for sale online are either blended or infused with silicone, high-resilience natural rubber is the choice for OE-spec blades. That's because natural vulcanized rubber offers a number of crucial advantages over silicone compounds that can have a major impact on wiper performance.
Temperature resilience. While silicone window wiper blades are reasonably capable of withstanding temperature extremes, they're not good with broad temperature variations like the kinds that typically occur in Australia.
Silicone hazes. If your windscreen is scratched, pitted, or has been degraded by abrasion, silicone car wiper blades are prone to drawing out and smearing the dirt and grime that's imbedded in those imperfections.
Overall durability. Rubber car window wipers are made from the same brutally-durable compound as your tyres, giving them an overwhelming advantage when it comes to heavy-duty all-season usage, especially if you do a lot of driving through windy conditions or off-roading.
It's possible too that the most obvious difference that you'll see between an OE-spec natural rubber windscreen wiper blade and an aftermarket silicone blade will be the price. Silicone wiper blades online are markedly more expensive than natural rubber variants. And while driver safety isn't something that should be reduced to a matter of dollars and cents, it does make buying OE-spec natural rubber car wiper blades online a more cost-effective option, especially if you're replacing your blades at reasonable 6 – 12 month intervals.
Simple Steps to Get the Longest Life From Your Replacement Wipers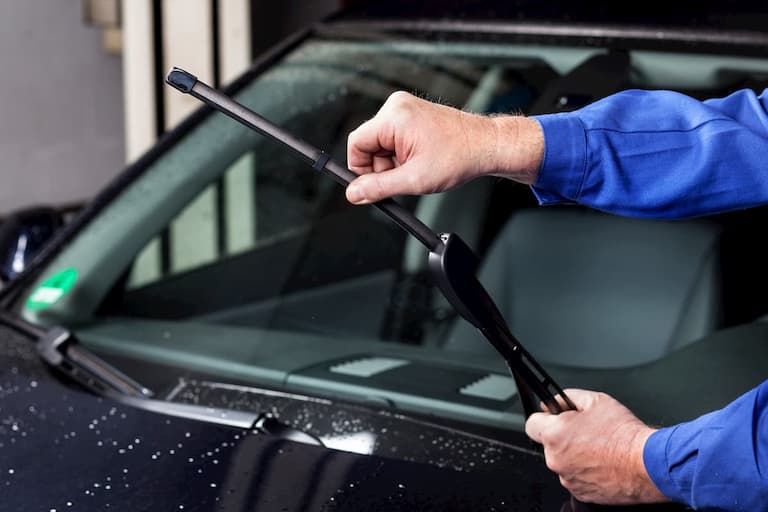 Although choosing to replace your wiper blades at 6 -12 month intervals is a smart, proactive move that protects your vision, it's only one step in an ongoing process. You still want to get the best, most effective service out of every set of windshield wipers until it's time to order your next set of replacements; that means following a few simple steps that can go a long way towards helping preserve them.
Clean your wipers regularly. Keeping your windshield wiper blades free from dirt and hardened grime not only prevents them from collecting abrasive sediment, but also protects your glass from becoming needlessly scratched.
Park in the shade. Because heat and UV exposure start to degrade car window blades the moment they're installed, you want to avoid parking in direct sunlight whenever possible.
Don't dry-wipe your windshield. The quickest way to shorten the life of your wiper blades is by using them on a dry windshield, so try to avoid turning them on if your glass isn't thoroughly wet.
At the end of the day, even if you're buying wipers on a 6 – 12 month replacement schedule, you still expect reliable performance out of them between replacement intervals. With only minimal vigilance, you can be confident that your OE-spec window wiper blade replacements will deliver the performance you want, and according to schedule.
The Final Word
No matter how you look at it, you need to be sure that your wiper blades are in top shape at all times. They need to be cleaned and inspected regularly; but more importantly, they need to be replaced well ahead of the moment that you're likely to realize that you need them the most.
That's why the simplest step for saving yourself from a load of possible cost and difficulty is to set up a schedule for replacing your window screen wiper blades, and sticking to it. And you can trust high-quality, OE-spec natural rubber wipers to be an investment in safety and convenience that you won't regret making.