Waterfall Bathroom Sink Taps: Create a Personal Oasis in One Step
Maybe you've never thought about it, but our days begin and end in the bathroom. Taking a shower, brushing your teeth, putting on makeup, preparing for bed… So, you could easily say that the bathroom is one of the most important rooms in the house. However, it's more than functionality that matters. The way your bathroom is put together aesthetically can play a big role in setting the tone for the rest of your home. Even minor accents can help step up your bathroom style and define the look and feel you want to get in one of the most frequently used rooms in the house.
Whether you're renovating an already existing bathroom or styling a new one, you don't have to spend a fortune on styling it right. If chosen carefully, the bathroom sink tap can easily become the focal point of the entire space. Apart from being a functional necessity, it's a design statement as well which has the power to embrace the overall look and feel of your bathroom space. Depending on your bathroom design and your personal preferences, you can choose from basin mixer taps to three-piece tap sets to waterfall bathroom sink taps and wall-mounted options to find what fits your bathroom style perfectly.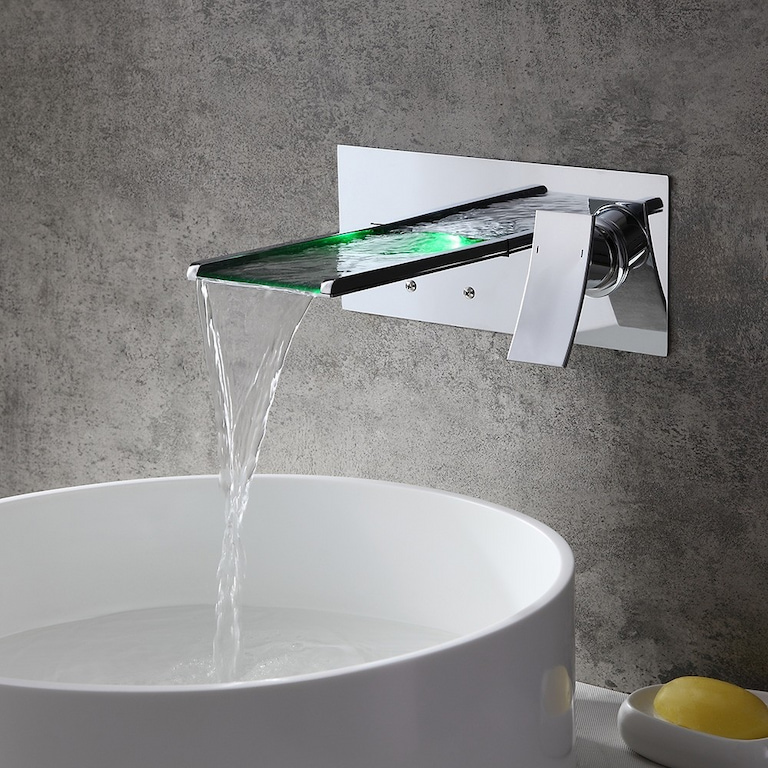 Choose Bathroom Taps Wisely
The idea is to find a sink tap that ticks all the boxes, enhances function and style and complements the look of your bathroom. There is a wide range of styles both modern and traditional, square or curved designs, waterfall or aerated spout and more. Basin taps are frequently used on a daily basis and investing in a quality bathroom sink tap pays off in the long term. If you're going for luxury and unique feel, choose waterfall bathroom sink taps, the latest design in the evolution of the traditional tap.
What Is a Waterfall Tap?
The waterfall faucet is the latest, most stylish solution that fits perfectly both classic and contemporary bathrooms. It's a type of mixer tap that offers a minimalistic, yet luxurious and artistic touch to every bathroom. Waterfall sink taps are available in a variety of width and sizes and usually are controlled by one easy-to-use handle.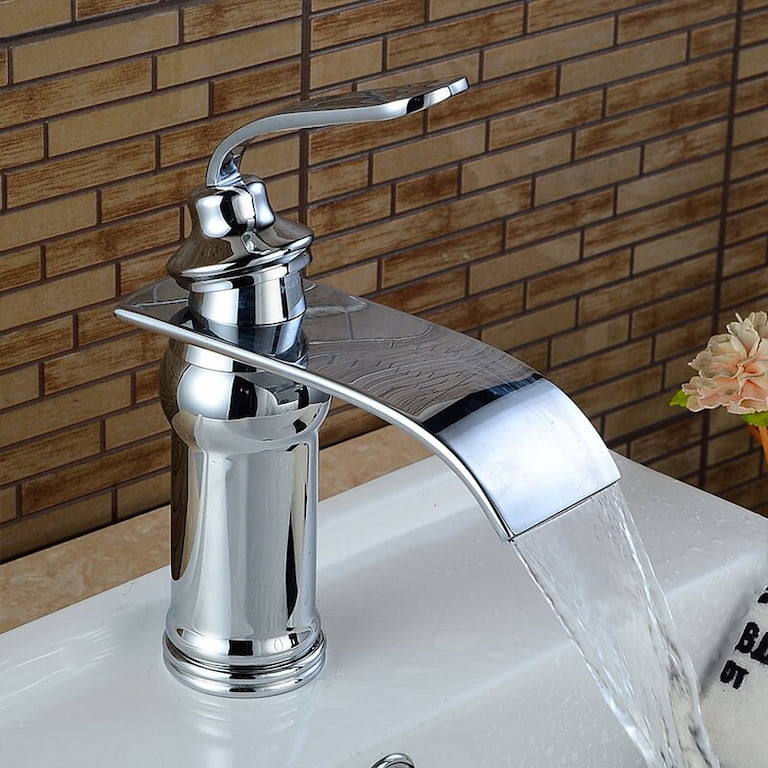 Waterfall taps combine the hot and cold water via a mixer for a more controlled temperature. They use an open spout to create an elegant cascade of water rather than a controlled stream. This type of bathroom taps sees water cascade from a single, open-top spout, unlike other taps, to look like a waterfall. It can instantly add a touch of glamour and become the centrepiece of your bathroom.
They feature a spout mechanism that works to control the temperature of the water as well as the amount of flow that the tap produces. Waterfall taps have been extremely popular lately, thanks to their eye-catching design, but they are easy to install and easy to use. They can fit any bathroom and transform the appearance of the space.
When it comes to the size of spouts, always think about the depth of the basin. Consider the size of the basin and how far away from the edge of the basin are the tap holes. And if there are cabinets or shelves above your basin, make sure it won't be difficult to lean over once you have the tap installed.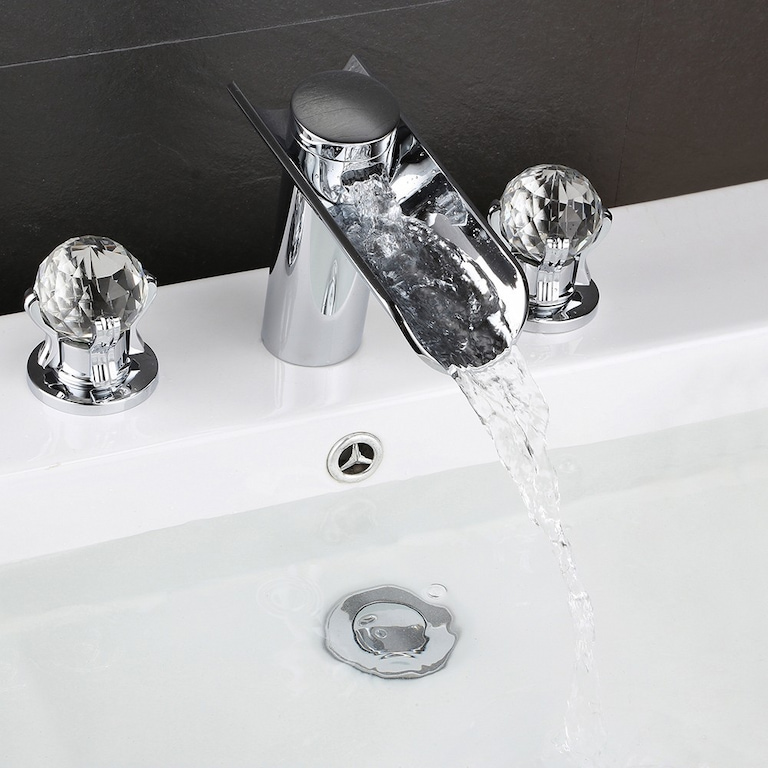 Chrome may be the go-to finish for most taps, considered the most common finish as it can blend in seamlessly with other chrome fixtures in your bathroom. Waterfall taps in chrome work beautifully with almost every décor, from traditional to minimalist approach.
Matte black waterfall taps, on the other hand, offer an effortlessly cleaner look. They are a great option to have and can create a cool and chic appearance for both classic and modern bathroom styles. A black finish takes the design up a level and can instantly make your bathroom on-trend.
Deck or Wall Mounted Taps?
Deciding between deck or wall mounted taps can have a huge impact on how your bathroom looks and feels to use. While many are accustomed to using deck mounted taps, wall mounted taps are worth considering for a few reasons. They can offer a more modern look in your bathroom and have the appearance of taking up less space, so if you're working with a small bathroom, they might be the ideal choice.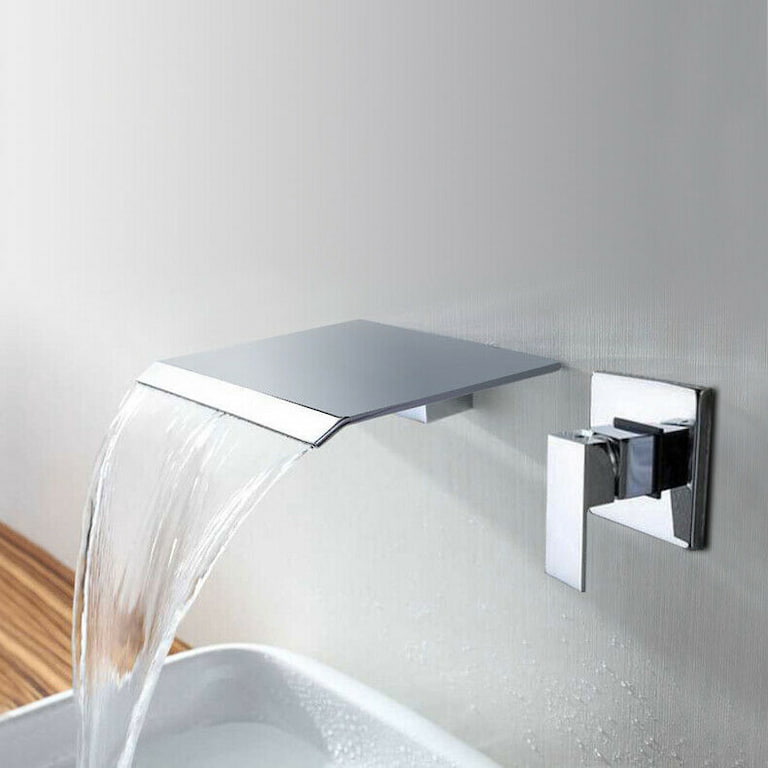 Understand Your Water Pressure System
Knowing what water pressure system is installed in your home is the most important things when it comes to selecting your bathroom taps. The performance of your taps can depend on the water pressure system in your home and whether the taps are compatible. If you have a high-pressure water system, you'll be able to choose from most bath and basin taps, but if you're working with a lower pressure system, then it's better to identify the exact water pressure and find taps that will ensure a strong flow of both warm and cold water.
Having the right water pressure is most important when it comes to tall basin mixers than any other type of basin taps. Due to their design, the water has to travel further in the basin tap, so the pressure required is a little bit higher than with other basin taps. Keep this in mind if you opt for a tall waterfall basin mixer. There are fall basin taps that work well with low pressure as well, so make sure you check the product carefully before making the purchase.