Steps to Mastering the Art of Wearing Sneakers Out of the Gym
In case you've been living under a rock, sneakers aren't only meant for the gym anymore. They have become a staple in every woman's (and man's, for that matter) wardrobe and can be paired with different kinds of outfits to create playful and cool looks. So let's see what rules you need to follow in order to extend their use out of the gym right.
#1. Always Buy Sneakers That Suit Your Current Wardrobe
Why would you bother buying the latest womens sneakers model if it doesn't match your style? Don't hop on the trend train just because it's passing through. Play it smart and choose sneakers that complement the outfits that you already have, not sneakers that require you to repurchase a whole new wardrobe.
#2. Wear Your Sneakers to the Right Occasions
Although sneakers are incredibly versatile, they are no substitute for dress shoes. You can get away with sneakers with any off-duty outfit and perhaps even some casual dresses, but they are not meant for some of the more special occasions, like weddings, for example. It is always better to be overdressed for an occasion than to be underdressed.
#3. Make Sure Your Sneakers are Always Clean
It doesn't matter how cool your sneakers are, the effect will be lost if they are disgustingly dirty. Proper sneaker maintenance includes relying on the right methods to eliminate odours , brushing the outsoles, washing the laces, and washing the entire sneaker when necessary.
Now that you know the basic steps, let's take a look at some cool tips on how to wear sneakers with jeans and skirts.
Cuff Your Pants
When wearing your sneakers, turn them into a statement. The best way to do that is ensuring that they can be seen. So, when you cuff your pants, they need to fall right above your ankle bone.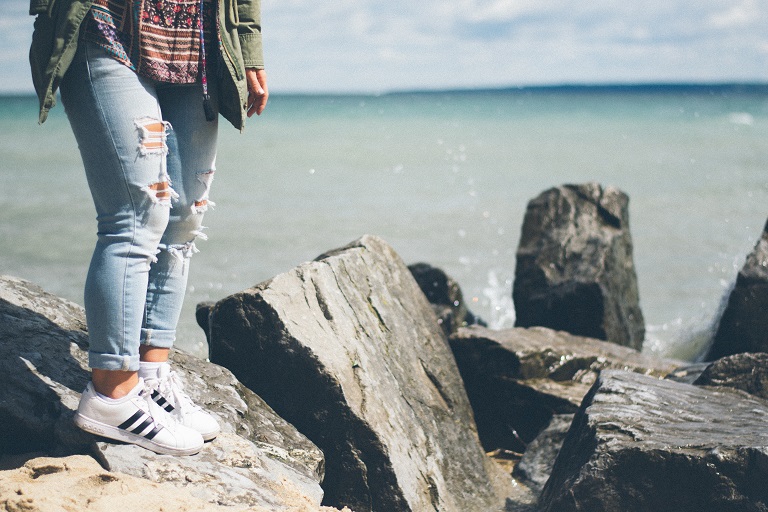 Pick a Solid Colour or Classic Look
Sneakers in solid colour or maybe with some classic stripes, or a pair of slides with a classic print can be a great match for most combos you might come up with. Also, classic, simple womens sneakers are also the easiest to pair with skirts and dresses.
Don't Let Your Socks Show
Get some pair of low-rider socks that don't show. Look for models that come with a silicone heel pad – this will save you having to deal with the frustration of your socks slipping off while walking.