No Loading Dock? No Problem: Load and Unload Your Large Items with Walk Ramps
For operations that don't have a designated loading dock, walk ramps are a great solution. They enable the loading and unloading of items safely and efficiently when using standard hand trucks, dollies and two-wheeled handcarts. This type of ramp can help roll your moving equipment into your trailer, box truck, cube van or else.
But What Is a Walk Ramp?
Also referred to as a moving ramp or portable loading ramp, it's one of the most important tools for jobs like professional movers, commercial delivery drivers and service industry personnel. It features a ribbed, perforated or serrated surface for maximum traction, so you can complete loading jobs even in wet, muddy or snowy conditions.
It's a piece of equipment used to load or offload cargo from a truck or container. It features hook ends that grip the loading surface securely, with no need for straps and slip-resistant decking that provides an easy and safe transition from ramp to ground. It's very helpful for moving large items from a truck bed or trailer to the ground and the other way around.
Portable ramps are designed to serve a variety of functions and can make a big difference in completing the packing and moving tasks at the workplace. You can find a selection of aluminium walk ramps to choose from as they are some of the most popular choices lately thanks to their lightweight construction and non-rusting properties.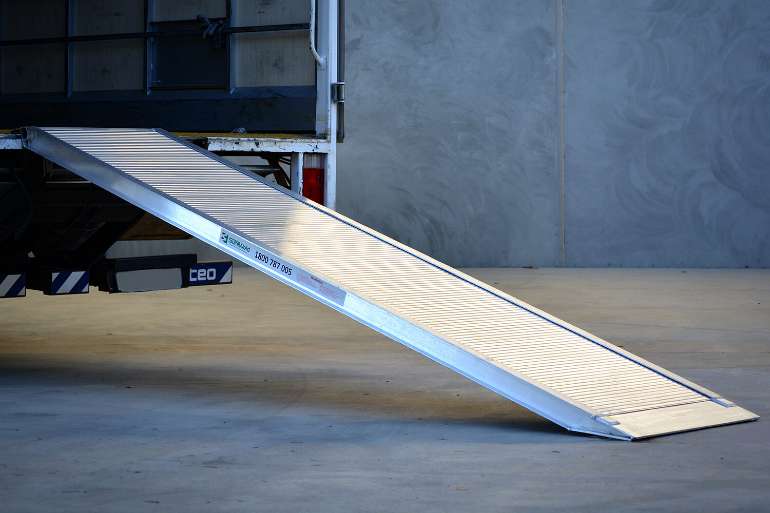 What Are the Benefits of Investing in a Walk Ramp?
This type of ramp is easily portable and convenient and is essential for any business industry without a loading dock. It offers a number of benefits for and industry and proves to be a resourceful tool to have on hand when performing your loading jobs.
Reduced Risk of Injury
Keeping your employees safe is most important for any industry as it can significantly increase productivity and help your business grow. For that reason, ensure proper material handling training and practices while employing the proper tools.
Convenience
One of the greatest advantages of a portable loading ramp is that it can be easily dismantled, moved and reassembled and it can be efficiently stored when not in use to prevent potential damage. Moreover, it's a versatile type of equipment, meaning that you can use one ramp on multiple truck types.
They are available in different sizes and designs, so you can find the one that perfectly meets your needs. It's considered an essential piece of equipment for loading and unloading jobs as it can make the tasks easier, therefore increasing productivity at the workplace.
Packers and movers need to ensure easy access into and out of their trucks. While in the past, they used to make temporary wooden ramps, today they can use portable aluminium ramps and enjoy the benefits they offer. Wood is prone to breaking as it's not as strong as aluminium.
Durability
A quality aluminium portable ramp is built to withstand frequent usage in demanding environments. Most of them are specifically designed for the toughest loading and unloading applications required by heavy-duty ramps, which means you can worry less about wear and tear and get the best value of your loading equipment.
Aluminium ramps allow staff to move up and down the ramp with confidence and no fear of it breaking under its rated load. Feeling confident while performing their job, packers and movers feel safer and it makes their work easier.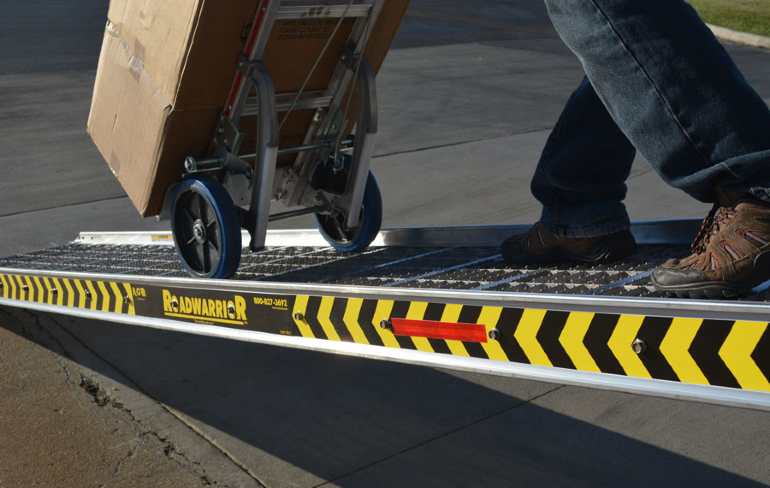 Shorter Load and Unload Time
As we all know, in every business industry, time is of the essence and we all want to get the job done efficiently and in a timely manner. That being said, one of the many ways a portable ramp can benefit your business is by reducing load and unload times in your day-to-day operations.
Plenty of Traction in Various Conditions
Sliding off the ramp surface when moving heavy stuff can be dangerous in the first place, but also it can prolong the time needed for loading and unloading. A portable ramp, designed to provide extra grip to users will allow easy workflow even during harsh weather. Thanks to its built-in, raised-rib tread, packers and movers can still navigate using ramps with no fear of falling.
Loss Prevention (Due to Damage)
When dealing with delicate items, lifting can be risky and even though trained staff can handle them with care, still, accidents can happen, mainly due to slips and falls. One of the best ways to minimise and prevent losses due to damage is to ensure a smooth ride from the building into the truck or vice versa. This can be achieved by placing ramps on raised areas and using dollies to help navigate.
Low Maintenance
Aluminium ramps require minimal cleaning or repairs, so with a little bit of time and effort, you can keep your loading ramp in a good shape for a long time.
Fewer Costs
Finally, shorter load and unload times and a smoother transition from point A to point B can benefit your business by reducing labour costs. Moreover, they don't require installation and built-in bay lifts, meaning that they come at a much more economical price point. If your business is in need of the convenience of a loading dock, but your budget doesn't allow it, invest in a walk ramp.