Restaurant Uniforms: 3 Steps to Choosing the Right Apron for the Job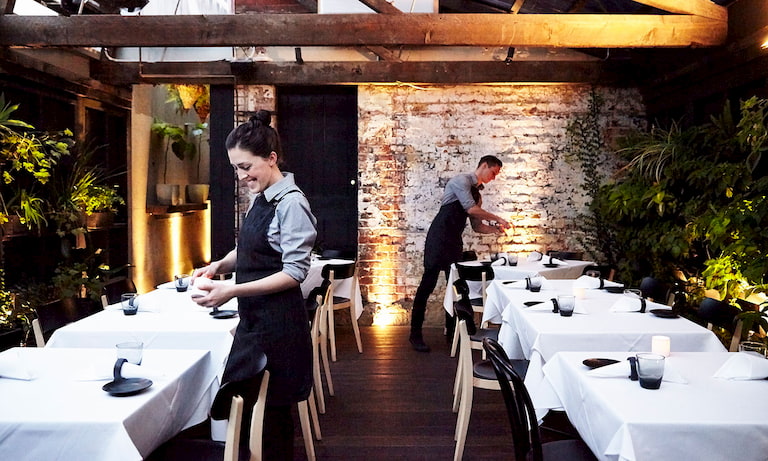 In a highly-competitive market, every restaurant tries to stand out among the completion in every way possible – including uniforms. As more and more restaurants opt for creating a custom look for their crew, you never know what to expect when you walk into your food establishment of choice. But what all restaurant uniforms should have in common is a good apron. Seeing chefs, servers and bartenders neatly decked out in aprons is a sign of professionalism and creates uniformity so that it doesn't look that the staff consists of random people who just walked off the street.
In addition, aprons protect the crew from anything ranging from cooking oil to sauce and drink spills and help keep the rest of their uniform clean and presentable. But just as there are unlimited designs of restaurant uniforms, there are also many kinds of aprons in a variety of colours, materials and styles. With that being said, choosing the right one for the job isn't as straightforward as it seems. Before you run out to get yourself an apron, here are some of the things you should consider in order to find exactly what you need, not just what you think you do.
What Material Is Best?
First things first. The most important factor when choosing an apron is the material. When it comes to choosing a material for aprons, many restaurant owners tend to gravitate towards 100% cotton. After all, we've been through that cotton is durable and breathable – which makes it perfectly suitable for a uniform. However, 100% cotton also has its downsides. It dries slowly, it's not very stretchy, it's extremely prone to wrinkling and its colour fades easily.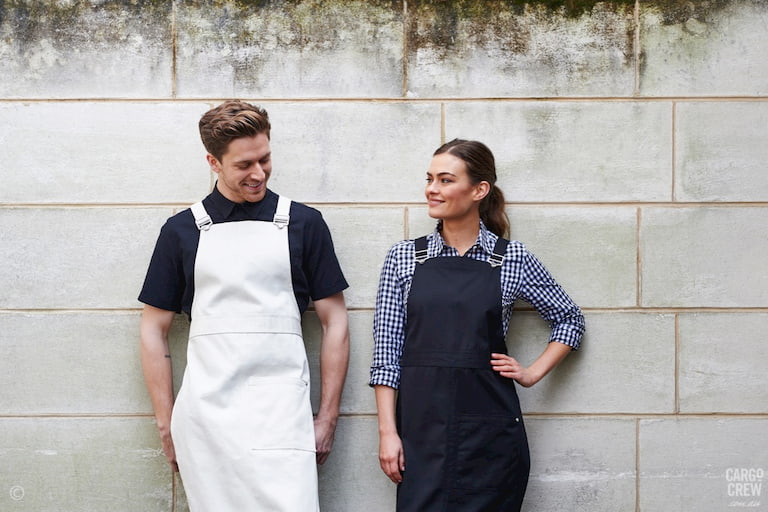 For that reason, a cotton polyester apron is considered a far better choice. Cotton/polyester blends offer all the benefits 100% cotton has and none of its drawbacks. They are fade-resistant, can be washed and dried with little fuss and are less prone to wrinkling. Plus, they also tend to cost less than cotton. Add to that the attractive deals you can get when purchasing wholesale, and you can outfit everyone in your staff with a quality cotton polyester apron without spending a great amount of money.
There are also aprons available in sturdier and more thicker materials such as denim, canvas and even leather. However, these are most suited for professionals such as painters, carpenters and welders who need sturdy and heavy aprons for increased protection. In a hot kitchen environment, lightweight, breathable fabrics are more preferred.
The Different Types of Aprons
Depending on what part of the body they are protecting, there are several different designs of aprons for work. A pinafore is a sleeveless, jumper-style apron with wide shoulder straps. that is tied or buttoned up in the back. For more body coverage and protection, there is the bungalow apron. This kind of uniform has kimono style sleeves and extends further than the knees in length.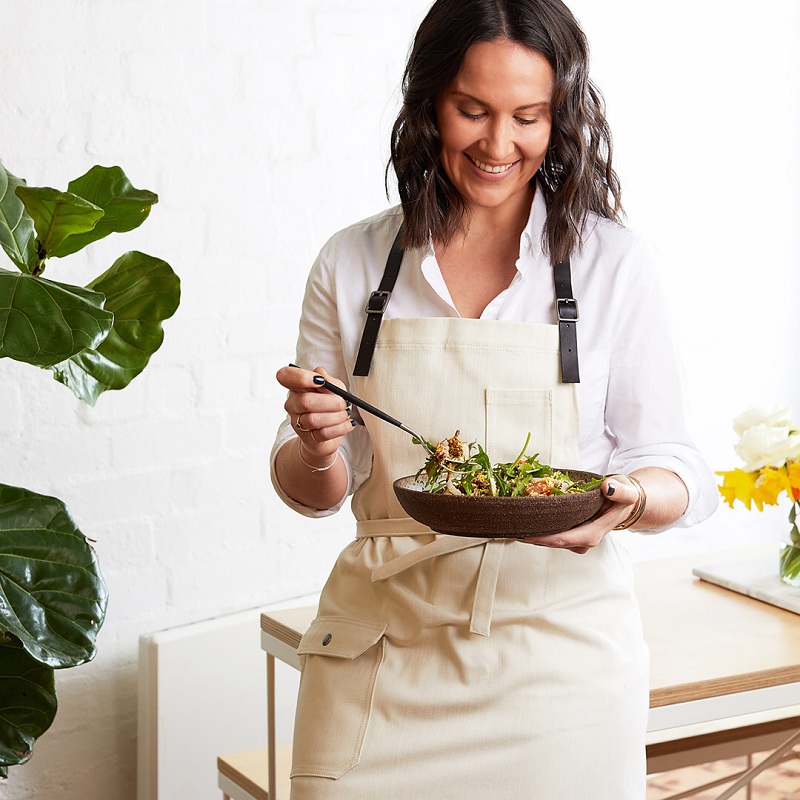 But out of the many kinds of aprons, the most popular one for restaurant workers is the bib. Also known as the chef's apron, the bib is a traditional apron made out of one piece of material that goes around the person's neck and ties at the back and ends just at the knees. This lightweight and easy to put on apron is most commonly used by chefs and kitchen workers as it provides great protection from splashes and stains.
Similar to the bib but with upgraded with a tie for elegance, the tuxedo apron is generally worn by waiters in fancy restaurants. Both the bib and the tuxedo can come with pockets for extra convenience. And then there is the waist apron, designed to protect waiters in cafes from spills. This type of apron can come at knee-height or full-length and normally includes handy pockets for storing a pen and a notebook or some change.
Don't Overlook Appearance!
At a restaurant, employees need to look their finest. After all, you only get one chance to make a first impression and you want it to be a good one. With that being said, it's important to also consider the style factor when choosing your aprons. Because you'll be dealing with a wide range of customers, it's a good decision to go with something subtle and timeless such as a cotton polyester apron in a neutral colour that complements the rest of the uniform.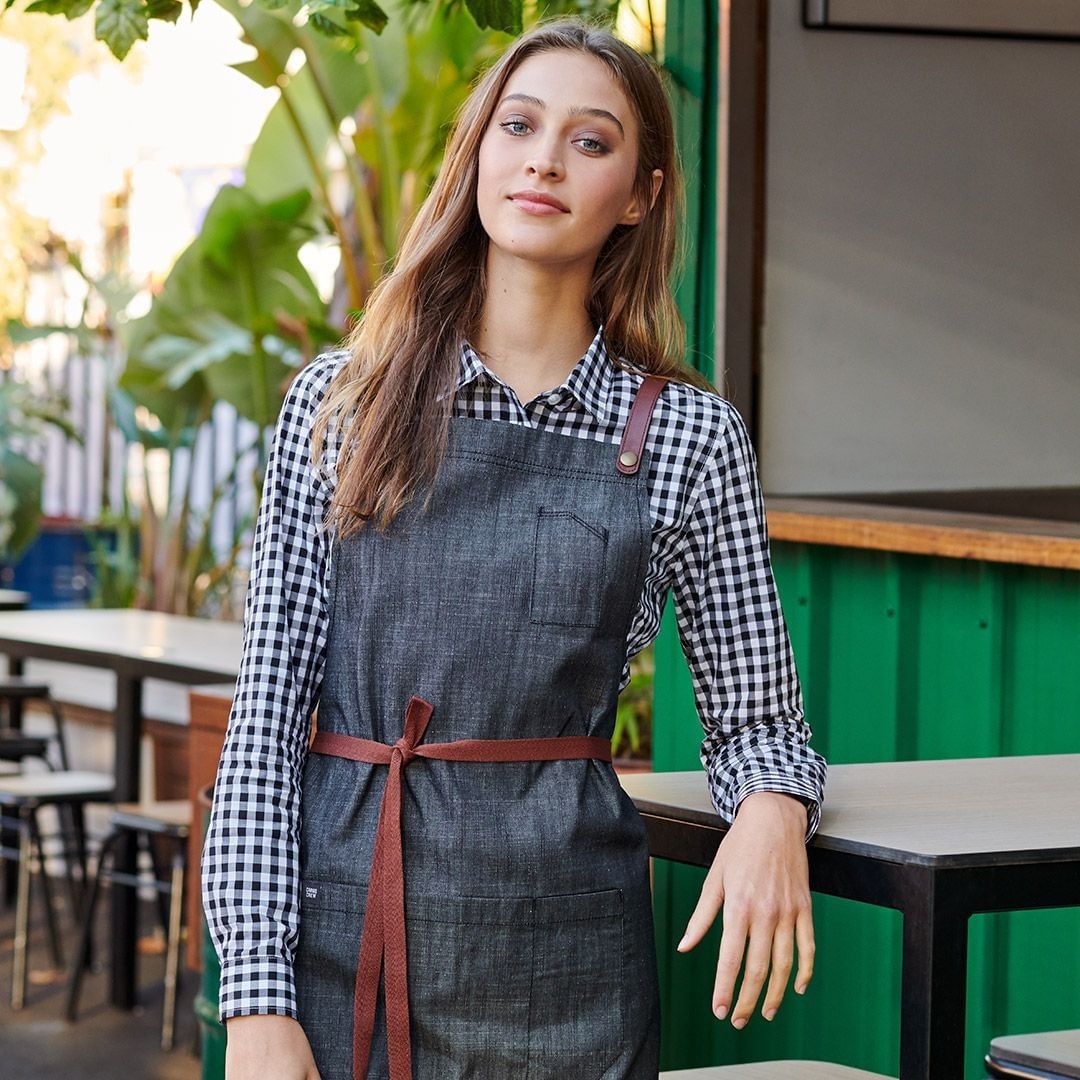 White is always a good choice for restaurants that like to maintain a traditional and sparkling clean, while darker shades like grey, dark navy, brown and black are good for more modern restaurants  and cafes. For a casual cafe or a lounge bar, you can even add a bit of a cool factor with dark denim aprons. In addition, you always have the option to individualize your choice of aprons. For instance, you can enhance them with straps in interesting patterns, decorate them with embroidery or use pins or patches with your restaurant's logo.