Step Up Your Hiking Game With the Best Hiking Boots
If you're a person who loves chilling outside and hitting the trails, you already know that nothing can be more annoying than uncomfortable hiking boots. Wearing the wrong boots can cause a number of problems that can cut your hike short, from blisters to sprained ankles and even hypothermia. That being said, good hiking footwear is crucial if you want to successfully explore a vast amount of terrain.
If you haven't purchased your pair so far, there are several things you should consider. Usually, the best hiking boots on the market are the ones that fit your feet well and allow you to walk for tens of kilometres, without causing any pressure on your heels, toes or tendons. And while the design is important, a good pair of hiking shoes isn't about the looks or accessories. Here are a few important things to know in order to find the best boots for outdoor exploration.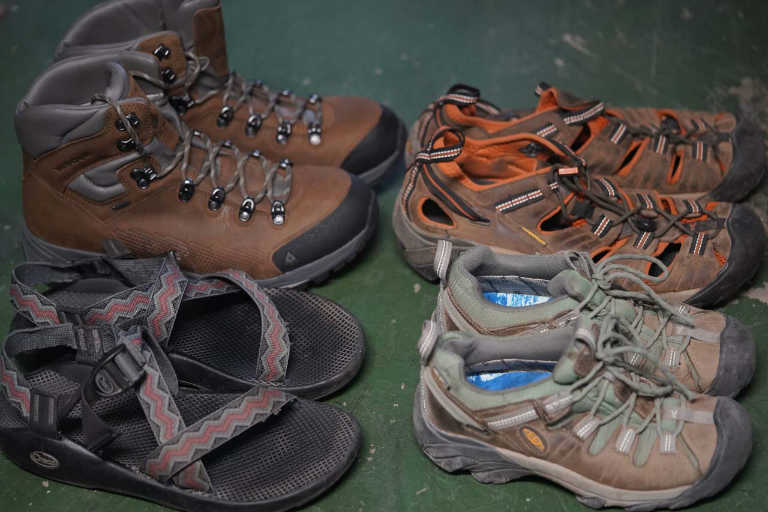 Types Of Hiking Boots
There are three main types of hiking boots designed for different levels of intensity. Depending on where you'll wear your boots, here are the models that you can choose.
Light Hiking Boots
These are low-cut models with flexible mid-sole and are ideal for day hiking or trail running, or laidback lightweight backpacking trips. These models are also good if you spend a lot of time walking (at work, school, around the city) or spend most of your day standing.
Backpacking Boots
These boots are high-cut and provide extra ankle support. Backpacking boots have a stiff mid-sole to protect the bottom of your feet from uneven and rough terrain. These are ideal for backpackers who carry a heavy load on longer distances.
Mountaineering Boots
These are heavy and far more durable than the typical hiking boots. You can find leather and plastic models, with a removable inner boot. These are specially made for glacier crossing, alpine climbing and high altitude hiking. These shoes have stiff soles and are designed for use with spikes for walking (crampons).
Buying Tips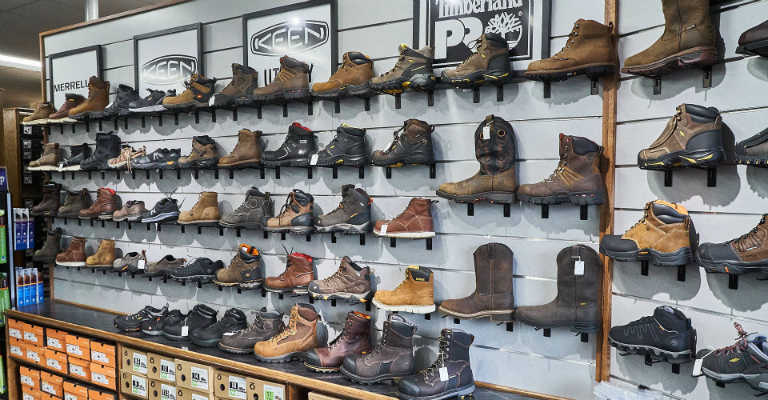 Online or In-Store Shopping?
When shopping for your boots in a store, you can get the chance to try on many models. Some stores even have a rocky incline ramp so you can test the boots and see if they fit you and feel comfortable. Don't rush the process. The best hiking boots aren't cheap, so be careful with your choice. Try them on, walk around with them, notice if there is even mild discomfort.
If you decide to purchase your boots online, you'll have a good chance to go through an endless number of models, colours, and designs. Unfortunately, you won't be able to try the shoes on. But, if you're re-purchasing an old model you used to wear and know how they fit, then there is no reason to avoid online stores. What's more, many online stores selling hiking gear provide a measuring guide that can help you determine the correct size for you. They may also have money-back policies or provide you with the option to exchange your pair.
Once you buy your boots, wear them at home for a while. Don't rush to walk with them outside and then change your mind. It's always easier to return clean and new shoes that you have worn at home.
How Your Hiking Boots Should Fit?
The best hiking boots are those that fit you right. To check whether the boots fit you properly, when you put them on, put your weight on the front of the foot. You should be able to fit your index finger easily in the back (between your heel and the back of the boot). If this isn't possible, your toes may get easily bruised when walking.
When it comes to the boot's width, it should feel snug, but not tight (at the widest part of your forefoot). You shouldn't feel any pinching at the heer, and nothing should feel uncomfortable.
It's best to buy your hiking shoes in the afternoon when your feet are a bit swollen. This is actually a good tip for buying any type of shoes. Also, don't forget to wear a pair of socks (make sure to wear thicker socks) so you can check the level of comfort in the winter days.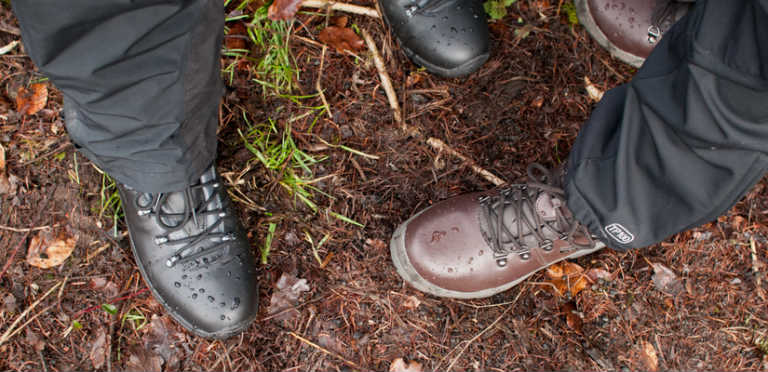 What Are the Best Materials for Hiking Boots?
Any material that allows your feet to breathe is a good option. However, also make sure that it's supported by a waterproof membrane. Even if you'll use these shoes for walking in pleasant weather and dry areas, your feet may get wet from the sweat that can't escape the shoes.
If you'll wear the boots mostly in warmer weather, go for mesh and other upper materials that easily let sweat evaporate. If you're a hiker who will pass through wet grass and rivers, your shoes should be able to dry fast. Also, make sure that the material offers flexibility for more comfortable movement.
Check the Outsoles
Traction is crucial for hiking boots. Your shoes should have outsoles with deep thread so you can stay stable on your feet no matter the terrain.
Make Sure They Offer Proper Support
The fatty pad under your heel bone is there to absorb the shock from uneven terrain. The support is not only crucial for the comfort, but to keep pressure and potential injuries at bay. Arch support will prevent your feet from fatigue and will maintain the fit of your boots. In case the model you want doesn't have arch support, you can buy a pair of insoles to keep your feet properly supported.