Steps to Choosing the Best Marine Speakers for Your Vessel
If you have completed all the necessary equipment and marine accessories for your vessel to operate well and to embark on a memorable and fun journey across the sea, check once again whether the speakers you have, in case you have them, are in good condition. There is no next-level sea experience without a superior audio system, especially in the middle of the ocean.
And, no you can't take your car speakers with you instead, as marine speakers are more than just regular speakers in a unique colour. They are made expressly to handle the outdoors and water conditions. They can survive the salt, water, and temperature changes that are typical on the ocean, unlike regular speakers which aren't waterproof and are prone to salt corrosion.
So, if you're on the hunt for the perfect audio system for your vessel, we got you covered. Hopefully, the following steps will help you make the right boat speakers' decision and enjoy an endless summer.
Utmost Sound Quality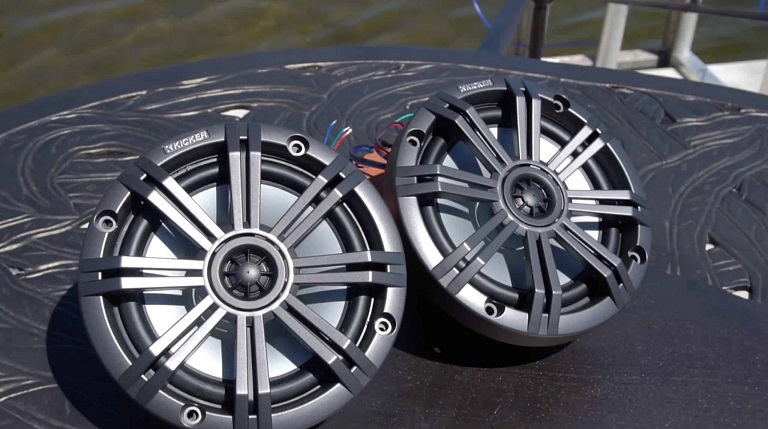 Get the most out of your marine audio system with a superior speaker for a boat that delivers powerful high-quality sound. However, there is a difference between establishing a sound system merely for show and having good speakers. In other words, having speakers meant for boats doesn't guarantee a better experience at sea; instead, if you choose a subpar audio system, you'll soon run into expensive issues.
The sound quality of your speakers should be improved by using a marine amplifier because wakeboard tower speakers play into thin air. It will increase the volume of your audio system while also enhancing the sound and reducing distortion. In this regard, you must purchase a marine amplifier that gives your wakeboard tower speakers adequate power to ensure that the sound quality is improved.
A marine subwoofer is another improvement to sound quality. Wakeboard tower speakers' overall sound quality and bass are enhanced with subwoofers. Make sure that your marine amplifier has enough power to supply your tower speakers and subwoofer, but not too much power as you run the risk of damaging your subwoofer and speakers. Subwoofers are also linked to your marine amplifier.
The addition of in-boat speakers will enhance the marine audio experience and your wakeboard tower speakers. These additional speakers, which are mounted in the boat's walls, will boost volume and create a "surround sound" effect. While the wakeboard tower speakers boost the sound for the riders behind the boat, this also makes it louder within the boat.
Durability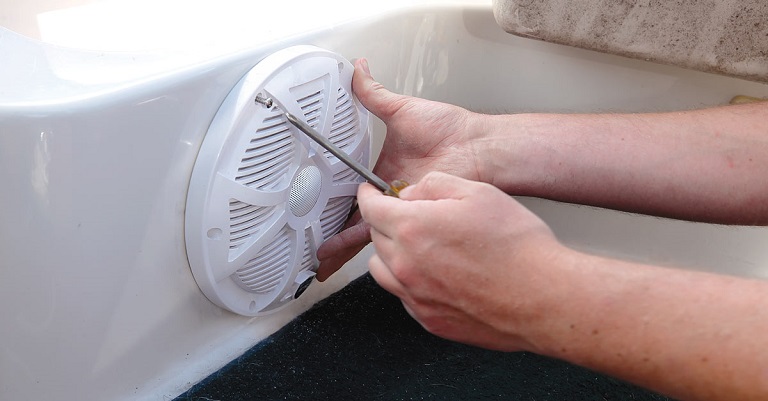 The durability factor is probably the most important when investing in a speaker for a boat as it should be durable enough to withstand all the harsh environmental conditions. In other words, your speakers will last longer if they are more robust.
Therefore, the speaker you're about to purchase must be composed of corrosion-resistant materials like anodized aluminium or Nylas (a nylon/fibreglass hybrid). This increases its durability and prevents rusting. Additionally, it's critical to have speakers that can withstand the sea. Marine-rated models are designed to provide the highest audio performance while being able to withstand dampness and UV radiation.
Even if you purchase top-of-the-line designs, it is crucial to keep them in good condition. You should frequently wipe them down with a soft cloth dampened with dish soap. You can also purchase speaker covers to assist in keeping them safe when not in use.
Design
The value of the speakers might be affected by their construction and design. These two factors also affect their sound quality and volume in addition to their aesthetic. When narrowing down your choices, pick a design with components that best suit your needs. In this regard, some look good but don't sound well, some are attractive and loud, and some have outstanding audio but an unattractive appearance.
The cost, on the other hand, will vary depending on what you're looking for. The latest finish options to match the tower and boat, removable grilles that can give a new look, LED backlighting to change the aesthetic, and complete control over the hue of the LED lights are a few of the available design characteristics.
The Size and Number of Speakers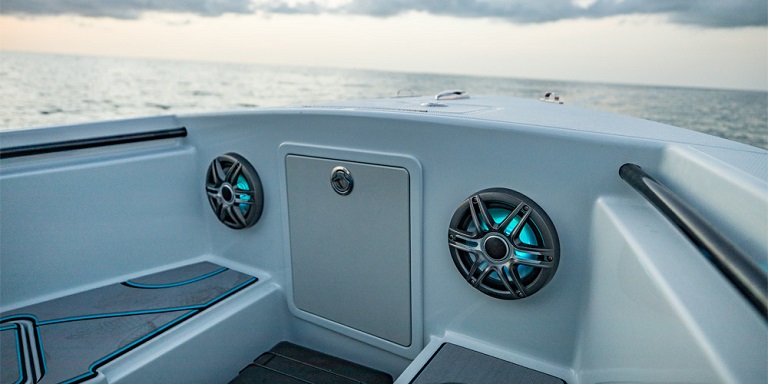 Even the highest-quality marine speaker is useless if it doesn't suit your boat. Fortunately, boat speakers are available in a wide range of sizes to suit every desire and need. Decide where you're going to install your boat sound unit before deciding how big or little to go.
Additionally, make sure the marine speaker you want is in the right size. Since larger speakers often produce greater sound, this aspect can also have an impact on performance in terms of loudness and audio quality in addition to the physical form factor. It's 6.5 inches that's the most common boat speaker size.
Peak Power and Frequency Response
Regardless of whether you place your speakers inside or outside of your boat, you want them to be extremely loud. Therefore, you should be looking at their power rating, which is expressed in watts. This can include wattage values of up to 100, 150, 200, and more, with a higher wattage rating indicating a speaker with greater power.
Checking the frequency response range can also be a terrific option if you want to ensure that the sound is as excellent as loud. This is because any system will sound better than a pair with a frequency response of 40 Hz to 20 kHz.
Waterproofness
Your boat sound system should be able to function even when splashed with water because it will get wet. The fact that steel frames, grills, and copper wires are not waterproof and can rust when exposed to water is one of the main reasons that home or ordinary sound systems are not appropriate for use near the sea.
The materials used to construct speakers for boats-such as neoprene rubber surrounds, polypropylene cones, and corrosion-resistant metal components are all water-resistant. Moreover, superb Bluetooth speakers can connect to your mobile device and function even when wet.