Steps to Creating a Functional & Attractive Outdoor Kitchen
Now that the weather is finally warm and pleasant, we all want to spend more of our time outside in the fresh air. And if you're lucky enough to own a spacious garden, deck or balcony, you can literally move there for the whole summer. From a spot where you can lounge, do homework, cook and dine – with a few tweaks, an outdoor space can be everything you want it to be.
As more and more people notice the potential of outdoor spaces, alfresco kitchens are rising in popularity. And I'm not just talking about the basic set-up of a grill and a cooler. Most modern outdoor kitchens are designed to offer the same conveniences indoor ones do, and often come with a few extras. From outdoor cabinets to sinks, pizza ovens, microwaves and other state-of-the-art appliances – there's no limit to the elements you can include as long as you have the space, budget and vision. If you already meet the first two conditions but lack vision – here are some tips on how to build an outdoor kitchen that's functional and attractive.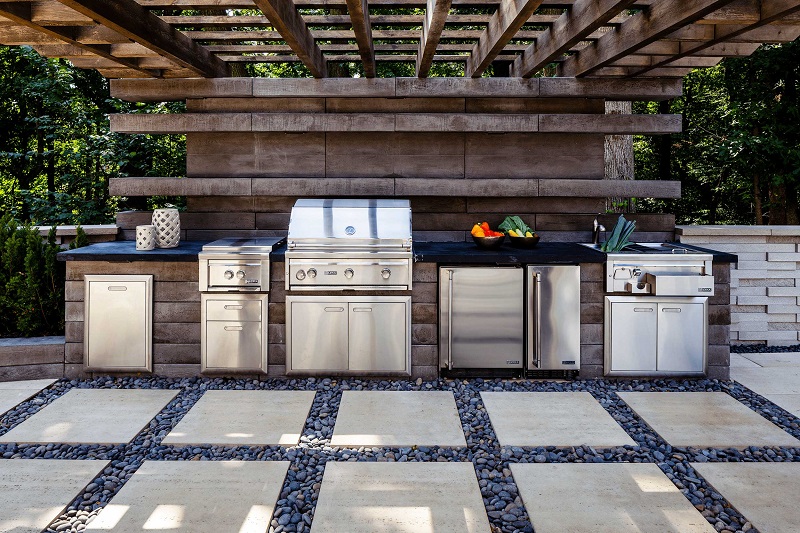 Pick the Right Appliances
A kitchen is only as functional as the appliances with which you outfit it. Different people will choose to include different appliances depending on their needs. A grill, a refrigerator and a small oven with a stove usually make up the basic alfresco kitchen setup. You can include other appliances, however, be sure that you actually use all the things you invest in. Quantity isn't as important as quality outside. And, since they are going to be exposed to rain, sun, wind and all kinds of outside conditions, it's essential to pick reliable and durable appliances.
The material an appliance is made of is usually what determines whether it's suitable for outdoor use. But if you're not entirely sure, it's best to purchase from specialized stores that deal in outdoor kitchens. In general, appliances made of stainless steel and ceramic are resistant to corrosion, mould and damage from ocean air. In other words, they work great in all weather conditions. Ceramic and stainless steel are also easy to clean due to their smooth, non-porous surface. In addition, make sure that all your appliances can be used with GFCI (ground fault circuit interrupter) outlets which will shut off any electric power immediately in the event of a fault.
Connect a Sink
A sink is a must-have in an outdoor kitchen. It will offer a lot of convenience by allowing you to wash ingredients and dishes. It will also allow you to wash your hands properly, which is crucial when handling raw food, especially meat. Depending on your needs and preferences, you can choose between a small sink for quick rinses to a double sink for more convenience. If you wonder how to plumb an outdoor kitchen, there are usually two ways – connect the sink to a yard hose or to the indoor water supply if you don't have one. In any case, it's better to call a plumber to properly hook up your outdoor sink.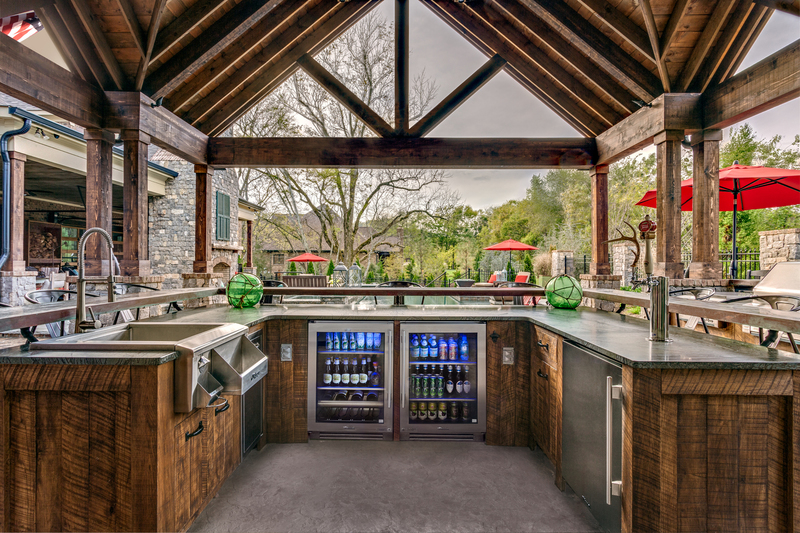 Consider Your Cabinetry Options
Alfresco kitchens also feature their share of cabinets for housing cooking tools, dishes and glassware, tablecloths and other common kitchen items. And just like outdoor appliances, outdoor cabinets also need to withstand all kinds of weather conditions. While most outdoor appliances are going to be stainless-steel, when it comes to outdoor cabinets there's a wider range of materials. From wall cabinets made entirely of teak or to base cabinets that include a stone counter. You can even get stainless-steel ones to create a uniform look along with the appliances.
Don't Forget the Dining Area
So, the food is prepared to perfection and ready to be served, but where are you going to eat? When you're creating an outdoor kitchen, you may also want to include a dining area. After all, running back and forth between your indoor dining area and your outside kitchen can quickly become tiring. What's more, when you have guests over, you can continue to entertain them outside as you prepare your meals. So, it goes without saying that every alfresco kitchen should be complemented with an equally beautiful and functional dining area.
When it comes to dining tables and chairs that are going to be used and stored in outside conditions, you need to be very careful when choosing materials. There's a variety of outdoor dining furniture made from outdoor-friendly materials such as plastic, wrought iron, rattan and teak. Wrought iron and rattan are used for settings with a more vintage vibe, whereas teak has a timeless beauty that can complement any kind of space.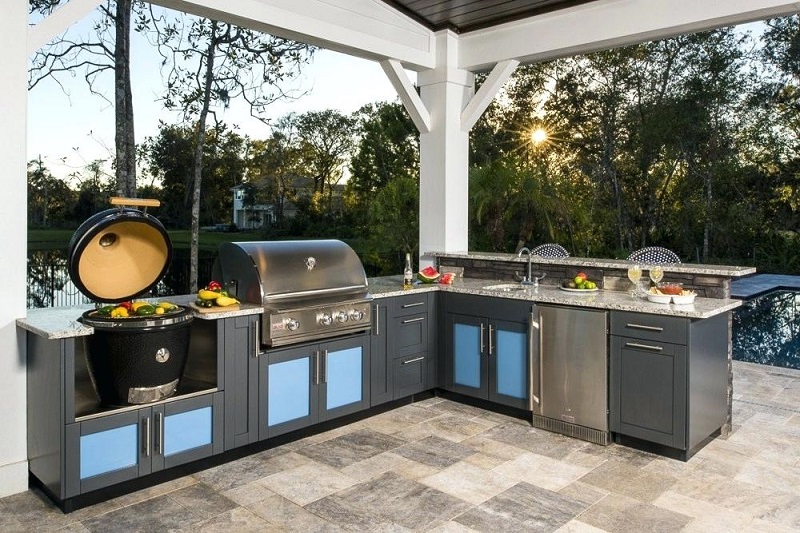 Light It Right
And finally, if you want to be able to use your alfresco kitchen at any time of the day, it's important to light it right. A good outdoor lighting scheme will not only create a welcoming ambience, but it will also make the space safe for using. Consider lighting your outside kitchen strategically. Areas, where cooking and preparation takes places, should be brightly illuminated for visibility. The same goes for any steps and pathways. Install dimmable lighting around the dining/lounging area which will allow you to adjust the brightness according to your needs.