Steps to Choosing a Motorcycle Dust Cover for Your Prized Possession
In a perfect world, all of us would have enough space in our garage just for storing our motorcycles and cars! However, many of us don't, which means that some of our rides just have to be stored outside. Nevertheless, that doesn't mean that you can't keep them protected from the unnecessary wear and tear of sun, dust, wind, and rain, along with the unwanted attention of thieves who can easily spot a nice motorcycle out in the open.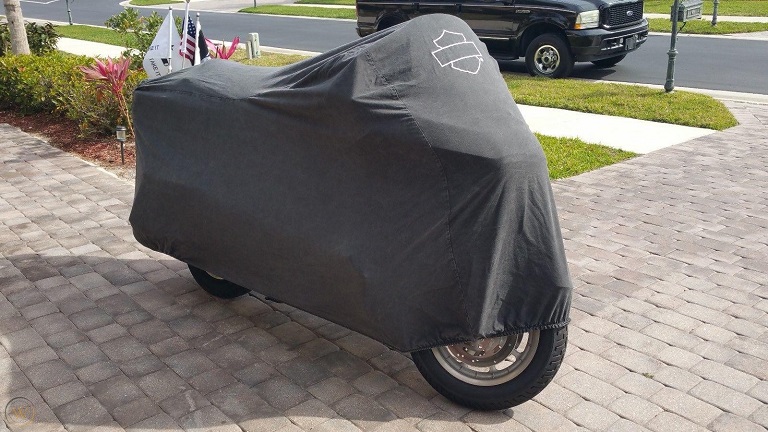 So sure, having a garage is nice, but with all the advances in flexible, breathable, UV-resistant fabrics available on the market today, there are so many motorcycle cover options that can make it easy to protect your ride in all conditions, regardless of your situation. But what are some of the things you should look for in a cover?
First and foremost, consider where do you usually park your two-wheeled beast. Even if you are keeping it in your garage, that doesn't mean it is safe. A quality motorcycle dust cover will keep your ride protected from dirt and other damages that may occur in the garage. For instance, you might accidentally scratch your prized possession when opening your car's door, or your kid may somehow damage its colour. Just the mere thought of it is unnerving, isn't it? An indoor dust cover will not only protect your motorcycle from accumulating grime and dirt, but it will also prevent damage to the paintwork and other bike parts.
On the other hand, if you are keeping your ride outdoors, not having a cover to protect it from the elements is a big mistake from the get-go. A heavy-duty, quality motorcycle dust cover is a must if you plan on keeping your bike out in the open for it to be able to serve you well for years to come.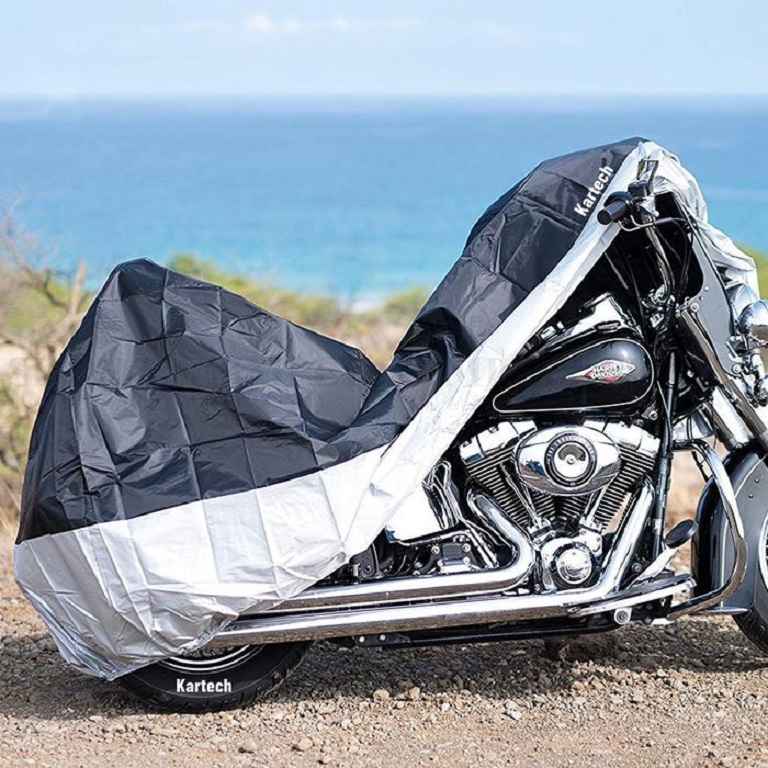 The Material
When looking to buy the perfect cover for your motorbike, you will find plenty of options that vary in weight, level of protection and thickness. Generally, high-quality, costly motorcycle covers are made of lightweight yet waterproof polyester. These offer the ultimate protection from snow and rain. You can also find models made of thicker materials but these are usually heavier when compared to polyester covers. Aside from being waterproof, it's a good idea that the cover is also UV-resistant and reflective. Choosing a cover that has reflective stripes either on the body or on the handles is a good way to keep your ride more visible and safe.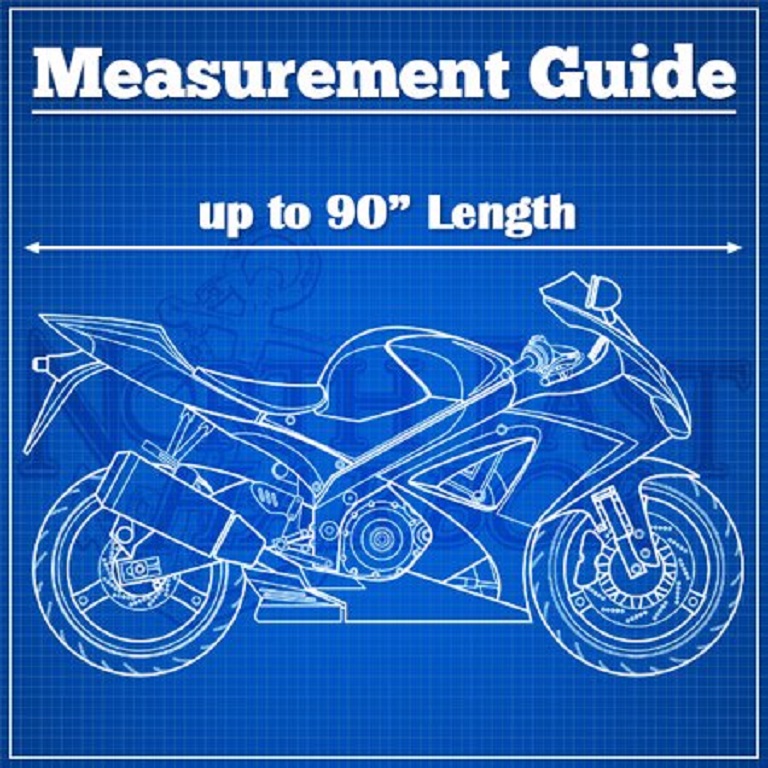 The Size
There are certain cover models made to fit different bike sizes. Also, there are covers specially designed for specific models and makes of motorbikes. So, before buying, make sure you measure your motorcycle so that you can choose the appropriate cover for it. Measure its length, height and width.
Speaking of size, bigger is always better. Choosing a cover that is a little too big for your bike is not a big deal, but getting one that's too small will not be of any help. Size can vary from one brand to another, so always compare your measurements to the sizing chart of the brand from which you're planning to buy.
Prices of motorbike covers may vary depending on the brand, the protection they offer, their size and features. Although this is not an item that will break your bank, it's a good idea to consider how much you are willing to spend on it. Your bike will probably cost thousands of dollars, so investing in a cover that will protect your prized possession is highly recommendable.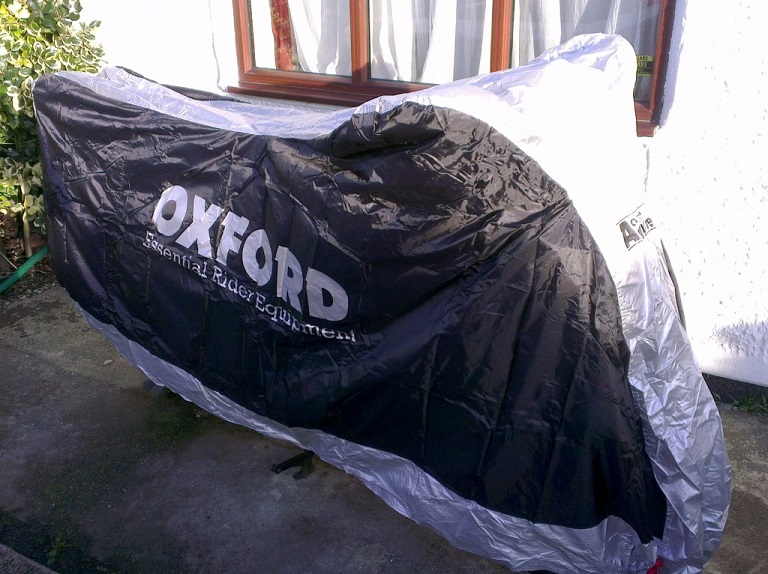 The Best Brands
Oxford Aquatex Bike Cover – This is a stylish, heat-resistant and waterproof cover designed by Oxford – a leading manufacturer in the industry. It features double-stitched nylon that offers extra durability and strength. It's available in various sizes, providing your motorcycle with complete exterior and interior protection. It offers great value for your money, it is suitable for various models of motorcycles and it has heat resistance to 150 degrees.
JDC Motorcycle 100% Waterproof Cover – This is an all-weather model that is packed with features. Made from a thick breathable material, this cover comes with silver heat-resistant panels that keep it safe from exhaust pipe burning. It's double stitched for improved durability and strength and provides great overall coverage that comes almost to the ground. It comes with a zipped storage bag for easy storing and moving.
Oxford Stormex Bike Cover – This is one of the more heavy-duty models designed by Oxford that weighs around 2.5kg. The outer cover protects the bike from weather extremes and knocks, while the soft-heat resistant lining protects it from heat damage and scratching. Also, it features reflective panels that increase visibility at night. It's smart and stylish and sizes range from small to extra large.
Bottom line is, with the right cover, you can keep your bike in great condition for at least five more years. Determine your budget upfront and go online to find the best deals.