Bamboo Bathrobe: Benefits & Simple Steps to Prolong Its Lifespan
In order to ensure you get a good night's sleep, it's important to set a nighttime routine as that way you are giving your brain the signal that you are ready to go to bed. And one of the steps you can incorporate into your routine is taking a shower and wrapping yourself in an organic bamboo bathrobe while you proceed with your rituals.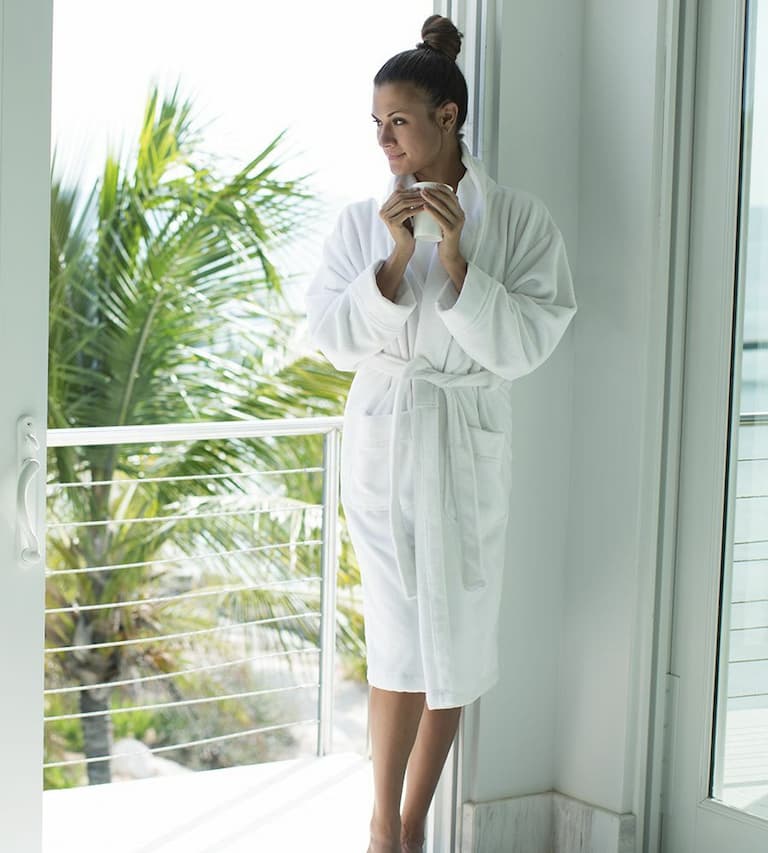 Wearing a comfortable and soft bathrobe made of organic bamboo can help you get the best of both worlds – quality sleep and healthy and non-itchy skin. In fact, clothes, bedding, towels and bathrobes made of bamboo are incredibly popular these days because they feel super soft on the body and are free of the harsh chemicals many other fabrics are treated with. Still unconvinced what makes bamboo bathrobes so special? Here are some of the other benefits they can boast with!
Great for Irritable Skin and People Suffering from Allergies
An opulently thick and super soft organic bamboo bathrobe is the ideal type of fabric that won't be abrasive against your skin as you're trying to dry yourself before going to bed. Being hypoallergenic and four times softer than cotton, bamboo fabric is considered to be ideal for any skin type. Even those with the most severe allergies and asthma can wear bamboo since this fabric won't cause any irritations on their skin.
Anti-Bacterial and Moisture-Wicking
The anti-bacterial properties of this amazing fabric will keep your bathrobe odour-free even after repeated use. Additionally, its ability to wick moisture away reduces the chances of dust mites and mould since both of them need moisture in order to spread. Given the fact that it wicks moisture, this means that bamboo has great absorbency powers which means that the bathrobe and towels can really dry you off in no time.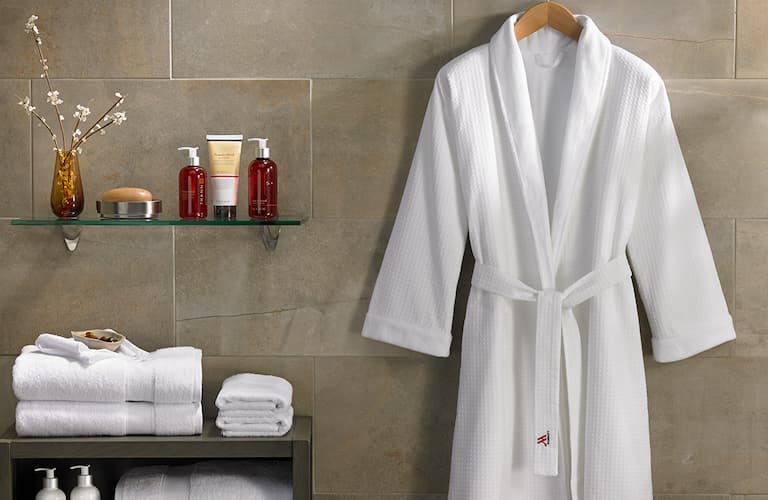 Thermoregulating
Another great thing about this fabric is that it has thermo-regulating properties. In other words, you'll be able to wear bamboo bathrobes and clothes throughout the year since it will keep you cool during the warmer time of the year, and warm during the colder time of the year.
Fast-Growing and Renewable Material
Many worry about how their consumption habits affect the environment. If you want to make a positive difference, switch to bamboo instead of cotton or artificial fabrics whenever you can. The thing you should know about bamboo is that it's one of the most sustainable materials as the plant itself is fast-growing and doesn't require too much watering or pesticide use. It is said that bamboo can grow 120cm in a day which is not the case with cotton and some woods like timber. Additionally, bamboo is a renewable material that can regrow while cotton and wood need to be replanted after every harvest.
Biodegradable
Considering the fact that bamboo is a natural material, this means that is biodegradable too. Besides this, investing in organic bamboo products means that they are made with no chemicals, pesticides and fertilisers. Thus, they won't make any additional damage to the environment even if you decide to throw away old organic bamboo products.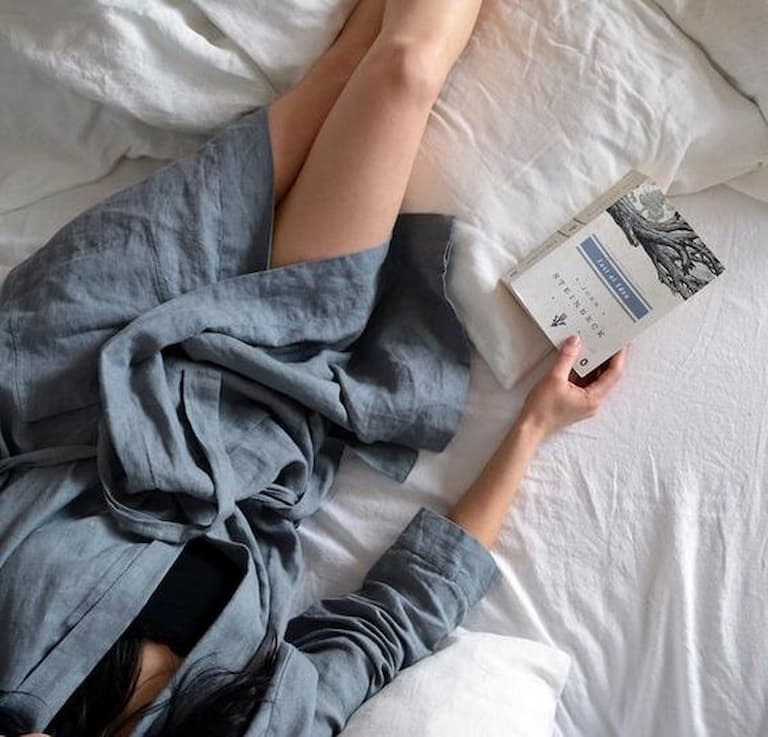 Resilient
In addition to all of the aforementioned benefits, the truth is that bamboo is also an extremely durable fabric. It is a fabric that can stand up to countless washings and can get even better after each wash. Unlike cotton which is prone to shrinkage, bamboo won't shrink and wear after a while.
But unfortunately, bamboo products can also be pretty expensive. That said, taking good care of them is important to prolong their use. Generally speaking, there is no complex procedure that you need to follow in order to keep your bathrobe in good shape. All you have to do is the following.
Wash It Well
Wash bamboo robes at the right water temperature. Although bamboo is not prone to shrinkage and you can wash it with both cold and warm temperature, it is recommended to wash bamboo at a colder washing temperature especially if mixed with other fabrics. That is because in such situations bamboo can shrink a little and unevenly since different fabrics can have different properties.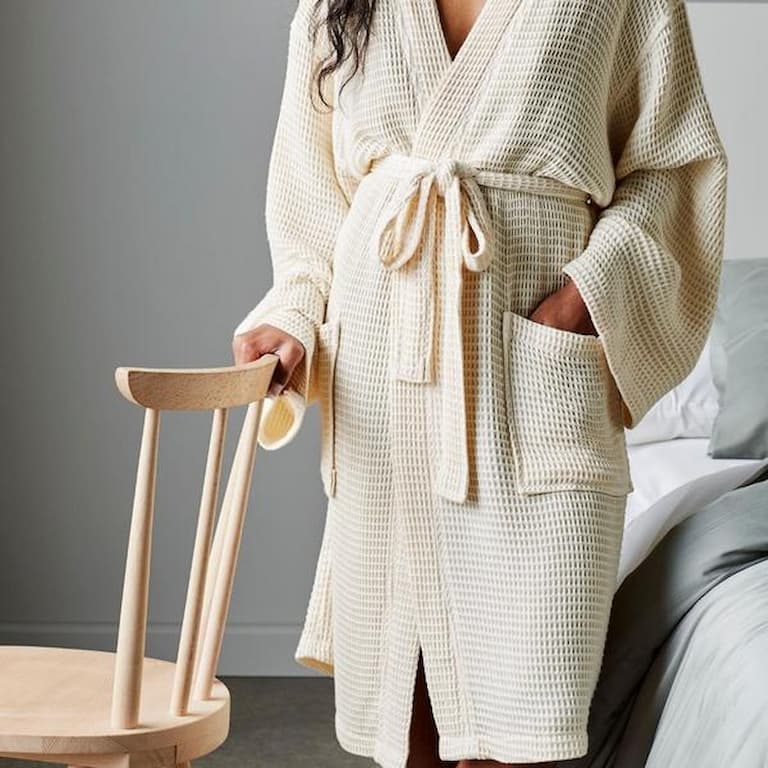 Let It Dry Properly
When it comes to drying bamboo bathrobes and some other bamboo clothes in your tumble dryer, it is recommended to do it on a cool and delicate cycle. In case you want to air dry it, make sure to line them flat and keep them out of direct sunlight.
Remove Stains
Removing the stains with cold water immediately after staining the bathrobe would be great. However, if the stain has dried, you should use a natural stain remover, not bleach or some other product that contains a brightener. Or you can make your own by mixing baking soda and white vinegar. Being environmentally safe and natural, this homemade stain remover is the safest option you have.