Flood Lights: Steps to Choosing the Ideal Flood Light
If you've put a lot of thought into interior furnishings, fixtures and lighting, but completely overlooked what lies outside, no need to worry, you're not alone. Outdoor lighting serves to visually enrich your home's exterior and ensure safety and security. And here you have just as many options as the interior.
Inciting your neighbours' envy can be done with a range of different lights. Spotlights can accentuate any yard or garden feature you're fond of. Up or downlights do the same, but also add directional contrast and a sense of grandeur, for instance in statues and fountains. Bollard lights can illuminate larger areas, like driveways and footpaths. Step lights emphasize porches and patios. Pendant lights, used on their own, or better still in combination, exude a laidback, light-hearted vibe.
But possibly the most widespread use is that of garden and outdoor flood lights. As the name implies, these flood an area with a wide spread of light. You can highlight prominent parts of the house, yard, path or driveway. The sheer amount of light creates focus, without overtaking the whole scene.
Floodlights also serve to heighten safety and security. Many feature motion detectors or inbuilt cameras, so also safeguard against trespassers or intruders. Installed above the driveway and garage, or along the path leading to the front door, these lights instantly create a homely and welcoming feeling.
Why Use a Flood Light?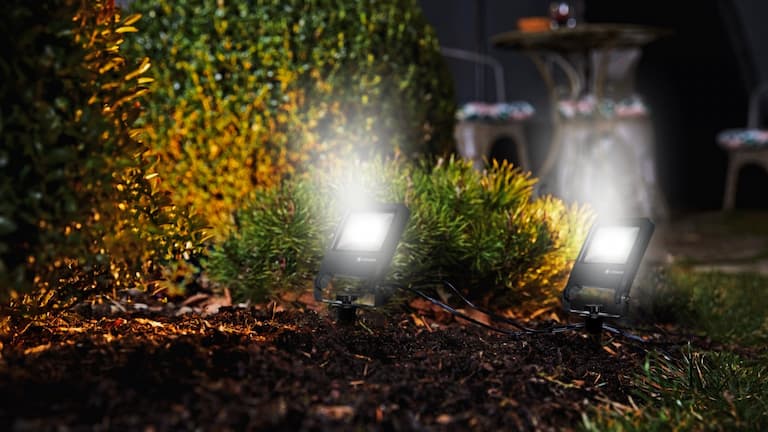 Landscaping flood lights come in a variety of designs, shapes and sizes to illuminate any garden feature or larger area. Technically, they have a wide beam, over 30 degrees, and this can reach up to 120 degrees in lights that are deemed very wide. This can be used to good effect, and blend different landscaping or architectural elements.
Installed along gutters, they can cast light onto the second storey, creating a sense of height. When positioned on an individual freestanding wall or fence, a floodlight projects perspective and illuminates an otherwise forgotten or dark area. This can also be good for rows of trees along the house, as well as paths to add some direction and won't have the usual glare of focussed spotlights. Even small details, like individual bushes, pot plants or lower trees can be accented with smaller floodlights positioned lower. The spread of light should be unobtrusive, yet highlight your garden or yard's best features.
Obvious areas where you'd want a flood light are those with low visibility, like driveways, backyards and patios. Here a set of floodlights mounted higher up and positioned at the correct angles will douse areas with sufficient lighting, without feeling overbearing.
Residential lighting should be done in moderation. For commercial cases though, flood lights are used to shine a wide spread of light. They are typically found in sports stadiums, warehouses and factories, parking lots, airports, shipping docks and any area where maximum visibility is key. They ensure safety in everyday operations. But here too you'll see a flood light used to draw attention to signage in entrances and facades, or accenting ornamental features or whole areas of heritage buildings.
What to Look for in a Flood Light?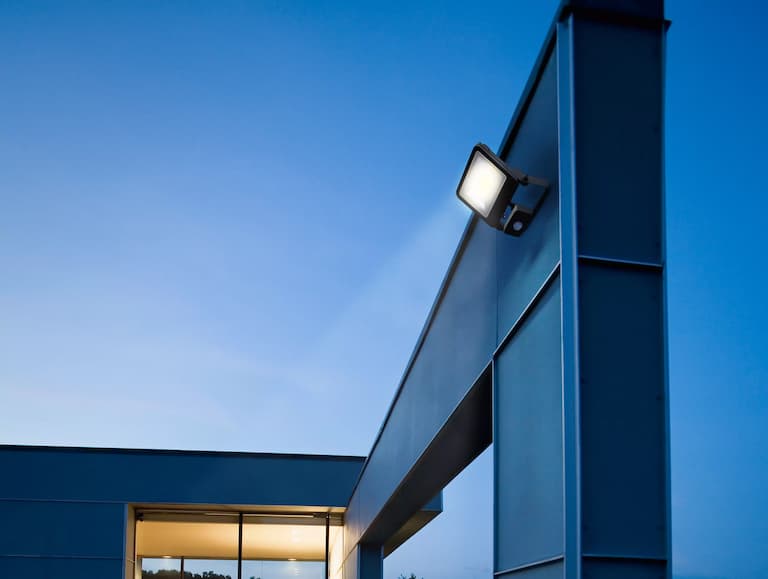 Beam Angle – This is the angle at which the light shines and you'll find some lights with adjustable angles. Combine this with the size of individual lights and the output to project the needed amount of light.
Power Output – This roughly correlates with size and the lighting tech. Most flood lights consist of efficient LEDs, but sizes differ. Smaller lights use only 10 Watts of power, though they're often used in combination with other lights with the same power output, or lights with more output depending on the visual effect you want to achieve. You'll find these are good for garden lighting, and they're sold as packages. Single, and extremely strong LEDs need to light up larger areas and come in higher outputs, from 100 to 400 Watts. Most lights are mains powered, though there are also those with inbuilt and rechargeable batteries.
Brightness – Brightness is stated in lumens. As mentioned, you'd ideally want a light that achieves the desired effect. And nothing too bright or too dim. Some lights have adjustable brightness settings and these are the ones to go for. The overall brightness will depend on the size and output.
Colour Temperatures – The majority of flood lights with LEDs are tuned to resemble daylight. Temperatures are stated in Kelvin (K), and here look for around 4000-5000K to mimic sunlight. Alternatively, you can option lights with variable colour temperatures, either going for cooler or warmer colours.
Build and Materials – A flood light with metal housings, tempered front glass covers, impact and water resistance are those that will work in any environment and any weather conditions. Look for coated aluminium outers in the colours that meld the lights with the surroundings. Also of note are quality lens arrays and reflectors for optimal light spread and LED chips from renowned lighting brands for efficiency and longevity.
Mounts and Brackets – Lights are usually ground or wall-mounted and with sturdy metal stands for ideal positioning.
Security Features – Here you have lights with motion detection sensors, that turn on as you approach. These are also good as a deterrent for unwanted visitors. Higher up the price range are lights with fitted (and barely noticeable) cameras if you need additional security.