Get the Farmhouse Look: Step by Step Guide to Installing a Sliding Barn Door
Everyone knows that the origin of the indoor barn door is from the actual barns. It could be strange seeing a sliding barn door in your living room or bedroom, but they're a great space saver and will add a special flair to the overall atmosphere. They're perfect for small apartments and houses and when the owner wants to make a statement. Plus, they're easy to clean and maintain.
Sliding barn doors have a specific farmhouse, rustic look to them that will make any space look like it came right out of a fairytale. This is one of the reasons these doors are getting more and more popular every day and people are embracing them with pleasure. That said, if you too want to bring the rustic charm of a sliding barn door into your home, it can easily be done in a few steps.
Find the Right Door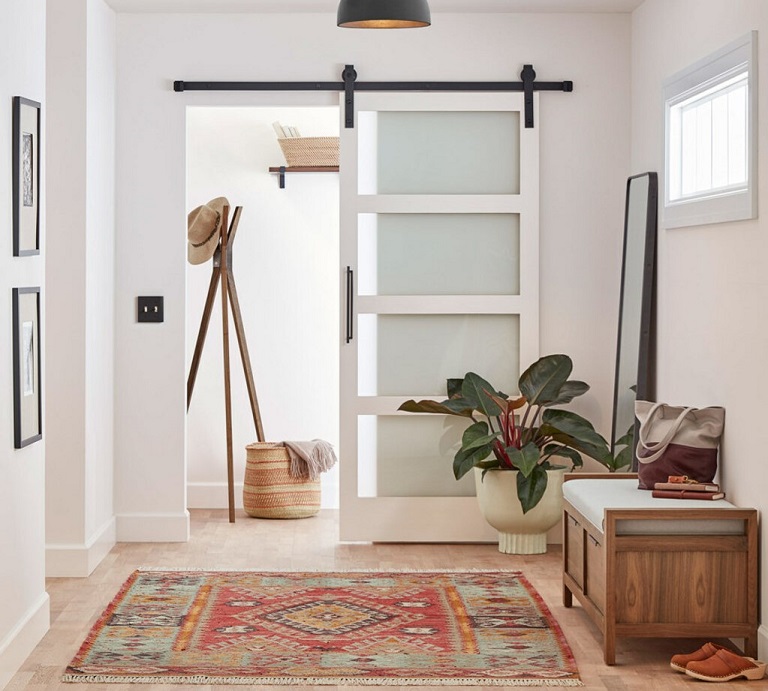 Sliding barn doors can have a serious impact on your interior design. That's why choosing the right one is very important. It can make or break a room, depending on the choices you make. They can go anywhere – the closet, pantry, bedroom, living room, you name it. But before making a decision there are a few things to take into consideration.
Design
When you go shopping for a barn door, you'll find many options, but don't forget you can also have it custom-made. These are usually the best-looking pieces of furniture and have a unique look about themselves.
There are many ways you can go with the design itself, traditional, rustic, industrial or contemporary. You can make it the centrepiece of the room and install it to make a statement, or blend it with the rest of the furniture to add sophistication to the space.
Material
The material is also important and can have a big influence on the overall design and the effect you're trying to achieve. One option is smooth paint-grade material or MDF. The other one is wood. If you decide to go with wood you can choose from oak, pine, fir, maple and knotty alder.
There is a trend nowadays of adding glass to barn doors. Laminated glass is very popular because it adds a great visual appeal but doesn't let the visitors see what's on the other side of the room. People also add materials such as leather, resin and Chemetal.
Colour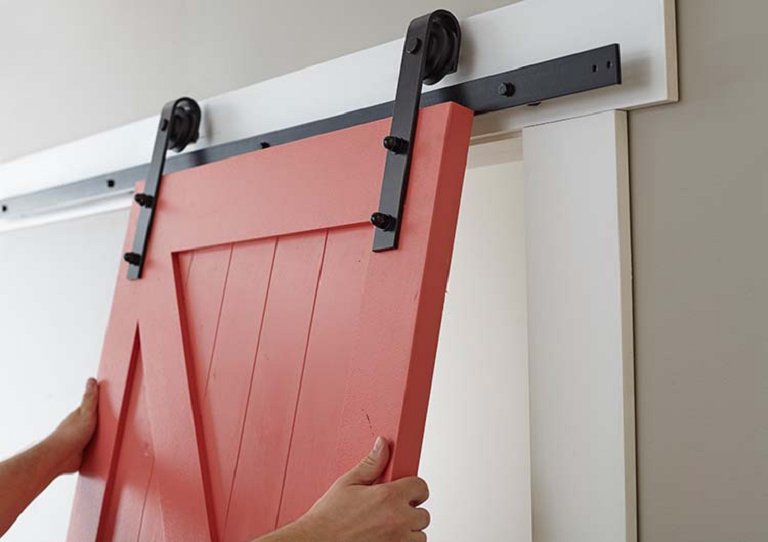 The colour of the barn door depends on your preferences and what you're trying to achieve. If you want a pop of colour in a neutral room, go with bold colours such as red, green, blue, purple or yellow. If you want to tone it down opt for neutrals such as white, grey, syrup, ivory, cream or tan.
Hardware
Hardware or door jewellery is last but not least important. You can find the sliding part can be made from white, black, blue, red, nickel or even bronze materials. The handle can be the same as the sliding part but you can mix things up by adding another colour.
The lock piece is something to think about as well. You should buy the right sliding barn door lock because they're sold separately and there's a chance it won't fit. So consult with an expert in advance. To make it easier for you, let's discuss locks in more detail.
Choose a Sliding Barn Door Lock
As you may know, barn doors are not the best security doors. They're not meant to be locked, so manufacturers don't add locks to them. This is a job for the buyer, and the options aren't very vast. There are a few ways you can add a lock and secure the door. Different situations require different locks, so you need to sort it out yourself.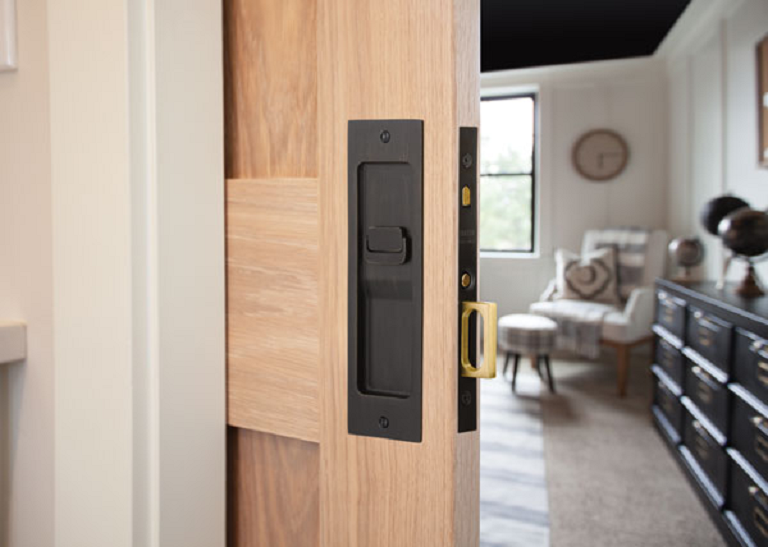 Hook and Eye
This locking method works well for both single and double barn doors. It's really simple to use and install. You don't need any special tool that you don't already have in the house. This barn door lock is highly durable and can be tightly secured to the barn door no matter the angle. Just make sure there are no gaps between the wall and the door because someone can easily unlatch it and enter the room.
90-Degree Flip Latch
These latches are ideal for single sliding barn doors and are typically used inside bathrooms or bedrooms. Since this latch is made to function in both directions, you don't need to worry about whether it will fit a left or right-hand sliding door. They usually come with short screws and may loosen up in time. To be safe, replace those screws with longer ones for more stability.
Single Cylinder Rim Lock
This lock provides a great deal of protection so it's wiser to hire a professional to do the installation. You'll spend a few dollars more but it's a wise decision because it requires special tools to be installed and a bit more effort. This is the perfect lock for locking on the outside because it has a key for the outside and when you're in, you can just turn the lock with your fingers.
Masterlock Hasp and Padlock
This is one of the inexpensive options for a sliding barn door lock. It's recommended to do the screw replacement as with the flip latch. Just mark the holes where you need to drill and make sure it lays flat on the surface and there are no gaps. This way you'll prevent thieves to pry it out.
Install Your Door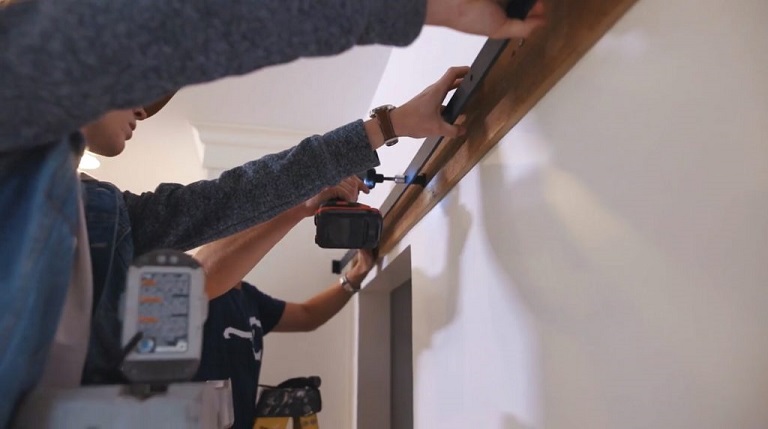 Installing a sliding barn door is not a complicated task and doesn't require any special tool that you don't usually have around the house. Some of the tools you'll need are:
Drill;
Tape measure;
Leveler;
Drill bits;
Wrenches;
Clamps;
Stud finder.
If the door needs to be assembled, there's usually a manual to go by and pre-made holes for every screw. You'll just need to tighten it up with nuts. With the wrenches install the sliding hangers on the front top. Slide all the bolts, nuts and washers to make them tight. You can install the handle now if you think you won't be able to do it at the end. Next are the track sliders. They're there to stop the door from sliding off its place. Screw it in place but don't do it all the way. You'll do this later when you place the door on the track.
There has to be space between the track and the wall so the wheels can move. The three main parts here are the separators, the track and a backer board. Make a straight line with the leveller and find the studs with the stud finder. Attach the backer board on the studs to the wall and then the separators to the backer board. The next step is attaching the track to the separators and now you're ready to set the barn door on the track. The last step is to take the leveller and establish a plumb for the floor. Get the floor guide and screw it on the top of the floor covering.
Finishing Thoughts
A sliding barn door is very practical and beautiful at the same time. It's a great conversation starter and will wow anyone that comes to your home. You can install them on your own or call a professional just in case. Either way, you can be sure your room will get a new look immediately and you'll be amazed by the change.
Oh, and if you're going to install one in a private space like a bathroom or bedroom, make sure to get the appropriate lock.