How to Organize Gardening Tools and Supplies in Three Easy Steps
A great number of people find gardening a very satisfying and relaxing thing to do. But one of the main problems they face on a daily basis is the storage of gardening tools. In light of that, instead of keeping them in boxes in the basement or balcony and tossing them around, investing in a garden shed is the right thing to do. According to gardeners, this is the easiest, most convenient and smart way to keep garden tools safe and sound.
When it comes to choosing sheds garden tools you own and your personal preferences should be the things to take into account, especially the amount and size of your tools. Out of all available sheds garden options on the market, the metal ones are considered the most durable, versatile and weather-resistant type. They can be made of aluminium and steel and according to specialists in the field, both of them are a good option as they are light in weight, easy to assemble and affordable. Plus, they come in a range of sizes, shapes, colours and finishes which makes them the perfect decorative addition to any garden. Once you take your pick, the next step would be to organize the garden tools. Fortunately, this can be done in three easy steps.
Tip: Since metal can get really hot during the hot summer days, it is recommended to choose a metal garden shed with good insulation for added comfort.
Smaller Items Organisation
Instead of investing in some expensive types of storage appliances, using some old stuff like an old basket can come in handy. When hung on the shed's wall, a basket like this would be the ideal place for storing smaller garden items like seed packets, pegs, gloves, etc. (The size of the bucket can mainly depend on your free space and storing needs as well.

Another way to store smaller items like bolts and screws, wall plugs and hose pipe joints is by placing them separately in labelled glass jars for easier handling. If storage space is a bit of a problem, hanging a shoe fabric organizer on a shed's wall would be the perfect solution for storing your twine, weed-eater string, dowels, stakes, etc.
Larger Items Organisation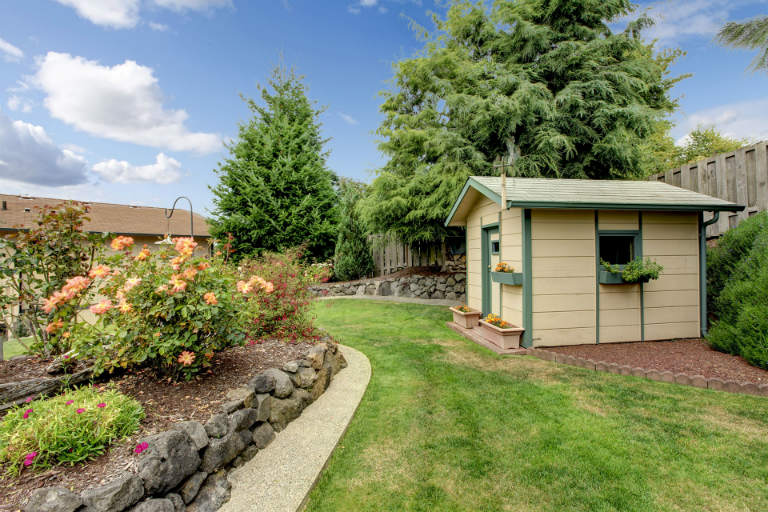 The easiest way to store and organise larger items is by placing a pegboard inside the garden shed. According to gardeners, this is an incredibly helpful way to store larger items like a hoe, spading fork, shovel, spade, hose, etc. A larger hose could be stored wrapped around a bucket which is previously mounted on the shed's wall. The bucket should be installed with its bottom against the wall so one could use its inside for storing the hose attachments like spray nozzle, sprinklers, etc. In case there isn't enough free wall space, larger items could be also kept in large container placed in the corner of the garden shed.
Create a Portable Tool Basket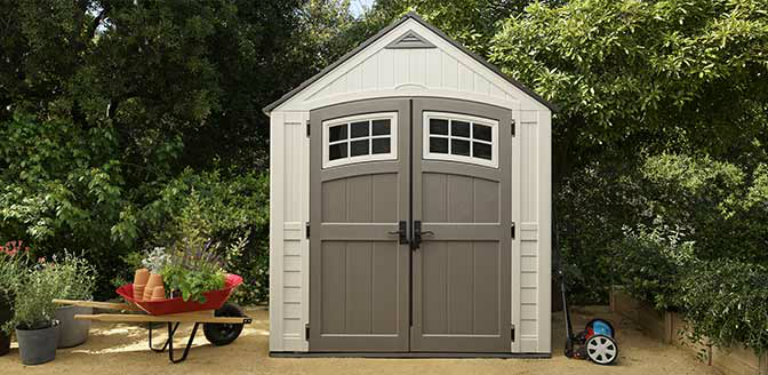 For those who are doing a lot of planting, re-purposing an old wheeled cart would be just perfect. They are roomy enough to keep and move heavier objects like large ceramic pots and garden soil. When empty, a cart like this can be the perfect place for storing all the planting supplies like pots, fertilizer, seeds, gloves, etc.