Step Into Summer: 3 Summer Essentials You Need in Your Wardrobe
With the chilly days well behind us, it's time to start planning our wardrobe for the most wonderful time of the year. As we approach the warm sunny days, most of us are concerned about losing weight and getting in shape to show off our trendy bikinis on the beach. However, another thing we should pay attention to is the right choice of clothing that will help us comfortably live through the heat.
Styling summer outfits greatly differs from styling winter ones. It consists of fewer clothing and accessory pieces, so you need to be more careful with your choices. Luckily, there are some timeless and trendy summer pieces that can go well with various outfits.
Slip-On Sandals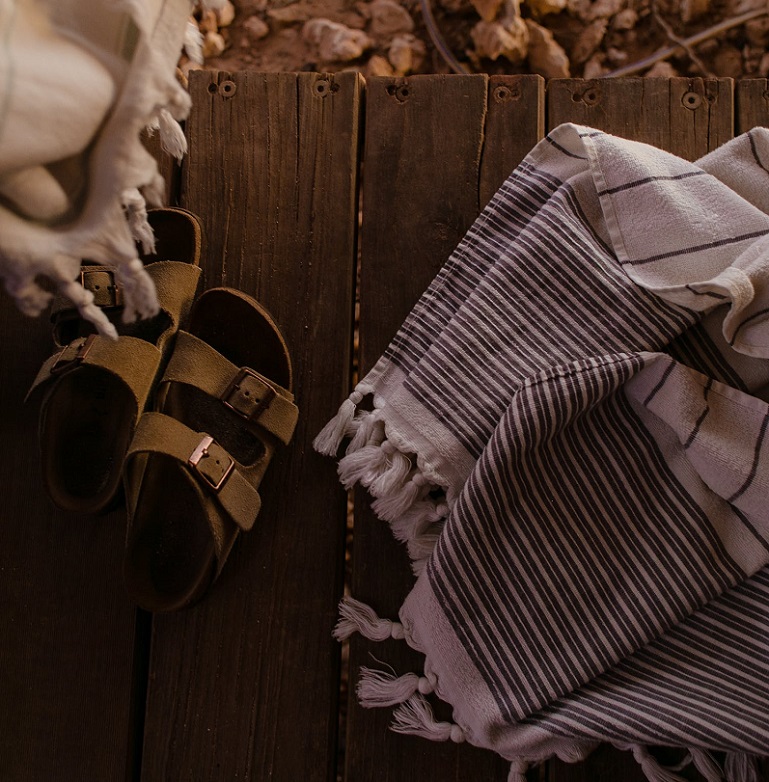 Summer is the season when we're more prone to wearing high-heels, however, these trendy shoes can be a double-edged sword. They're known to cause a myriad of health issues, from foot problems to problems with our spine and posture. A pair of slip-on casual summer sandals provides enough support for your feet and is one of the key elements in any fashionable person's style rotation. They are an inspiration for fashion stylists year after year. Because of their chic minimalist design, you can easily fit them in a daily outfit for a stroll in the sunshine, or for a night out, paired with more structured pants and a blazer if the weather is chilly. You can find slip-on women's casual sandals with one strap, two straps, or even closed-toe caged models.
Birkenstocks
Models like the Birkenstocks are slowly stepping up from being a classic house shoe to one of the most popular casual sandals for women. Today, we have an updated version of this classic style – we can find them in different materials, ranging from suede, leather to even waterproof models that are ideal for the beach. Their elevated orthopaedic soles are shock-absorbent and are designed to properly cradle your foot while supporting your posture. These soles are also great for sweaty feet, which we all tend to get during the scorching summer days. The sweat-proof soles paired with the wide two-strap structure for extra safety, allow you to take long daily walks with consistent comfort.
How to Style a Pair of Birkenstocks?
As with any piece of clothing, you should carefully style a pair of Birkenstocks so they can truly shine in your outfit. Try wearing them with a long flowy skirt or dress. The ripples of the skirt add warm feminine energy to the chunky and relaxed look of the sandals which can look beautiful and effortless. Another good combination is pairing them with a more formal type of pants that are cinched in at the waist, such as ones with pleats in front, or even with classic palazzo pants. For warmer days, you can combine these casual sandals for women with voluminous denim or linen shorts, topped with a tighter-fitting shirt to soften the weight of the shoes and the shorts.
Summer Dresses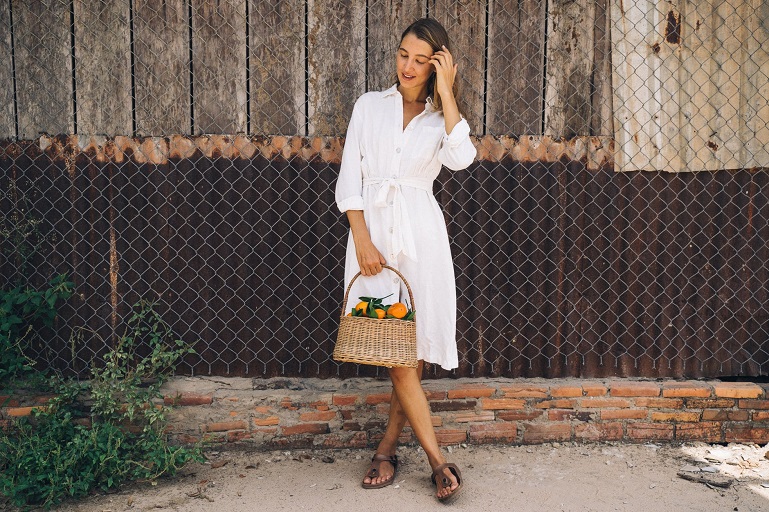 Day dresses
Whether you're spending the summer on a beach or on your patio, breezy ladies dresses are a must. Depending on the model you choose, they can be a part of your everyday casual looks or your outfit for a special occasion. These summer clothing essentials are comfy and practical. They're mostly made of natural materials like linen and cotton, that are soft to the touch and allow your skin to breathe. The flowy aesthetic radiates feminine energy and minimizes sweating in hot days. If you're not the type to wear dresses – try combining a simple shirtdress with a pair of comfortable pants in matching colour and material.
When picking a colour for your daily summer dress, try to avoid black and darker colours, as they tend to absorb more sunlight, making you more uncomfortable. It's best to choose ladies dresses in white or pastel colours. If single-coloured is a bit boring for you – go for a flower pattern that is always trendy for summer.
To accessorize, combine your dress with a stylish pair of sunglasses that matches the shape of your face, a floppy straw hat and a thin leather belt to match your bag. You can never go wrong when accessorizing a simple breezy summer dress as long as you pay attention to your colour and material combinations.
Night Dresses
Thankfully, summer nights tend to be a lot cooler and breezier than the days. This is the perfect time to wear a more tight-fitting summer dress. There are plenty of stylish dresses for night outs and celebrations, such as the ruched dress with added texture and dimension, lace dresses, leather-look dresses etc. You can pair them with jewellery and a stylish blazer. If you're the type to enjoy night-time walks on the beach – go for a simple off-shoulder knit dress.
Paper Bag Shorts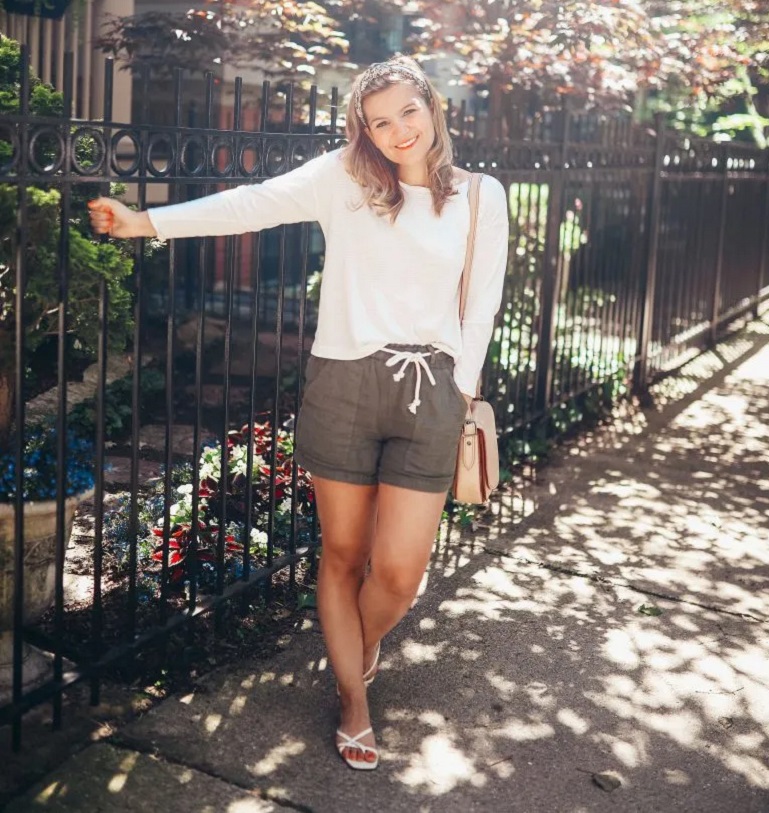 No matter the current trends, denim clothing always seems to find a way into our wardrobes – whether it's denim jeans, shirts, pants, jackets or dresses. While denim shorts are a timeless trend that we all associate with summer, it isn't one without drawbacks. Although denim shorts are highly customizable, the material sometimes tends to be rough and uncomfortable, especially on extremely hot days. To solve this problem, you can choose shorts in a lighter and more flowy material. Linen paper bag shorts are one of the best choices for this purpose. They're light and comfortable and come in a variety of colours and fresh patterns.
How to Style Paper Bag Shorts?
If you don't usually wear paper bag shorts, fitting them into a combination might look challenging. Because they're baggier than other shorts, you should pair them with a tighter-fitting tank top, crop top or even a bodysuit. If you're going for darker-coloured shorts, you can pair them with a classic white shirt. Just remember to completely tuck it in so that the signature waistline bow detail is visible. Lastly, you can create a more professional look by combining a longer pair of paper bag shorts and a cardigan or a blazer. This can easily fit into your summer office wardrobe.