Step Up Your Kitchen Appeal with Vinyl Tile Flooring
The kitchen is one of the most frequent and hard-working rooms in the house. It's easy to make a mess in the kitchen, and we've all been there. To minimise dirt and mess you need a kitchen floor that's durable, comfortable and easy to clean. But aesthetics can't be overlooked, so whether you're furnishing a new kitchen or renovating your current one, one of the most important things to look for is the right flooring solution.
One of the latest and fastest-growing trends is to buy kitchen floor tiles, but with the variety of materials, colours and textures available, it may be an overwhelming task to make a decision. Balancing comfort, style and function is the key to determining what's best for your kitchen flooring. Vinyl is one of the most versatile materials that can give your kitchen the look you prefer, whether it's modern and chic or a more traditional one.
Vinyl Tile Flooring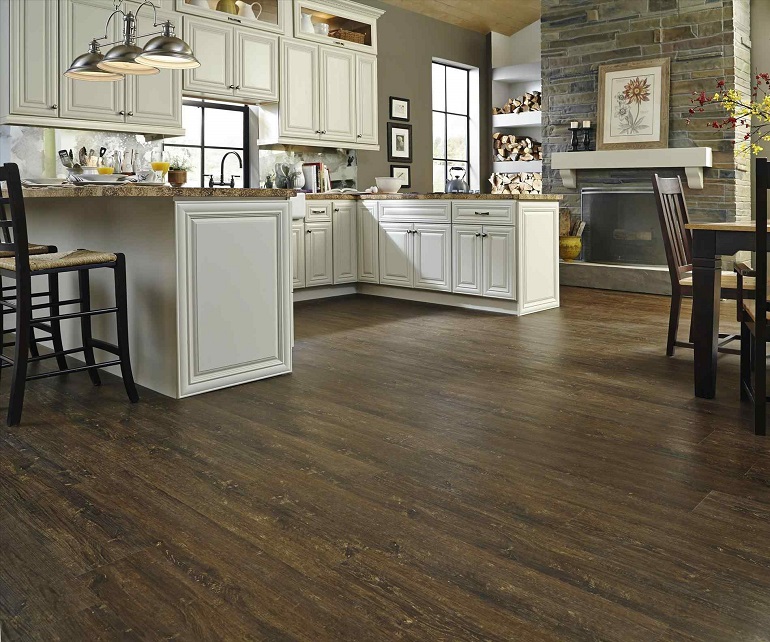 Vinyl flooring is a product made of several layers of different materials, put together to form a highly durable and practical floor solution. Vinyl is one of the most popular flooring materials for kitchens lately as it can withstand the common rigours of the space. When choosing vinyl flooring, you should know that there are two main types of vinyl flooring. The first type is luxury vinyl flooring, known as luxury vinyl tile (LVT) and luxury vinyl plank (LVP), while the other one is vinyl roll, known as vinyl sheet. They are made from the same materials but are constructed differently to produce different effects.  
Luxury vinyl flooring is a type of flooring designed to imitate natural flooring options such as ceramic tile, hardwood and more. Thanks to technological advances and enhanced design capability, you can buy kitchen floor tiles by choosing from a variety of timeless and trendy designs that look and feel identical to the products they're mimicking. The modular format of luxury vinyl tile makes it easy and simple to install, which is one of the reasons why its popularity is constantly increasing.  
Depending on the type of vinyl flooring, installation methods can vary. To ensure a long life for your kitchen floor, you need to be careful with the installation process. Several considerations must be followed to it holds up perfectly and looks good. Due to the ease of installation, it doesn't require much time to complete the job as long as you follow the manufacturer's instructions properly. Also, hiring professionals to handle it right is always a good idea that can pay off in the long run.

Benefits of Vinyl Tile Flooring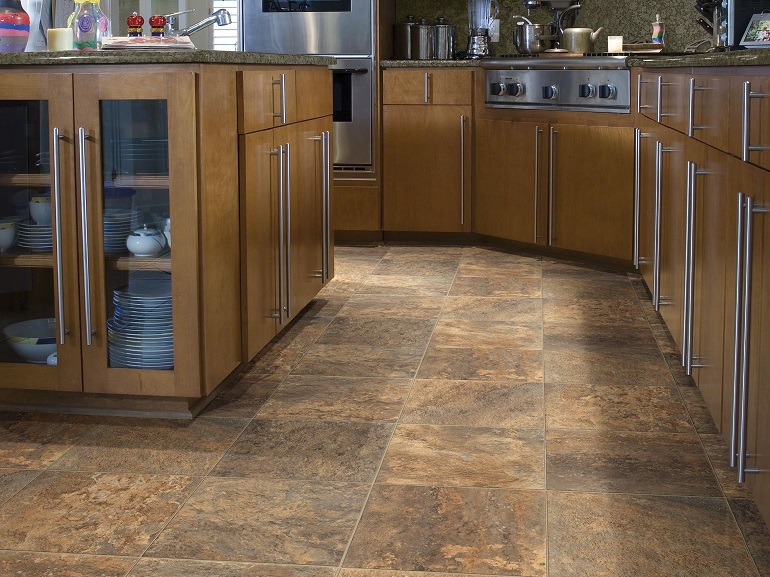 The advantages of vinyl kitchen flooring vary significantly depending on the type and quality of the product you buy. The good news is that new technologies allow vinyl flooring options to evolve in terms of both design and construction. The well-known benefits are many, such as the following, making it very clear why vinyl is a popular choice with a range of customer, especially the design-oriented ones.
Durable
Every kitchen requires flooring material that can last long and can handle potential hazards. High foot traffic, dropped dishes and heavy appliances can damage your kitchen floor. With vinyl, the surface a dropped glass or dish hits will be relatively soft and it's less likely that an accident will turn into dangerously shattering housewares.
Vinyl is considered to be a highly durable material and if well installed, you can expect it to last for many years. Keep in mind that several factors can determine the durability of your floor. Make sure you look at the quality of the material and how it was manufactured before buying it.
Water-Resistant
A kitchen floor needs to be able to endure inevitable spills. A well-installed vinyl floor is impervious to penetration from moisture, so it won't swell, buckle or lose integrity when exposed to water. However, it's the quality of installation that can affect the level of water resistance. Vinyl planks and tiles themselves are waterproof, but when installed they sit side by side and create multiple seams. If installed incorrectly, there's a chance of water of moisture seeping through the seams. That's why it's important to ensure proper installation, as mentioned above.
Easy to Clean and Maintain
In the kitchen, spills and splashes of various foods occur regularly. Luckily, vinyl is relatively easy to care for, making your life easy and your cooking environment hygienic. It tends to be stain proof and easy to maintain, however, regular cleaning is required to keep it in a good shape longer. Basic cleaning methods like sweeping can hold your kitchen flooring. To successfully remove stains, if any, you can use a damp mop and vinyl floor cleaner.

Comfortable and Warm Underfoot
Standing on hard surface floors for many hours can be fatiguing and painful to feet and legs. Vinyl flooring is flexible, so even if cooking your favourite dish requires a few hours, it will feel soft underfoot. Moreover, vinyl doesn't get cold in the winter, which makes it a smart choice if you like to walk around barefoot or if you have a little one who is still learning how to walk and crawls around most of the time.
Affordable
Compared to other kitchen flooring options, vinyl is relatively inexpensive. This allows you to choose a kitchen floor perfectly matched to your home décor and style without worrying about the cost. Well-chosen luxury vinyl flooring can add real estate value to your home and can be installed in other room of your house, not only your kitchen.