Stepping Into Marriage: Bridal Accessories Add That Extra-special Something to Your Look
The wedding day is one of those days you will never forget, you want to look your best and feel your best on that particular day. And order to do so, besides paying attention to the big details like your wedding dress, you must also consider your bridal accessories.
When it comes to wedding accessories, some brides have it all figured out, and others don't. The number of wedding accessories available might be overwhelming, but they add a touch of elegance that can enhance even the simplest wedding dress, so you shouldn't shun them out completely. Remember the times when you were in the midst of planning your wedding and you had a mini-meltdown about what colour tablecloths to use? Yeah, well, all brides go through this, but when it comes to your bridal accessories that's something you would rather skip ahead.
Shoes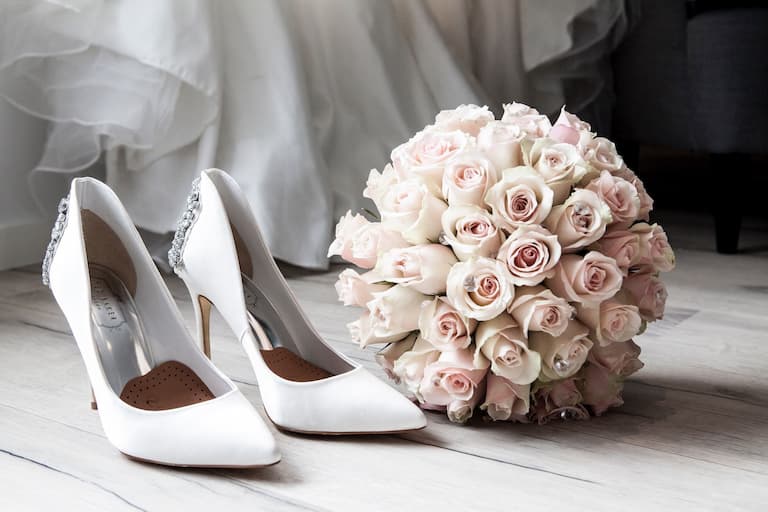 Aside from your lovely, stylish, and well-thought-out dress, it is equally critical that you feel comfortable on the biggest day of your life. The importance of shoe choice for an event such as an engagement or a wedding day is huge. Nobody, including you, wants to be in discomfort or wear an out-of-place shoe when everything is going well.
When it comes to wedding shoes, heel height is a crucial element in the level of comfort you'll have. It should have a maximum platform of 3-4 cm and a heel of 12 cm. If you buy a pair of shoes with high heels, you may have to take them off at the end of the night. A platform, in addition to heels, ensures that the feet are comfortable during these types of occasions. If you dislike platform shoes, you might choose versions with a concealed platform.
Typically, your wedding shoes should be the same colour as your gown. By bringing a tiny piece of your dress with you when you go shoe shopping, you can make the perfect pick. Remember to consider your accessories while selecting your shoes too. If you decide to ditch unnecessary accessories from your look, you can pick designer wedding shoes that are a bit showier.
Earrings, Necklaces and Bracelets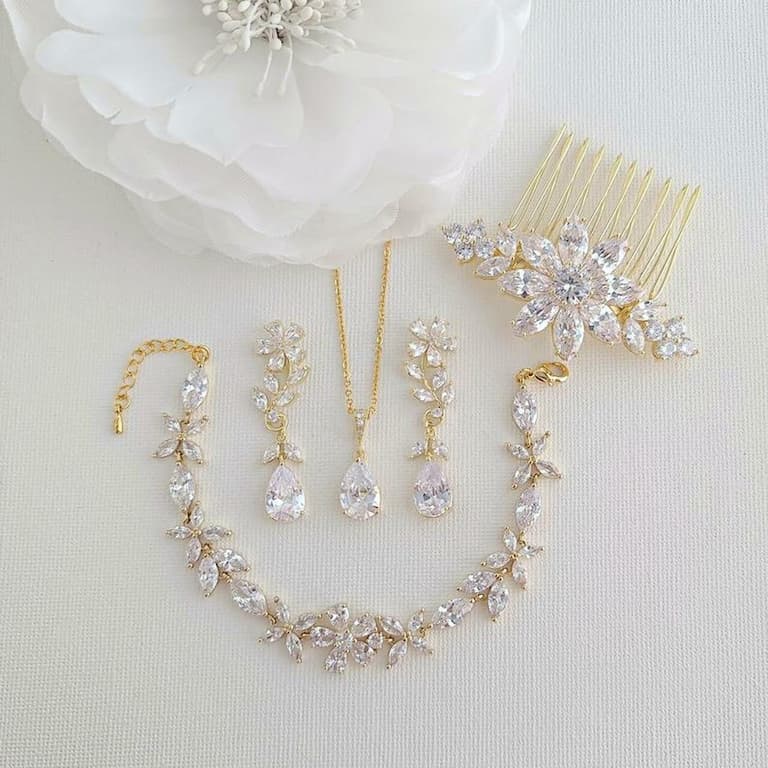 Accessories, when done the right way, they bring that final touch of glamour and allure to your bridal ensemble. But, with so many different types of bridal accessories available, how is a girl supposed to know what she needs? When it comes to determining what jewellery to wear, one of the most important factors is the neckline of your dress. It is best not to wear a necklace if your neckline is higher and the line terminates straight at the bottom of your neck or covers your entire neck. Similarly, if the neckline has too many jewels, you should avoid wearing a necklace with it. Two details on top of each other will just kill each other and look terrible. Drop earrings, on the other hand, can be used to complete your style.
However, there is still a potential that certain statement earrings may compete with and outshine your outfit. That is not something we want to happen. There's no sense to try to complement your clothing with an equally extravagant piece of jewellery if it's exceedingly pompous and ornate. Why would you add another scream to the performance of your hair, make-up, and clothes are all screaming that you're there? If you want to be safe, opt for diamond or pearl earrings to offer the glitz you want. They are a popular choice for many brides since they are never out of style and almost always give enough grace to your queenly image.
If you wish to utilize alternative gemstones instead of diamonds, you may create a distinctive aesthetic by combining them in different ways. The trick is to keep things as simple as possible. Do not try to utilize large jewels since the grace decreases as the stone size increases.
Hairpieces and Crowns
The first thing to consider when selecting hair accessories is your own style as well as the style of your wedding. The wedding day is not the time to deviate from your particular style. Is your own style more romantic? Then a lovely flower comb or hair vine will be ideal for you. Are you more of a trendsetter? Opt for a bold statement item. Are you planning a beach or vacation wedding? Consider a basic yet gorgeous hair flower. Keep your unique style in mind and hunt for things that truly speak to you.
After you've decided on your jewellery, the next thing you'll want to think about is your haircut. The best advice would be to wait until you know what sort of hairdo you want to wear and whether you want to wear a hairpiece in the front, back, or side of your head. It is also necessary to evaluate the thickness of your hair. While your hairstylist can do wonders to secure your headpiece, brides with thinner hair should avoid bulkier or heavy pieces that may fall out or move throughout your wedding day.
Bridal Clutches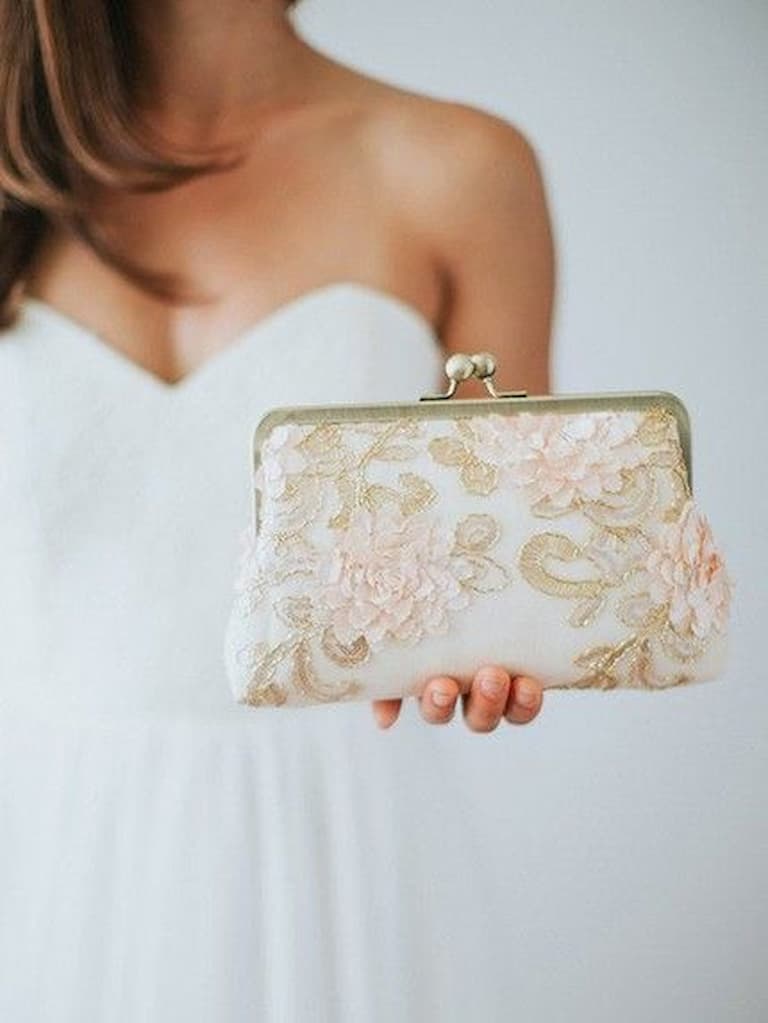 A clutch bag is an understated accessory that is preferred by women for special events, and on occasion is more special than your wedding day. The clutch, in contrast to other bag styles, is fairly basic, yet provides an element of sophistication. The clutch bag is also simpler and more convenient to carry around than other bags.
There are so many fantastic clutch designs available, which means the choices for finding one that suits your bridal dress is limitless. This might also make selecting the ideal bridal handbag difficult. It is crucial to note, however, that you do not have to choose a clutch style that complements your wedding gown. Choose a design that complements the style and tone of your gown. The colour might even allude to wedding themes, accent the season, or match the groom's attire. Many dress designers provide complementary accessories, such as bridal purses, in addition to their bridal wear collections, so look into those for ideas.
General Wedding Jewellery Tips
While you may not wear a bridal gown every day, you are probably more familiar with wearing jewellery. You know what works for you and what makes you feel the most confident, so use that as a starting point for your wedding style. Let's not make your wedding day the first time you wear a statement earring if you never wear them. Instead, pay attention to the things that make you feel the most at ease and amp them up a notch.
The jewellery you wear for the ceremony does not have to be the same as the jewellery you wear for the rest of the wedding. If your spectacular veil prevents you from wearing statement earrings, switch to sparkles for the reception. If your long-sleeve bolero or gown topper stops you from wearing bracelets, stack bangles on your arms when you remove them. Though you can make a totally new second look dress for the reception, an accessories switch-up is a less expensive option that will still have the intended impression.