Hitch Bike Rack Buying Guide
There are several important pieces of bicycle equipment you should own if you are serious about going on outdoor bike adventures. If you have ever taken a trip on which you've had to store your bike inside, you are aware of how much of a fuss that can be. This is why bike racks are somewhere on the top of the list of equipment you need for your trips, whether you are going on a camping trip, mountain biking, or you simply need your bike to explore new places. Hitch bike racks allow you to haul your favourite two-wheeled companion safely on the back or on top of your vehicle. They are easy to install and to use, and they free up room inside your vehicle.
Bicycle carriers come in a range of options, deferring in the way they work, the number of bikes they can carry, and so on. But the most important difference is how they are mounted. The type of bike rack you choose will influence the ease of use as well as the convenience it will offer. Basically, racks can be either mounted on the rear or on the roof of the vehicle, and both options come with advantages and disadvantages, depending on what you need, how many bikes you are transporting. etc. As the name suggests roof mount bike racks allow you to carry your bikes on top of the car. Rear mount bike racks, on the other hand, offer several types of bike carriers, including hitch mount, trunk mount, spare tire mount, towbar mount, etc.
What Are Hitch Mount Bike Racks?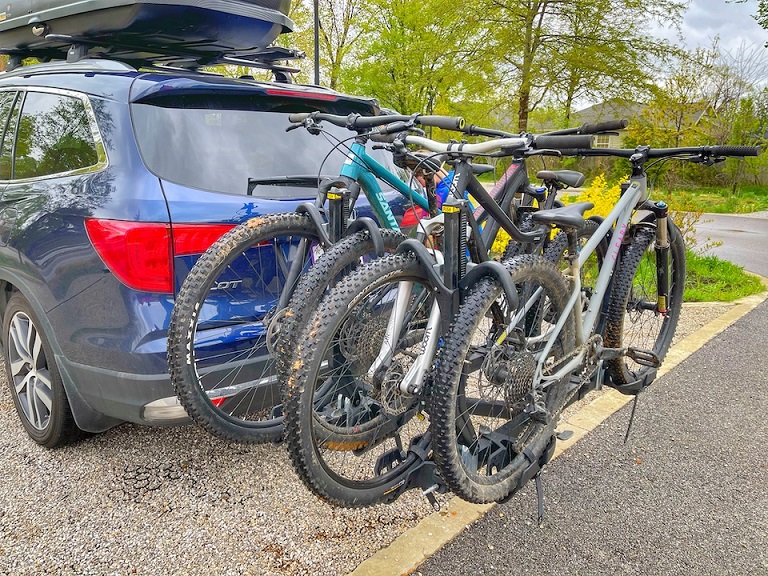 There are many reasons why hitch-mounted bike racks are one of the most popular options, especially for carrying more bikes at once. They are installed by sliding into the hitch receiver on a trailer. If a vehicle isn't equipped with a hitch receiver, usually one can be installed. This type of bike rack is the best choice for more serious bikers who will use it regularly, and even more so for someone who needs to carry more bikes. One of the reasons why is that hitch bike racks are more expensive than other types.
Benefits of Hitch Mount Racks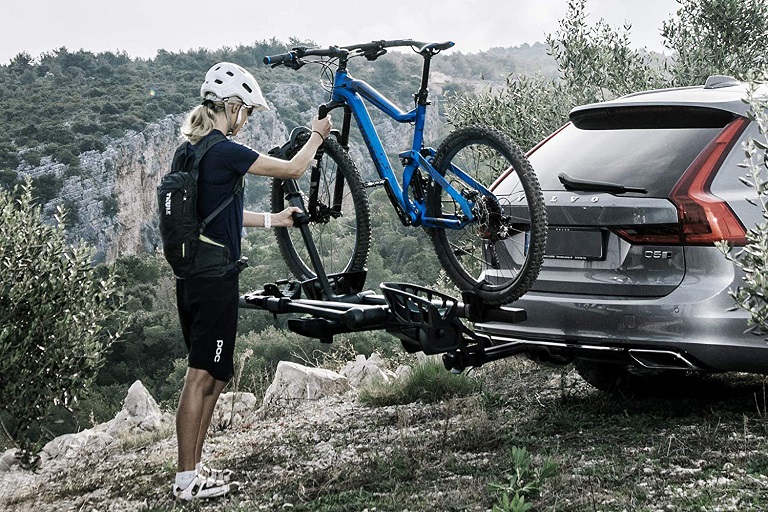 If you are someone who travels in a group, whether it's with friends, family or another group of people, hitch-mounted bike racks are the best way to carry more bikes. Typically hitch-mounted bike racks can haul up to six bikes. As a matter of fact, if you need to carry more than 3 bicycles with your vehicle, you will most likely find a 6 bike rack hitch mount option to be the best one for you.
Nevertheless, if you want to buy a 6 bike hitch rack, you need to make sure that you get one that is suitable for your vehicle, and that your vehicle can carry it. To do that, you need to check the tongue load capacity of your car's hitch. If your vehicle is equipped with a hitch receiver, check the manual to see determine the load capacity, and if you are installing one specifically for this purpose, you should learn about its capacity and make sure you get the right bike rack. Moreover, make sure that you load the hitch bike rack properly because otherwise, it can bend or even break.
Moreover, you should also take into account that a 6 bike rack hitch mount will be heavier, not only than other types of bike racks but also than other models which can hold fewer bicycles. This is why it's important to make sure that your vehicle can withstand this weight, even before buying the bike carrier.
Types of Hitch Mount Racks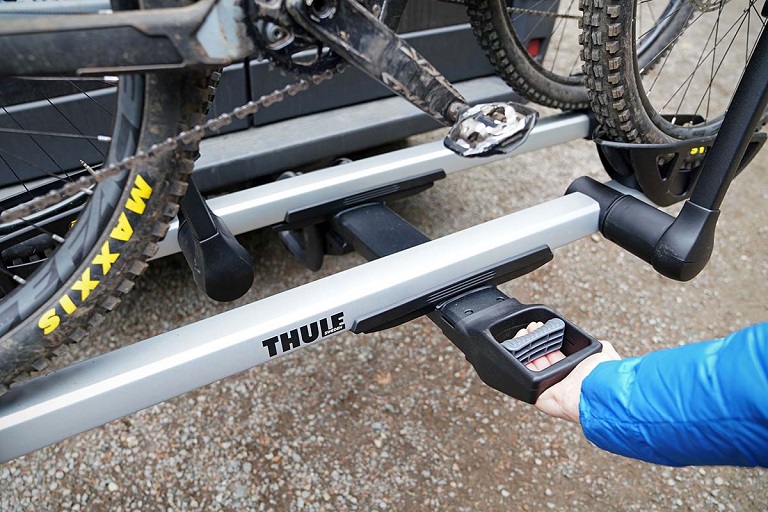 There are two styles of hitch mount racks – hanging cradle style and platform style. Hang-over hitch mount bike carriers, or the ones where the bikes you are carrying hang from the rack, are generally less expensive than the other style. They are also lightweight and they offer more ground clearance. Platform hitch mount bike carriers, or the ones where the bikes sit on a platform, are typically more expensive. They are a bit heavier and can be hard to store, but they are easier to use than the other type, and they are also very secure.
One of the biggest advantages of hitch racks compared to trunk-mounted racks and roof-mounted racks is their sturdiness. They are also very easy to install and to use. They are also easy to remove when you don't need to use them anymore. They are also quite secure, because they can be secured to the hitch with a cable lock, or they come with locks. Moreover, bike racks that are mounted on the back of the car will make it hard or impossible to use the boot or the rear door of the vehicle. However, there are models of hitch-mounted bike carriers that allow the rack to drop or swing, to move out of the way so that you can use the rear door or the boot of the vehicle. These models are of course more expensive, but the alternative is not as convenient.