Summer Style: Steps to Choosing the Perfect Men's Sandals
With temperatures rising to extreme heights this summer, no one can blame you for wearing sandals and letting your feet breathe a little. Sandals have received some bad rap over the past years, especially with younger generations who tend to associate them with the image of tourists pairing them with a pair of thick, white socks.
But if you know how to wear them and choose the right model, sandals can be a stylish addition to your summer wardrobe. Available in an array of styles, from thongs to slides and strapped designs, men's sandals are an informal type of footwear for beach days, summer get-togethers, running errands around town in the heat and even hiking. Here are some great tips on how to choose the right sandals for walking in comfort and style this summer.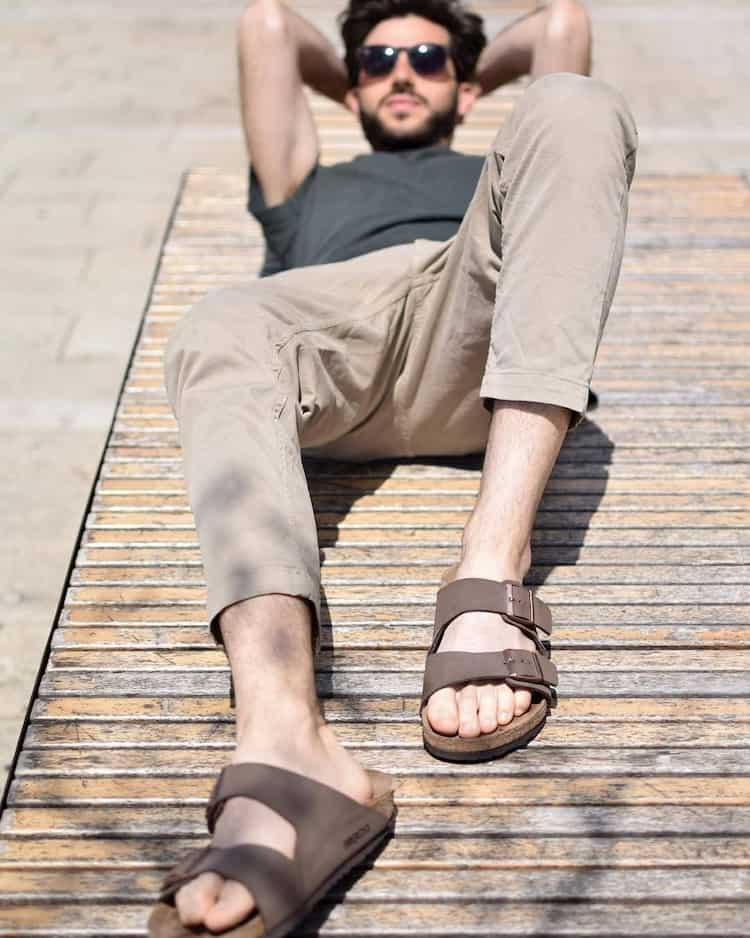 Comfort Is Crucial
Comfort should always be the primary concern when buying any type of footwear. You want to ensure that your sandals don't cause you any discomfort or painful blisters and chafing. The right pair of sandals should be lightweight, breathable, flexible and supportive. So, what features to look for?
For starters, check the sole and the footbed. Sandals with an EVA sole tend to offer the best cushioning and shock absorption. This way, your feet will feel less tired and won't be sore at the end of the day. In addition, EVA soles are lightweight so you won't feel like your sandals are weighing you down. As for the footbed, make sure it's contoured and flexible to conform to the shape of your foot. The footbed should also offer proper arch support to keep your feet healthy and help your posture.
Another thing to keep in mind is the strap, especially if you want to wear your sandals barefoot. Sandals with bad straps can cause chaffing in the back of your ankle, where the skin is very delicate. To prevent this, opt for strapless sandals, or at least make sure that the straps feature pads that will prevent irritation of the skin.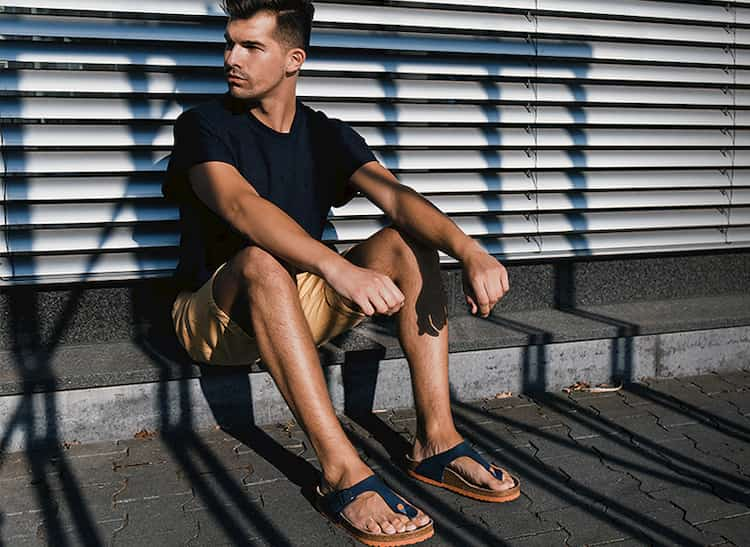 How Should Men's Sandals Fit?
Although the fit is a factor that contributes to comfort, it's a lot more complicated to define what sandals will fit you best. After all, it is unique for each person. It's vital that the sandals are the correct size for your feet. Your toes should sit close to the edge of the sole, without touching any stitching which may rub and cause discomfort. On the other hand, the heel should have a little space between it and the rear edge of the sole.
You should also consider the width of the sandals when shopping for the perfect pair. If you have wide or narrow feet, it may be more difficult to find a model that fits right. In that case, try searching at orthopedic or comfort footwear stores which tend to have a specialised range for wide and narrow feet.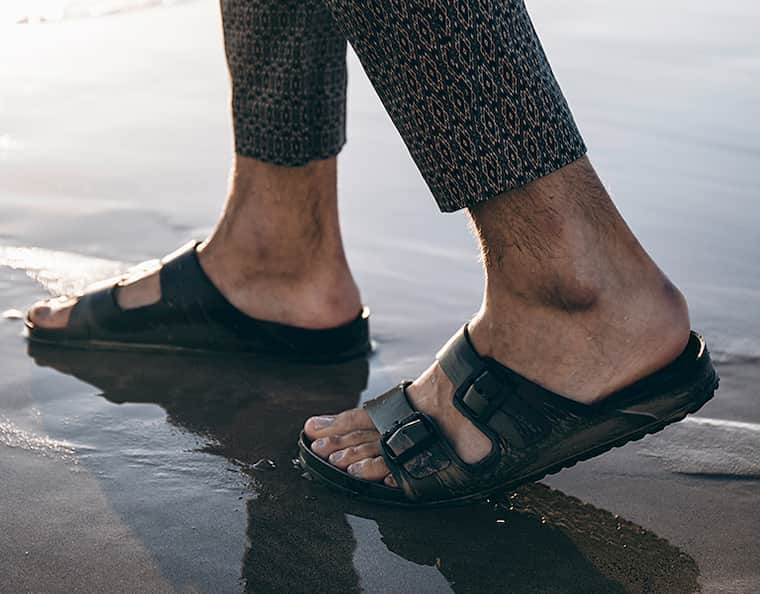 Go for High-Quality Materials
If you're buying men's sandals, make sure that you invest in quality. Cheap ones may be okay for wearing them around your home, but you don't want to wear them on the streets or the beach, trust me. For one, cheap sandals are made of cheap materials, and that's how they look like. You want something that will make you look stylish and elegant even when casually dressed. So, opt for models made of full-grain leather or high quality artificial leather twith a rich texture.
Not only do sandals made of durable materials look better, but you also won't be worried that your sandals will fall apart after a few wears. What's more, genuine leather is soft and flexible, allowing the sandals to conform to the shape of your feet. For your peace of mind, I'd recommend investing in sandals from renowned comfort footwear brands such as ECCO, Vionic, Birkenstock and Sperry.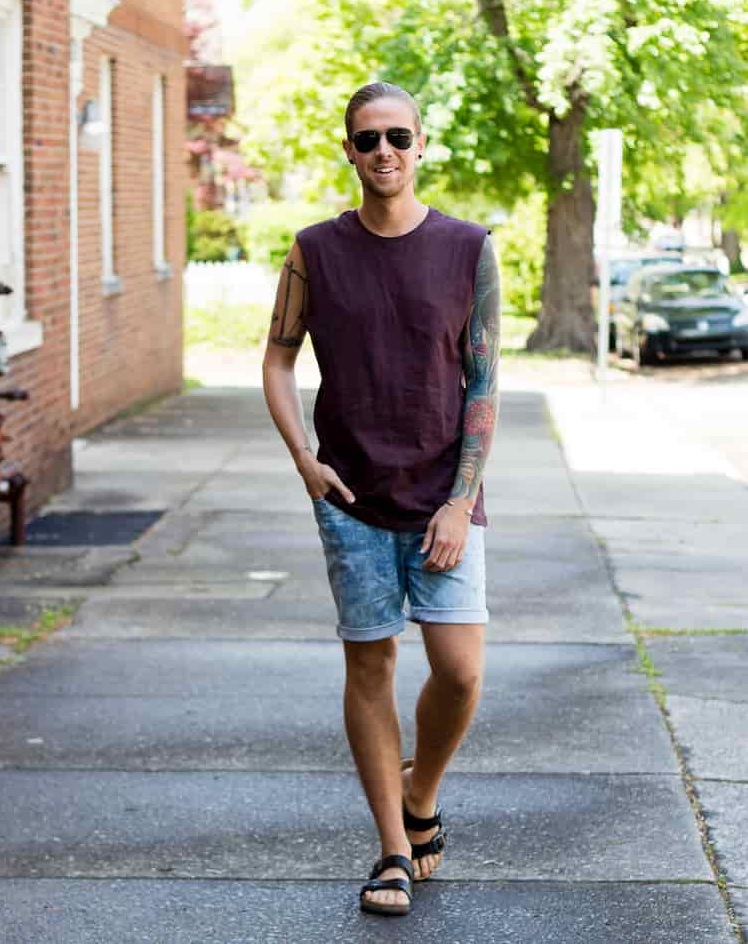 Consider Their Purpose
There's a variety of sandals on the market with features that make them suitable for different occasions. Before buying a brand new pair of men sandals, consider where you'd want to wear them. For instance, if you need something for the beach, it's best to look for models that are easy to put on such as sliders or thongs. If you want to stay safe around wet and slippery areas, make sure that the sandals have non-slip soles.
On the other hand, if you want sandals for walking around town, you'd want to be extra sure that they are shock-absorbent and feel comfortable. After all, you'll be spending quite some time in them. And if you're a fan of exploring some of the easier picturesque trails in the summer, look for sandals designed for hiking. These should be made of a water-resistant material which will help your feet dry quickly if you need to cross streams. Hiking sandals also have thick, shock-absorbent soles that offer supreme traction to allow you to walk around rocky terrain with ease.
Is Colour Important?
Although sandals are a type of casual footwear, which means you're free to wear any design you like, it's still best to stick to classic options. Sandals in neutral colours aren't just safe, they are also easy to pair with outfits in any colour you like. Black, khaki, grey and navy blue are the safest options if you want a versatile pair of sandals.