Take the Tub Outside: 3 Steps to Creating an Alfresco Bathroom
If you live Down Under, then you've probably heard about alfresco dining or already have a dedicated space in your yard for cooking and dining under the open sky while enjoying the nice weather we are blessed with. But dining is not the only way to get in touch with nature, you can also take an alfresco soak. This experience that is usually reserved for guests of the world's most luxurious resorts is also making its way into the backyard. So, whether you're an exhibitionist at heart or you just want to get in touch with nature while bathing, or maybe both, here are some steps that will help you create your perfect alfresco bathroom.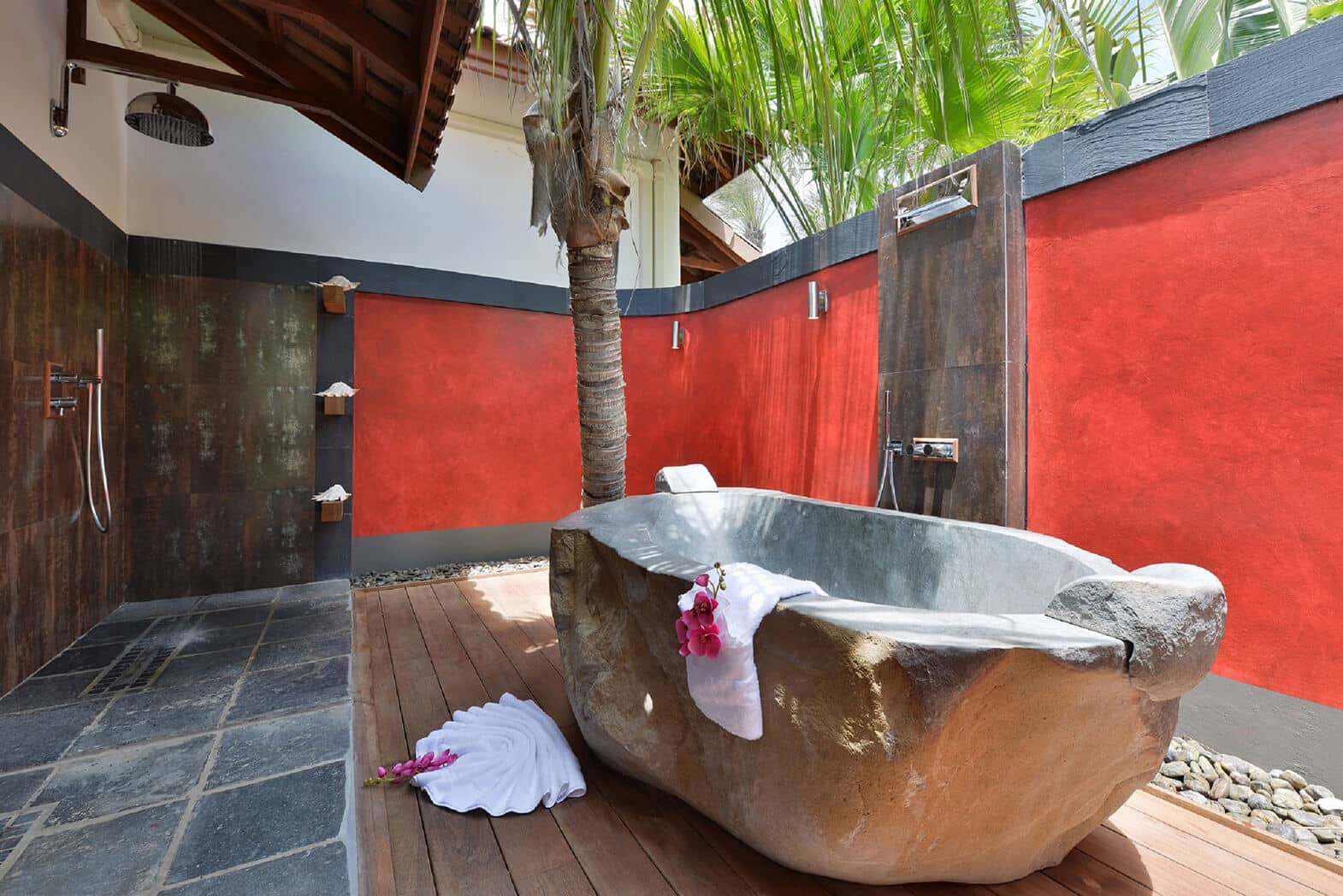 How to Make an Outdoor Bath?
Fixtures
A gorgeous freestanding tub can almost instantly add a resort-like look to your alfresco bathroom and take unwinding and relaxation to a whole new level. These baths can be easily moved and replaced without structural changes, unlike showers, for instance. While almost any freestanding tub can be used outdoors, stone bath tubs are the most desirable ones. Carved from stone which is a natural material, they can even further enhance the feeling of being close to nature. Not just pleasant to the eye but stone materials as granite, marble or travertine are strong and can withstand the elements when placed outside. This is why these tubs are a real beauty and a celebration of both luxury and strength. You can find stone bath tubs in a wide range of colors and shades like greys, browns, whites, and cremes and in different forms as oval, rectangle and round.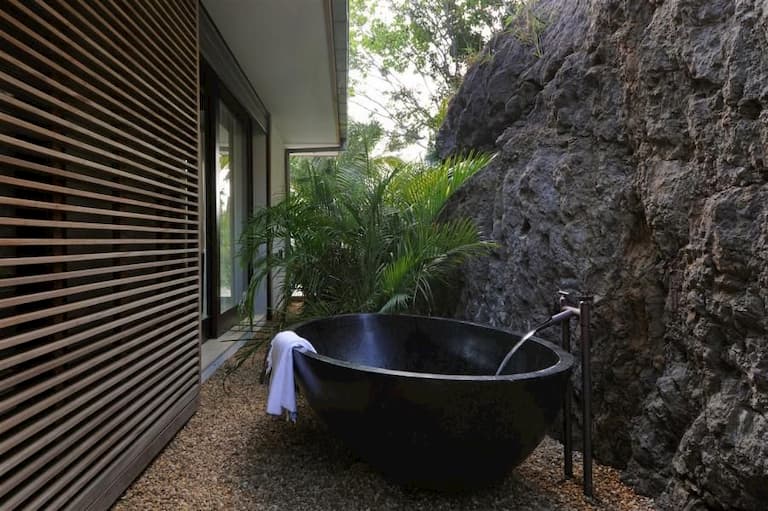 How to Heat an Outdoor Bath?
One aspect that makes a bath relaxing is the temperature of the water. But even on a hot sunny day, the water placed outdoors will cool off more quickly than when indoors. To ensure your water stays warm for longer without the tap running, again, you would want to pick a stone bath tub because these have a much higher thermal energy storage ( up to 50% ) than other baths like acrylic and steel. What this means is that you can enjoy your warm soak for longer.
To add additional warmth to the water you can preheat and put a few hot stones (usually made of volcanic materials as basalt) into the tub. But if you don't want to bother with preheating the stones, there are other solutions as artificial stones that radiate heat. When placed in the tub these devices can recognize the temperature of the water and maintain it for a set duration.
Plumbing and Drainage
Before installing the freestanding tub into your yard proper plumbing is necessary. If you are planning to place the freestanding tub close to your house, then a simple hosepipe attached to your bath or kitchen mixer should be enough to deliver hot water to the tub. If you have the luxury of owning a large backyard space and you wish to take at a soak a good distance from your house, in this scenario, new pipes, and new landscaping design are needed in order to cover the pipes. In either case, it's best to consult with your plumber or landscape designer for advice based on your specific house and garden setup.
When it comes to the drainage, letting the wastewater seep directly into the garden is probably the easiest way but it can cause problems. A professional may suggest a few options like connecting the tub to your house's waste system to avoid a garden that is too damp and unstable.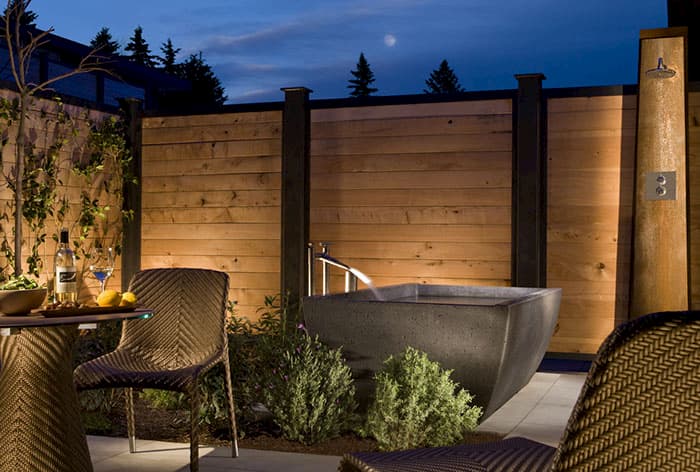 Privacy
If your garden does not offer the privacy you need, then you can surround the alfresco bath with lush greenery or add privacy screens or walls. If you live in a more remote location where privacy is not an issue, then you can keep the surrounding decor simple and minimalistic and maybe only add a few plants so that nothing can obstruct your view of the day and night sky. Go for water-loving plants that thrive in moist environment.
To make bathing an even more relaxed experience, consider buying a removable shelf or a tray that can be placed across the top of the tub. You can use it to hold a book, a glass of wine or maybe a brush for exfoliating your skin and Himalayan bath salt. Set everything up before you start running the water so that by the time you get in, you can go straight into a relaxation mode. An ottoman or side table can be also used for bath essentials storage purposes, but make sure you pick a simple one so that it doesn't overpower the tub.