Boating 101: The Complete Guide to Navigation Lights
There are some boating accessories that you just can't do without. Boat lights fall squarely into this category and serve to navigate your way through troubled or congested waters, or simply tell everyone else your location, the type of vessel you're operating, and where you're heading. Safety is a concern in Australian waterways, harbours, rivers and open oceans, so being equipped with the legal necessities goes a long way in being seen and seeing other watercraft nearby.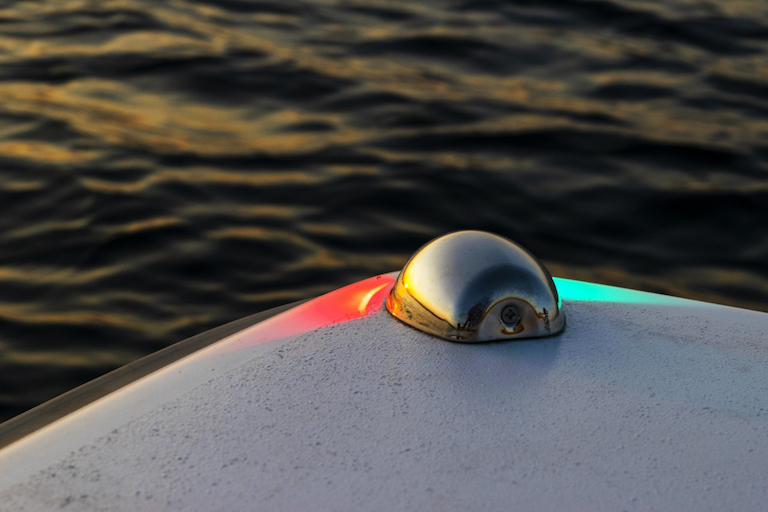 Lights used in marine navigation can be grouped into 4 categories: port and starboard sidelights, masthead, stern and all-around lights. These shine in a range of colours (red, green or white), are located in different parts of the vessel, and inform others in the vicinity of the type of watercraft, whether it is anchored, underway or engaged in some type of activity. Clear laws are set out relating to the use of navigation lights, concerning placement, orientation, and how far in the distance they need to shine.
Sidelights
Port sidelights shine red and are placed on the port (left) side of the vessel. The legislation states that they need to be visible at an angle of 122.5 degrees. Starboard lights are placed on the starboard side (right) and shine green. In terms of how far they need to shine, there are different rules for differently-sized vessels. Boats under 12 metres in overall length, must have sidelights that can be seen from a distance of 1 nautical mile. Larger boats and those that exceed 12 metres must have lights visible from at least 2 nautical miles.
There are different options for boat owners. For instance, for smaller boats, buyers can go with single port and starboard lights, or bi-directional navigation lights to save some cash. And if space is an issue there are also vertically or horizontally-mounted options available.
Masthead and Stern Lights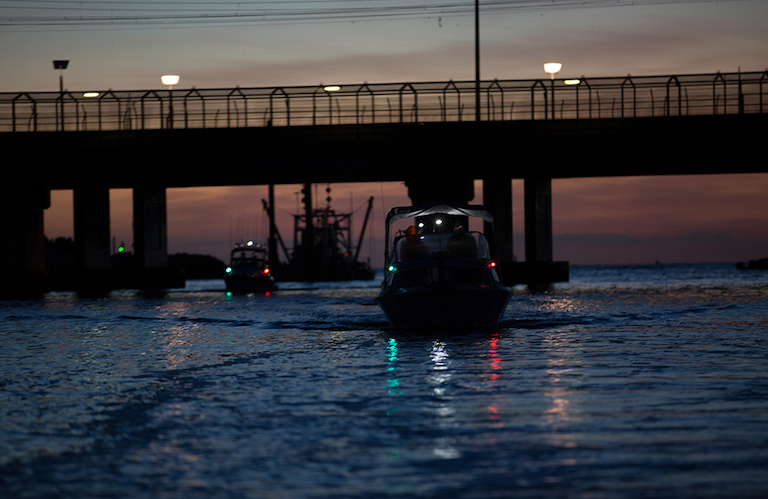 Masthead lights go higher up the mast and shine a bright white light to the front of the watercraft. They need to cover the angle fo both sidelights, or 225 degrees and be seen from a distance of 2 nautical miles in boats under 12 metres, and 5 nautical miles in larger vessels.
Stern lights are affixed to the stern and have beams shining at 135-degree angles. Like masthead options these too are white. Together, they must create a visible full circle of 360 degrees. And as with sidelights, both types come in varying shapes, sizes and mounting options.
All-around Lights and Other Variants
Use all-around 360-degree white/yellow or tri-colour lights that can be seen from 2 nautical miles away between sunset and sunrise and fitted to the top of the mast to inform others of the direction the boat is going. Other options here are tri-colour lights used in sail and smaller boats without motors. Tow lights placed near the stern are 135-degree types shining a bright yellow and often used on tug boats, while blue lights can be seen on different types of patrol and law enforcement vessels.
Power vs Sail Boats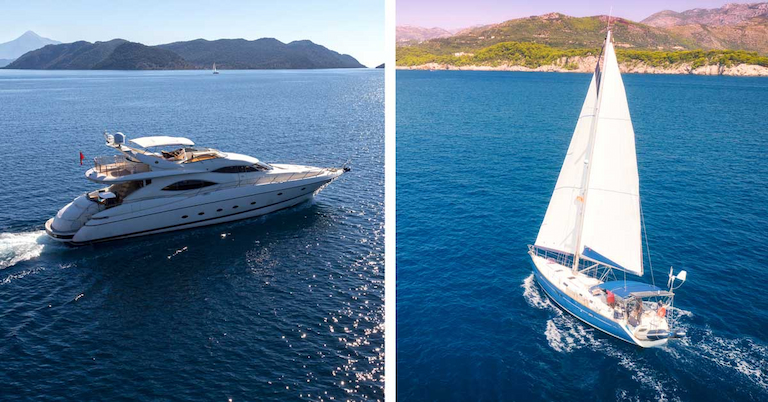 Laws govern how different lights need to be used in different boats. Powerboats that are underway need to have both sidelights on, as well as masthead and stern lights no less than one metre from the sidelights. Smaller boats also require an all-around light and sidelights if possible. All vessels, when anchored will have their all-around lights on.
Sailboats are a little different in that they must have separate sidelights and a stern light, and larger sailboats can include green and red lanterns combined with a masthead light.
What to Look for When Buying
When buying navigation lights, you'll need to pay attention to the type of vessel they're meant for (how far they shine), the build and materials used, and the type of lighting tech. Lights for smaller boats will be entirely different from larger commercial vessels, fishing trawlers or sailboats, both in how they fit, the build quality and how much they cost. Vessels under 7 metres (like dinghies, canoes and kayaks) only need an all-around light or a simple torch. Those craft that are exceptionally big (over 60 metres), may also require more than a few lights of the same type. The goal is for the best possible visibility.
Build also plays a part in performance and durability. Look for quality housings and lens arrays that will last against impact and corrosion. Mounts also should be resistant to sea spray and rust-free. In terms of lighting tech, LEDs can be more colour-accurate, use less power, and have longer overall operating times than traditional bulbs. Plus, most offer better brightness and are easier to adjust to get the right orientation. While they are somewhat more expensive, you'll know they'll last longer.
Marine lights can be found in stores specialising in boats and boating accessories. Besides the fact that they're legal requirements, lights aren't particularly dear (when compared to all else on offer), but fulfil a safety task that makes boating anywhere and anytime a carefree pleasure.