Invest in Nude Shoes: Take the Step to Elevate Your Style
As any woman knows, shoes are the essential components of a successfully assembled outfit. You may not care too much about the appearance of your footwear, yet the truth is it can take your look to the next level. And while the style of the shoes is important, we should consider the impact their colour has on the overall result too.
Black is a classic staple that goes with just about anything so I'm sure it already makes part of your wardrobe. But what about nude? If you still don't have this colour for your footwear, it's time you did some shopping because it's the "it" colour. With the range of fashionable nude block heel shoes, stilettos, kitten heels and other fancy styles, don't be surprised if you end up picking them for most of your outfit combos anytime over your black statement shoes.
How Do I Choose Nude Shoes?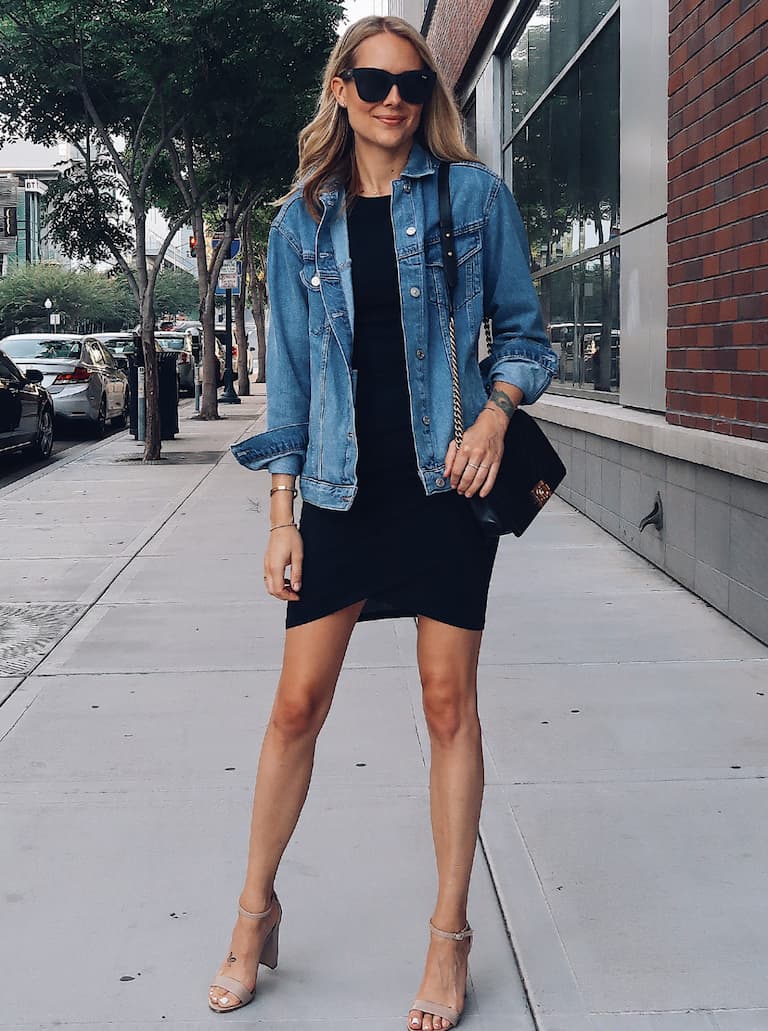 The power of nude, or also known as beige, blush, and skin-tone is that it can visually elongate your silhouette. This is particularly a great thing to know and use to your advantage if you're a petite girl with short legs and small feet. So, the first piece of advice I can give you when trying to find your ideal nude footwear is to decide whether you want your legs elongated.
If the answer is yes, then choose based on your skin tone – same as when shopping for the perfect makeup. Simply because one shade doesn't fit everyone. In case you don't know your skin tone, do your shopping in-store to try out the different shades, or if you prefer to buy online, then the simplest way to do so is to check the appearance of your veins.
People whose veins appear blue or purple beneath the skin have a cool tone, whereas those with green or a mixture of green and blue have a warm tone. The in-between is a neutral tone. Based on the variety of tones, nude can be anything, not just beige but neutrally hued so it could be pale, pinkish, tan, and caramel too. It's okay if your stylish nude block heel shoes don't exactly match your tone, as long as it's not too much of a difference because you can still count on a flattering and seamless outcome.
How Do I Style Nude Shoes?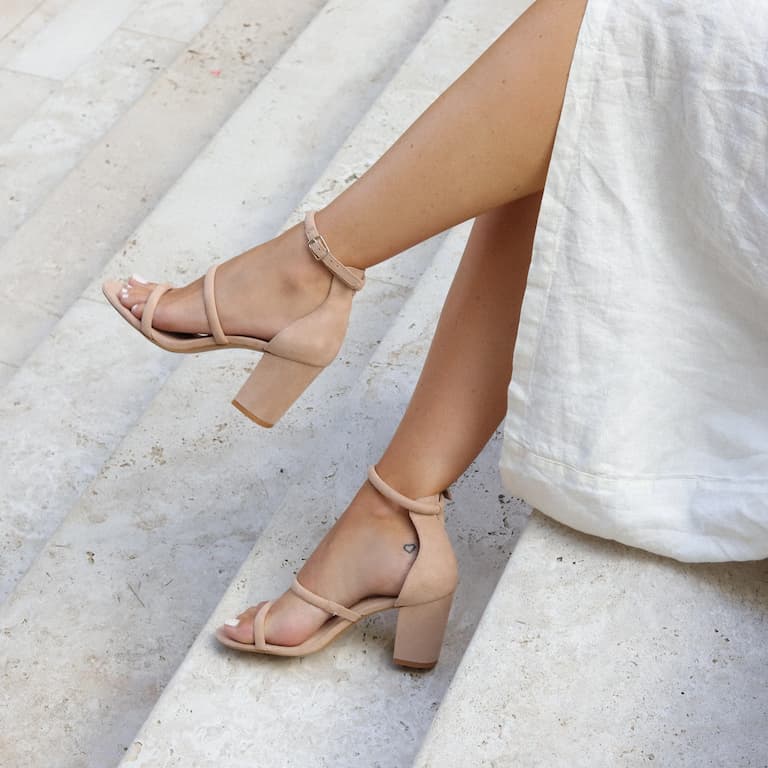 The reason nude block heels and sandals and flats are trendy for years and can compete with black shoes has to do with how easy they are to style. Wear them with your casual daily ensembles, sparkly nightly get-gos, or even professional attires, it's your call, these iconic footwear choices are suitable for basically any outfit you can think of.
With the LBD
Since this is a wardrobe staple, as the little black dress remains the influential and important garment no matter how the fashion changes, it's only natural to start with this combo. The stylish nude heels paired with your cute LBD are a perfect match because black and nude create an elegant and bold result at the same time.
Nude doesn't distract from black but rather seamlessly complements it, so you create a fun outfit that doesn't look uniform. Opt for stiletto pumps, either pointy-toe or open toe, team them up with the matching nude handbag, add some bling with a gold necklace, or earrings and rings, and you get a look many would envy and copy.
With Your Favourite Pair of Jeans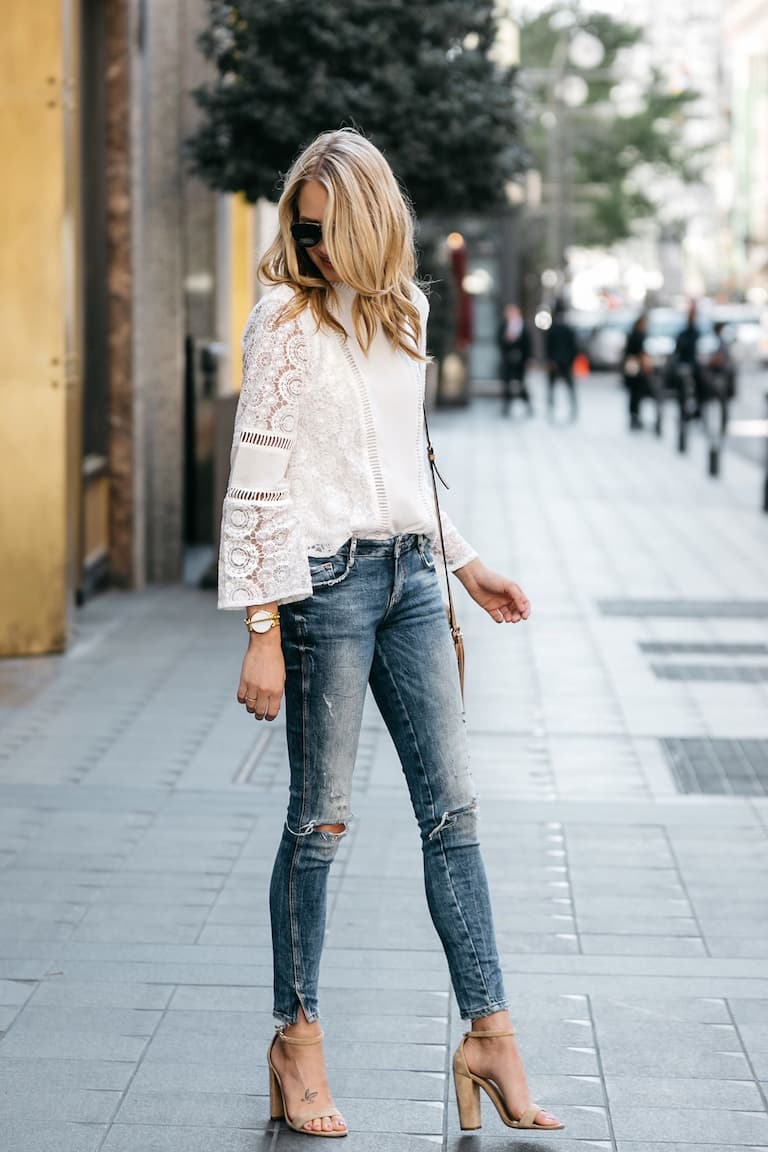 Jeans are an essential part of most women's closet, so knowing how to style them is a must. To achieve a stylish look, use nude stilettos with skinny jeans, nude bow heels with boyfriend jeans, or mules with baggier denim, even if they're low-heel mules. You'd be amazed how great they look!
With Trousers
If you prefer something flat, like nude ballerina shoes or kitten heels instead of nude block heel shoes then consider incorporating outfits with capri pants. With wide-legged trousers, it's best to invest in a look with wedges instead to make them more visible so they can add to your overall stylishness.
With Leggings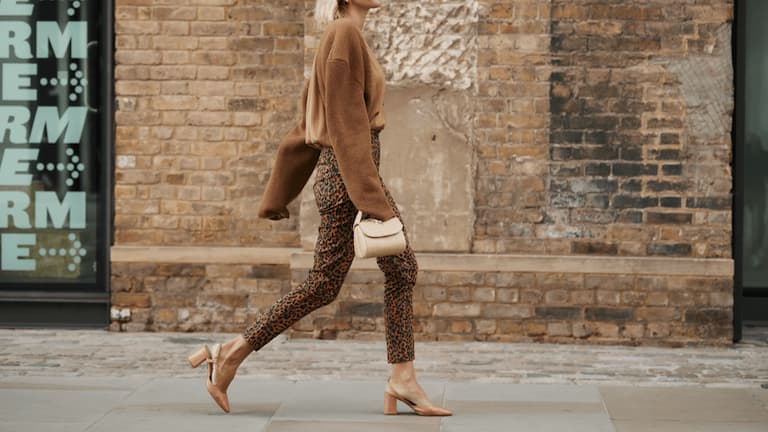 Once again for the gals who are in love with nude flats, this is a combination that you can use as many times as you like because of how sophisticated it is, and yet still with a dose of laidback appeal too. Even flats with embellishments can work here for an elevated appearance.
With Shorts
For a casual summer look, don't be afraid to go all in on the mix of nude wedges or mules with shorts. The shoes can be in any height you want them to, and the same goes for the shorts. The reason they go so well together lies in their versatility and ease of style.
With Skirts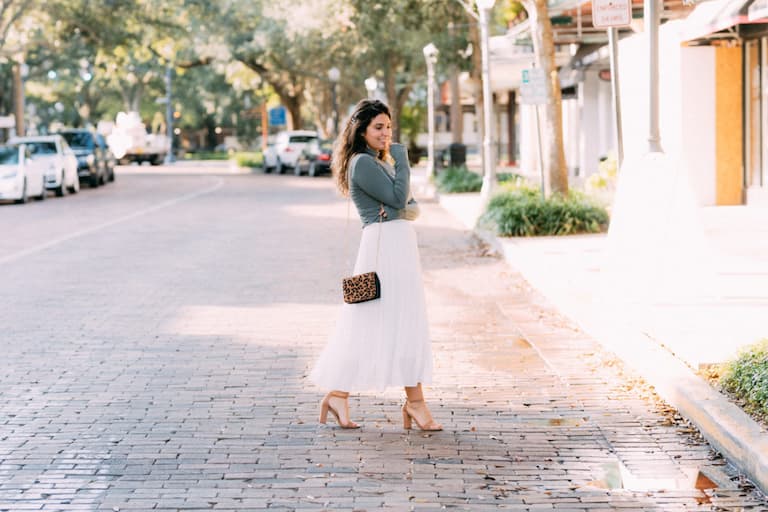 Smart skirts in striking colours, like navy, blue, or even red, and nude stilettos are a recipe for a remarkable business look in environments where you aren't limited by a strict formal dress code. For the fun and casual side, miniskirts with nude wedges or longer floaty skirts with cork heels are combinations you can place your bets on.