Steps to Choosing Wireless Transmitters: What Makes Elsema an Industry-Leading Manufacturer
From mining and warehouse operations to agriculture and residential security, wireless remote control systems are everywhere. In fact, wireless networking is proving itself to be more than just a cost-effective alternative to tethered controls. It's helping industries and individuals to become more efficient, more productive, and ultimately safer.
It's no surprise, however, that the most significant innovations in this technology are occurring in equipment designed to operate in the 433MHz frequency band. This license-free frequency is ideal for developing low-power devices (LPDs) like remote controls that have minimal energy requirements, but are still able to function across significant distances without experiencing extensive signal propagation problems.
There's one Australian company that's taken the lead in developing remote-controlled systems in this frequency range. And not only are their control systems known for their unconditional reliability, they even manufacture a variety of complete turnkey mechanical systems to use them with.
Reliable Wireless Controls for All Your ON/OFF needs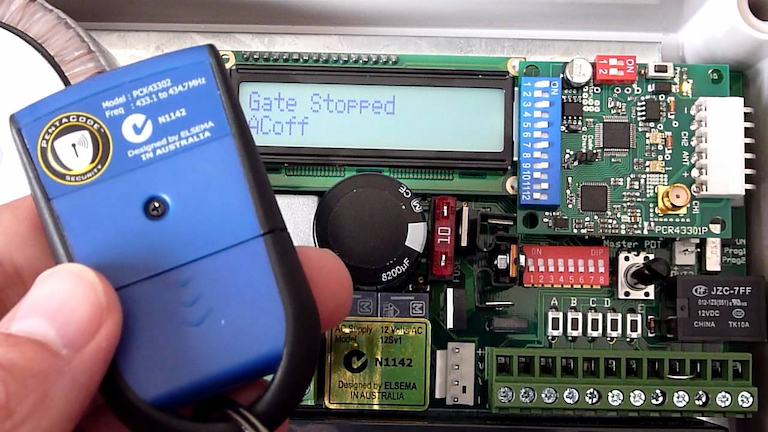 Since 1973, Elsema has been on the cutting edge of designing staged output remote control systems. They understand that simplicity works best, which is why they've expanded their premium range of remote-controlled wireless receivers and transmitters to include a line of LPD 433MHz units with microcontroller technology that completely eliminates the need for traditional dipswitch coding, or the possibility of code grabbing.
Their programmable, multi-channel GIGALINK® GLR and GLT lineups of wireless receivers are at the heart of this new technology. And with the ability to program up to four billion code combinations, they're the ideal choice for a complete range of applications, including:
Wireless traffic light and indicator activation systems;
Wireless warning/siren control systems;
Automatic controlled security gates and barrier systems;
Remote-activated pumping and agricultural systems; and,
Stop-start operation of a convey belt and mechanized transport systems.
The GIGALINK series offers the most versatile ON / OFF functionality that you can get in any domestic, commercial, or industrial use remote control system. Reliable simplicity is where GIGALINK receivers really stand out though, and you only have to look at their range of standard features to see just how reliable they are.
Wireless Receivers That are Built Around Simplicity
Every GIGALINK receiver is built around a solid core of features that allows them to do their job better than any other family of wireless remote control systems. With respective ranges of 500m on the GLR, and 1000m on the GLT, the standard array of GIGALINK wireless transmitter receiver features include:
1, 2, 4, and 8 relay channel outputs;
Crystal-controlled carrier frequency tolerance for higher reliability;
Better than 1µV sensitivity to activate relay switches;
Optional 7.5 – 28 V AC/DC, or 240VAC main supply power; and,
Programmable usage for an unlimited number of transmitters.
Dependable features are the basis of GIGALINK's patented wireless transmitter and receiver systems. And while GIGALINK receivers are designed to operate on a frequency of 433.920MHz, Elsema can also custom program them for special frequency (SF) ranges.
433.664MHz (SF2)
433.408MHz (SF3)
433.152MHz (SF4)
434.688MHz (SF5)
434.432MHz (SF6)
You also won't find a receiver that's simpler, more reliable, or easier to set up than a GIGALINK unit. And make no mistake: their powerful little transmitters are built to the same core of standards.
Durable Handheld Transmitters that Function Every Time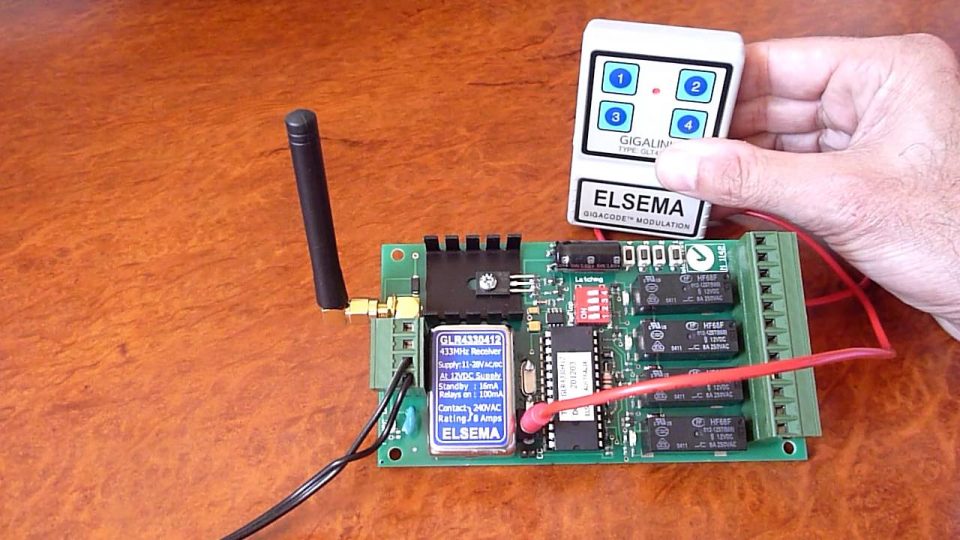 Durable, handheld 433MHz transmitters give GIGALINK's remote-controlled transmitter and receiver combinations the mobility they need to get the job done. With their ability to simultaneously activate multiple ON / OFF functions, these lightweight transmitters are ideal for environments where 1 or 2 people might otherwise need to perform simple, but time-consuming tasks to complete a single operation.
With an effective range of up to 500m depending on the location of the receiver, these multi-channel, no interference transmitters also feature:
1, 2, 3, 4, or 8 button operation;
The ability to be programmed to a corresponding number of receivers;
9V battery power with LED battery indicator;
Built-in loop antenna; and,
Continuous transmission.
GIGALINK's optimized flexibility also means that their transmitters can be custom programmed to match any of the special frequencies that could be used with a receiver. It's the peak of simplicity, and you only have to look at how GIGALINK's transmitter and receiver kit output ranges function to recognize just effective their patented simplicity can be.
Secure Wireless Outputs and Easy Programmability for Any Job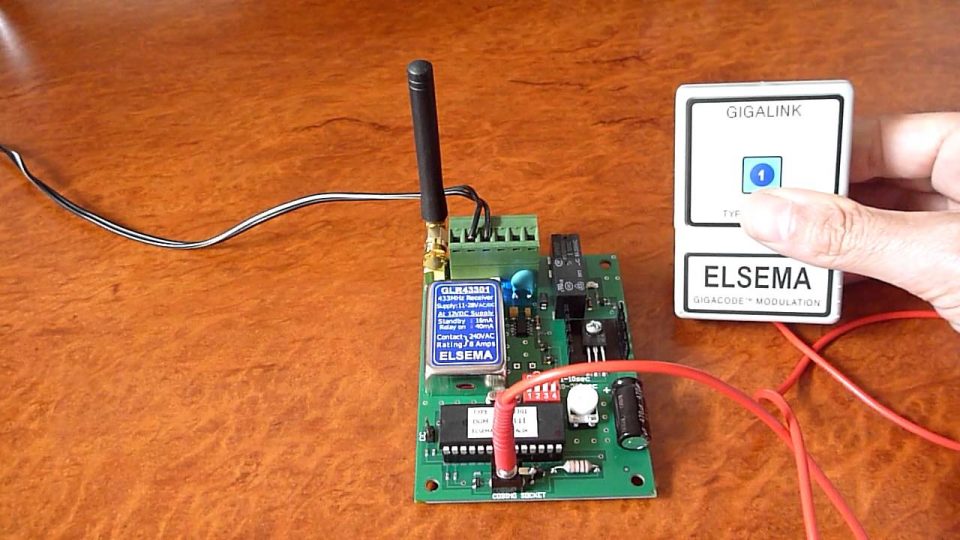 GIGALINK receivers feature 4 unique output modes that can be set up to function in either momentary or latching connections for any of the unit's relay channels.
GIGALINK Default. From the factory, the receiver's output is set to Momentary.
Momentary. This output setting stays switched on for as long as the button on the transmitter is pressed.
Latching. This output relay stays switched on until another button on the transmitter is pressed.
Security Latching. This output relay remains switched on until power to the receiver is turned off.
All of the above output connections can also be operated simultaneously, and transmitters can be programmed in seconds in only 5 quick steps.
1. Power up the receiver and ensure that all the mode dipswitches are off.
2. Short out the CC pins on the receiver board to set all the receiver channels to a random code.
3. Attach the transmitter to the receiver's coding socket to activate its programming mode.
4. Press any 2 channel buttons on the transmitter simultaneously for the transmitter to confirm that it's programming.
5. Disconnect the transmitter from the receiver.
That's all it takes, and you only need to repeat steps 3 – 5 to program as many additional transmitters as you need. You just want to be careful, however, to avoid accidentally shorting out the CC pins again to prevent deleting any previously programmed transmitters.
The Final Word
At the end of the day, a high-quality remote control system doesn't need to be costly or complicated. Reliable, easy-to-program transmitters and receivers are the answer for most activities, but they also need to be both secure and scalable enough to keep pace with requirements if they change.
From routine operations like driver-controlled gates at busy truck terminals, to emergency STOP circuits on factory assembly lines, Elsema's premium range of GIGALINK remote-controlled wireless receivers and transmitters are precisely what you need to keep all your ON / OFF functions working as expected. They're helping to bring affordable wireless efficiency to every task, without sacrificing simplicity.