Step Up Your Relaxation Game with Calming Essential Oils
Essential oils are the essence of plants – a gift from mother nature. Highly potent, unique aromatic compounds are hidden inside many plants, i.e. their roots, flowers, seeds, and bark, and these natural compounds are, in fact, the essential oils.
If you're wondering what are essential oils used for, you'll be surprised by their wide range of use. They are commonly used in the practice of aromatherapy (a holistic healing treatment that promotes health and well-being with the help of essential oils), in which they are inhaled in different ways.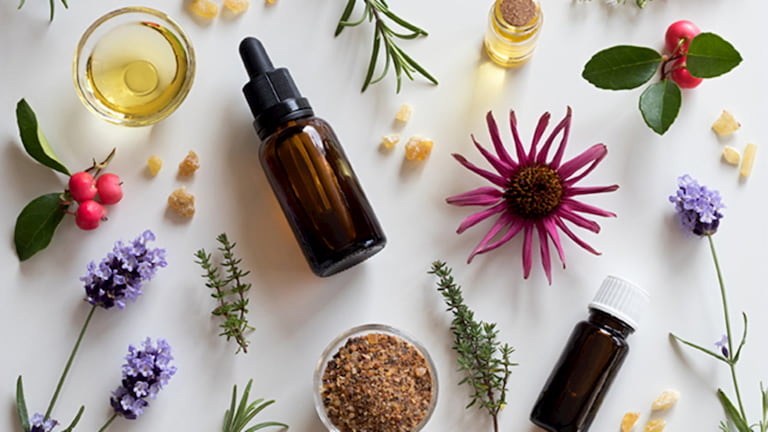 Inhaling these scents can stimulate areas of your limbic system – a part of your brain that plays a role in emotions, sense of smell, behaviours and long-term memory. The limbic system plays a role in controlling certain physiological functions too, including heart rate, blood pressure, and breathing. Following this, essential oils can help you deal with many issues, such as stress and anxiety, sleep and insomnia, headaches and migraines, inflammation, etc.
Calming Essential Oils
Lavender
With its floral scent, lavender promotes relaxation and sleep. It has been found that lavender restores the nervous system by lowering the heart rate and blood pressure. Lavender helps calm your nerves, appease restlessness and improve sleep quality and general well-being. For this reason, lavender is one of the most frequently used ingredients in almost every effective essential oil calming blend. It is also useful for all types of skin problems, including acne, boils, burns, sunburn, wounds, oily skin, psoriasis, insect bites, stings and lice.
Neroli
Neroli essential oil, with its delicately sweet scent, winds its way into the troubled heart. It can be used for a variety of ailments, including stress relief. Neroli has comforting effects and aside from anxiety, it releases feelings of anger, depression, irritability and worry. It has a relaxing effect on both soul and body. Thanks to its calming effects, this essential oil is also commonly used for insomnia.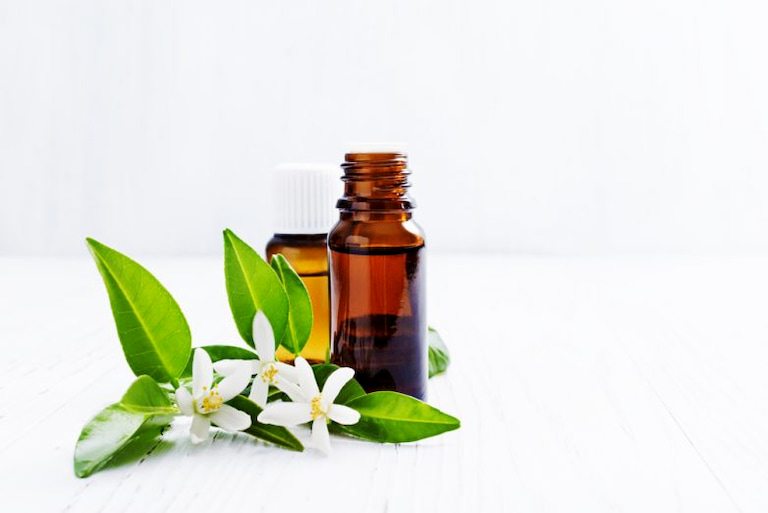 Rose
Rose essential oil is renowned for soothing emotions, balancing hormones and helping with headaches. Its sweet floral scent helps in reducing anxiety. This essential oil is helpful during times of sorrow, grief and heartache since it has antidepressant and sedative properties. It is also popular among women because it helps relieve mood swings around cycles and helps maintain regular menstrual cycles. Featuring antioxidant properties, this essential oil helps treat acne and improves complexion for an overall younger look.
Bergamot
This citrusy and sweet lovely scent balances hormones, calms emotions and supports the natural release of anxious feelings, tension and stress. Bergamot oil is also an effective antidepressant due to its mood-enhancing qualities (promoting feelings of joy, energy, and freshness). In addition, it improves blood circulation, stimulates hormonal secretions and digestive health, thus bringing balance to the body.
German Chamomile
If you love chamomile tea, you will probably appreciate the calming effects of chamomile essential oil too. It features a sweet hay fragranced scent that helps promote inner piece, reduces anxiety, and calms the nervous system. Chamomile essential oil is also helpful in reducing inflammation of the digestive tract, helps with allergies, and has other antibacterial properties.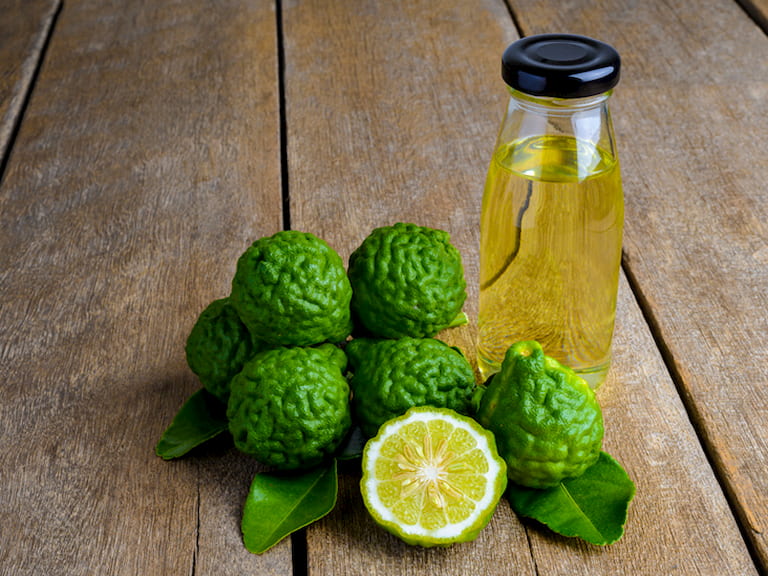 Melissa
Melissa essential oil, also known as lemon balm, has been used for centuries thanks to its medicinal and uplifting qualities. For this reason, it has been given the name "elixir of life". This is a highly effective essential oil that soothes the mind, alleviates anxiety, acts as an antidepressant and releases feelings of sadness and worry. Besides, it also has antiviral properties (reducing fever, nausea, and headache) and uplifting properties, which makes it a great immune booster.
Ylang Ylang
This deep floral aroma is quite sedating and helps with feelings of depression, irritation and anger. Ylang Ylang is known for its soothing and comforting qualities as it has a calming effect on the nervous system and an uplifting effect on your mood. It may also soften the skin and generally improve skin appearance. Therefore, it is not strange that this essential oil is frequently found in cosmetics and promises a range of beauty benefits, including treating combination skin and promoting hair growth.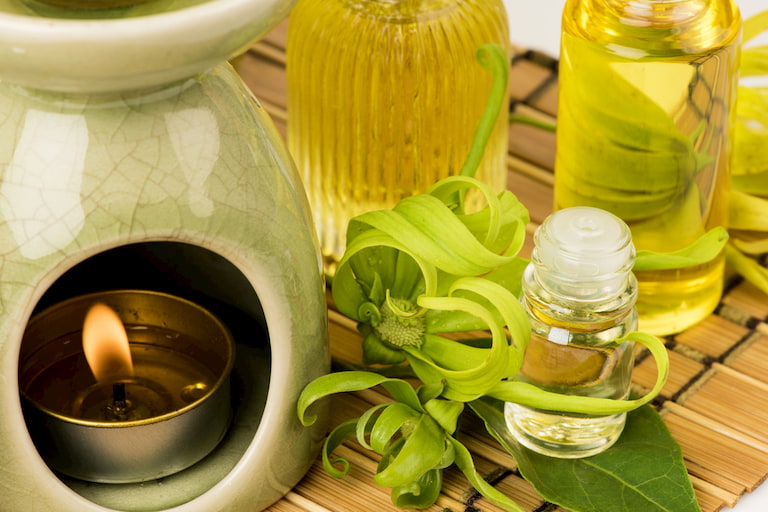 How to Blend Essential Oils
Almost all essential oils will need to be mixed with a carrier oil. Typically, an essential oil calming blend will contain 3% (3 drops of essential oil into each 5ml of carrier oil). If you have sensitive skin, or just want a milder dose, create a 1% blend (1 drop of essential oil into 5ml of carrier oil). However, you should be especially careful when mixing essential oils for children, as they can be far more sensitive to these oils and smells than adults.
When it comes to creating a calming essential oil blend, you have 2 options – to buy an already made blend or DIY. Whatever option you choose, here are some effective combinations of essential oils:
Lavender
Ylang Ylang
Sweet Orange
Frankincense
Lavender
Ylang Ylang
Geranium
Cedarwood
Lavender
Chamomile
Ylang Ylang
Lavender
Bergamot
Geranium
Bergamot
Ylang Ylang
Patchouli