Beyond Storage & Seating: Add Interest with a Stylish Ottoman
Ottomans are versatile pieces of furniture that can serve a variety of purposes from acting as extra seating, space-saving storage, a coffee table or simply for kicking your feet up and relaxing. They come in different colours, sizes and shapes, so there can be one for each room.
Anyway, don't think of your ottoman as a functional addition only. Consider it as an accent piece that can provide a focal point to the room and a splash of colour and texture. Or in other words, it can add interest – something that most modern spaces lack. An ottoman can beautifully elevate your home, but only if it's chosen and incorporated properly.
Choosing the Right Ottoman for Your Home
Whenever you have to choose a new element for your home, purchasing designer furniture can be a step that can improve your life. Designer furniture is more durable and has a timeless design that will never go out of style, so you probably won't have to worry about replacing the pieces soon. However, before you decide what kind of ottoman will fit best in your space, you need to consider a couple of things.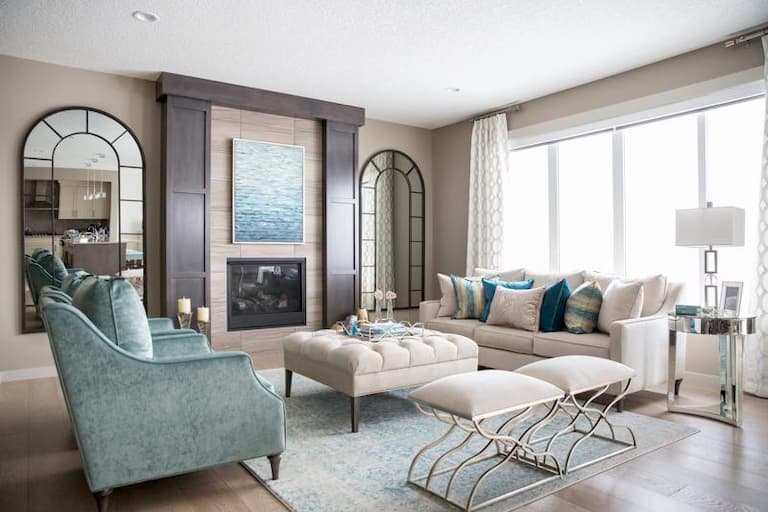 Colour
A well-chosen ottoman can add colour to a monotonous setting. Instead of bringing in a bold sofa or other bulky furniture pieces, an ottoman is perfect for adding a small accent of colour. For instance, if you have a living room decorated in all white, you can simply get a gorgeous blue ottoman bench, place it under a window and create a beautiful reading nook in a corner which will stand out and make the space more vibrant. A blue ottoman pairs especially well with a neutral surrounding where black or white dominates. Plus, the serenity of blue can make such an ottoman at a perfect addition for the bedroom.
On the other hand, if the room is dominated by bold colours such as red, orange or yellow, choosing an ottoman in a neutral and subdued hue such as a cream, grey or navy ottoman, will give it a more balanced look. The key to creating a beautiful and inviting interior is to match or contrast the ottoman with your current furniture.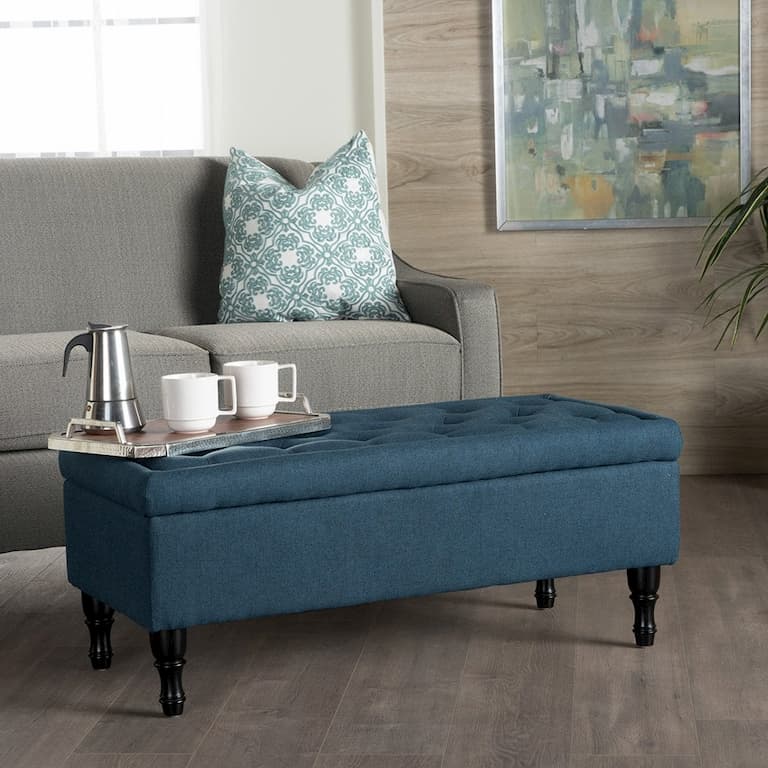 Material
When it comes to texture, ottomans can be made from different materials. Some ottomans are made from polypropylene and polyester, and thus have a smooth design. Others are made of more exquisite materials such as leather or velvet and have a shiny, dramatic look. If you want to make a unique statement, you can also find an ottoman made of denim, tweed or another type of fabric that isn't commonly used for furniture. However, a simple wooden ottoman may also blend into your interior beautifully.
Functionality
The appeal of modern ottomans is that they are multifunctional. In many living rooms, the ottoman can be used as a centrepiece for placing books, magazines, drink trays and other decorative items – thus, essentially becoming a softened alternative to a traditional coffee table. It can be also used as additional seating to accompany a sofa or armchair for living room. If that's the case, make sure to pick a matching design.
Ottomans can be used, inside and outside. If you're looking for an outdoor ottoman, pick one made of weather-friendly wood such as teak or quick-drying fabric. When grouped in two's or threes, ottomans can be perfect for entertaining large groups of people outside. Different shapes and geometric configurations make ottomans fun and visually appealing. Consider ottomans that form a circle when brought together.
Ottomans can also be children-friendly if you choose low-maintenance fabrics like denim or tweed and can be easily used for a flat surface for children to play on top while sitting on the floor. They are also game-friendly because larger ottomans can be used for playing board games with friends without disturbing the main dining table.
If you live in a tiny apartment, consider getting one with storage and a removable top to store small items, like toys, magazines, game controllers, pet toys or remote controls. There are ottomans that have casters or rollers beneath them so you can tuck them under the table and pull out when needed which makes them perfect for extra seating.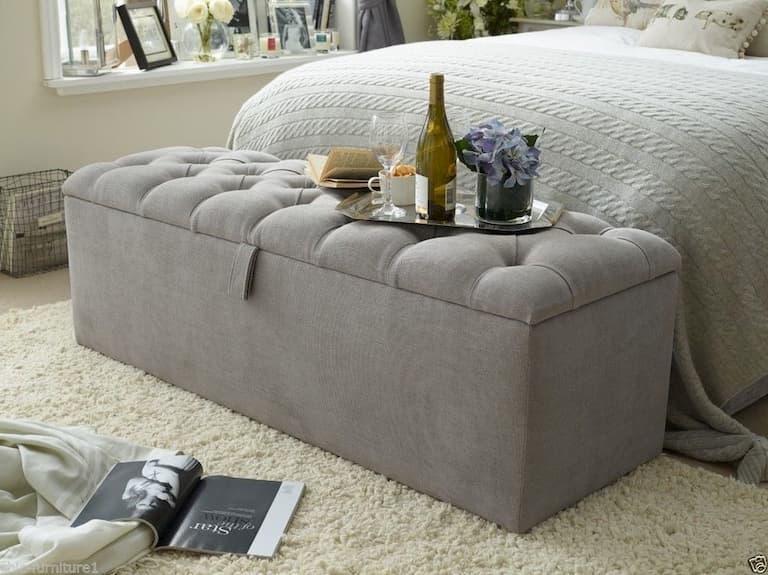 Size
If you want everything to work in harmony, choose an ottoman that matches the scale of the rest of your furniture and space. If you are trying to conserve space, a small ottoman stool is a perfect solution. If you want, on the other hand, to create a dramatic accent for your living room and use the ottoman to define your space, you should consider choosing an ottoman bench.
If the idea of using ottomans is to prop up your feet and relax, the ottoman's height should match the height of the sofa or armchair you're pairing it with. If the ottoman is too high, your legs may be at an uncomfortable angle which can cause pain in the hips and back. To get the correct height for the ottoman, before purchasing it, measure the height of the sofa or armchair from the floor to the top its cushion. If, on the other hand, you have knee problems, propping your legs at the same height could be painful as your knees would lay straight. That is why it is best if you choose an ottoman that is 5cm lower, so your knees bend slightly.