Creating a Positive Learning Environment: Simple Steps to Implement Ergonomics in the Classroom
As a teacher, home-schooling parent or school administrator you are probably wondering what is it that you can do to create a classroom that is beneficial for students for their physical development and overall health. The educational process is not just for learning lessons, this process is essential for gaining healthy habits and social skills that are some of the most important survival skills any child can obtain. So to provide them with a better chance to learn their subjects but also socialize and be healthy while doing so, you need to implement ergonomics in the classroom. And in the next couple of paragraphs, we're going to discuss exactly that.
Ergonomic Chair for Students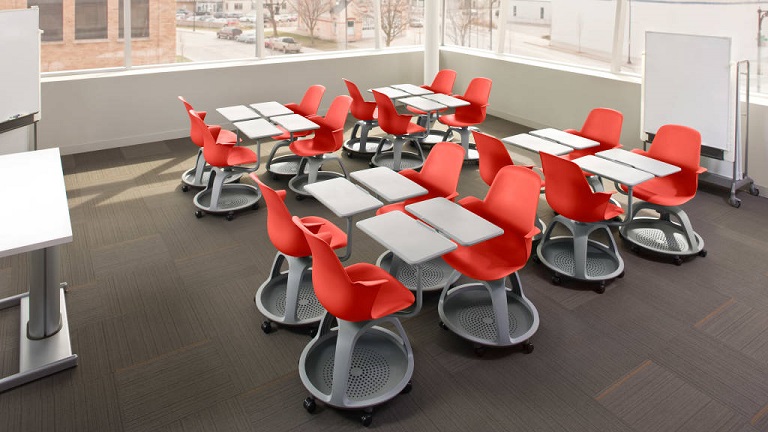 Students, especially younger children often crouch, crouch, twist and turn during class that can lead to creating a bad habit of sitting in an improper position for hours. In the long run, this can become a bigger health issue. Luckily, ergonomic classroom chairs, such as scoop rocker chairs, are the perfect seating option for young hyperactive children that concentrate best when they're moving and grooving! 
Their sturdy plastic construction ensures these rockers are in a comfortable sitting position and easy to clean while their easily stackable design makes storing them a breeze. There are also other available options for student chairs such as ergo stool, round ottoman, bouncing ball, "en floor chair" and more. The ideal flexible seating classroom would have a few of all types of classroom chairs and seats for different classes and playtime activities. Not only because each child has a different temper, wants and needs but because being able to switch around is fun and beneficial for blood circulation and proper posture.
Dedicated to the future of intelligent and innovative seating solutions, redefining the ways in which classroom furnishings can be integrated into the active learning experience. Ergonomic classroom furniture is the future, soft seating options, adaptable workstations to find the ideal solution for your educational setting.
Ergonomic Study Station for Children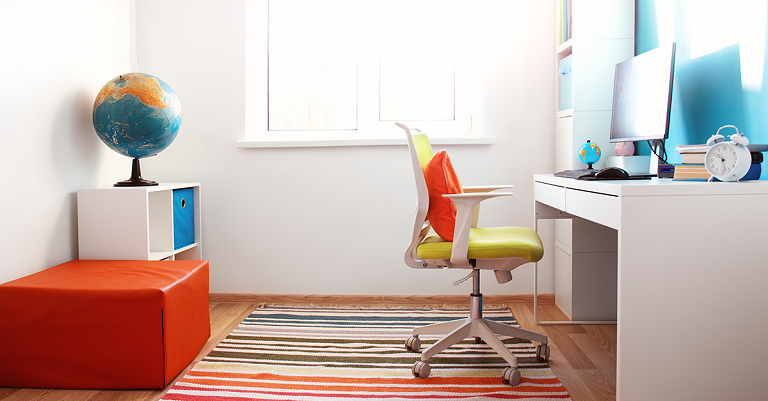 For robust health and proper development of your student's physical and mental abilities, it is imperative to create a healthy and comfortable study environment. Students need to be able to do their homework, spend creative time drawing or playing without being distracted by uncomfortable physical sensations or by the lack of space at their stationery. In today's fast-paced modern society, many children already experience challenges concentrating so it is no wonder that it is sometimes difficult for them to stay concentrated for long periods in the classroom or at home. These are just a couple of reasons why it is pivotal to acquire a kids ergonomic study table.
The height of this learning desk should be adjustable to keep up with your fast-growing students. There are also adjustable tables that have rotating knobs on the table legs giving you the ability to move the table up or down, and then lock the knob to keep it stable in the regulated position without shaking and tilting. Be sure that each kid has their table positioned in a way where it enables a natural position of their body, especially their back, neck, wrists and feet. If they're drawing, writing or using the laptop, make sure they have supporting pads available for their hands and an additional pillow to keep their back straight or to sit on if necessary.

Stretch-Time is Essential for Students' Health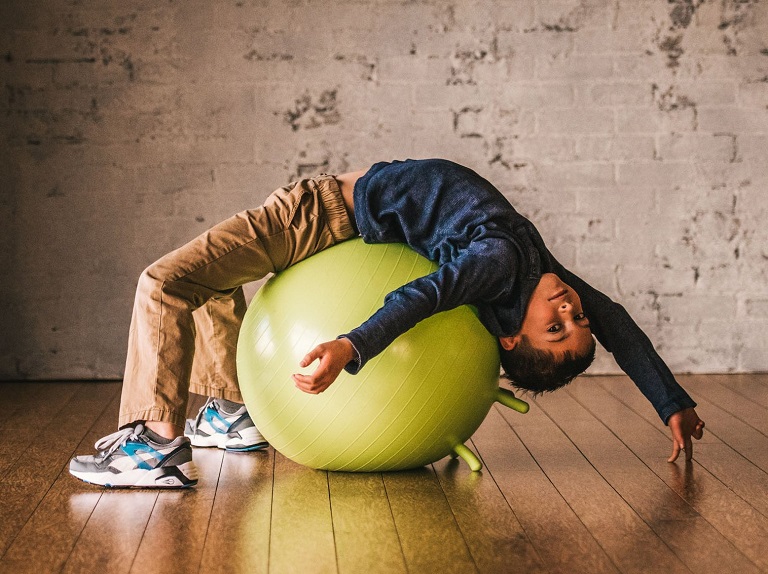 Many studies are showing that taking small breaks to move around your body is beneficial to your concentration, as more oxygen reaches your brain and boosts your energy. This is why many classrooms and teachers like to implement stretching sessions where they teach children how to warm up their bodies properly. Also, this is a great way to introduce new healthy habits to your students which they can take with them.
Simple stretches should be a regular part of kids' physical activity routine. Before or after a sports practice or a long bike ride, and before or after class encourage them to try some easy stretches. Stretching helps in calming the mind, refreshing blood flow, lowering anxiety, and increasing energy levels for adults and kids alike. It also helps children improve their joint stability and mobility, prevents injuries, muscle tension, fatigue and improves muscular coordination. And in these times when everyone is spending so much time in front of a computer in one position for a prolonged time, it's important to exercise as well as stretch muscles.
Inspiring Classroom – Happy Children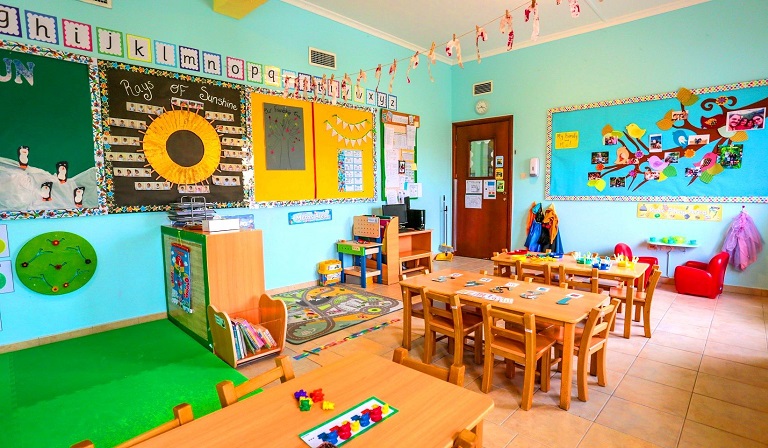 Part of children's well-being is, of course, finding a way to keep them entertained. Children are curious, natural learners and lovers of new information but they also require stimulation to engage with their teacher. One way to do this is to create an inspiring and colourful classroom with wallpaper , or add their drawings on the wall, put up some inspiring quotes, etc. Also, make sure there's plenty of sunshine coming in and fresh air circulating in the classroom at all times. 
At the end of the day, you as a teacher, school administrator or home-schooling parent are doing your best and remember that it's not about perfection but effort. And children happen to be wonderful at noticing your good intention and appreciating your effort. What all children need is love, attention and someone who will hear them out and teach them new things, feed their curiosity and care for their well-being.