Steps to Creating a Perfect Open Plan Office
Within the last few years, open plan offices have become increasingly widespread in the corporate world. From small and medium businesses to multi-million dollar corporations, this design is now the "new way of working" and planning it right is essential for reaping the benefits and minimising the disadvantages. The main benefits of these offices are their cost-effectiveness and the fact that they facilitate collaboration and the exchange of ideas. Co-workers are able to communicate freely and break down barriers which results in happier and more productive atmosphere. Designing an open plan office is a challenge as it needs to be a perfect blend of comfort, openness and privacy. Here are a few tips that could be of great help in creating an open working environment every employee would enjoy.
In order to make the most out of the newly created dynamic atmosphere such office can provide, it is important to ensure that the health and comfort of the employees are considered a priority. The open office plan is trendy, but what's even trendier is ergonomics. This is why it's smart to invest in commercial furniture of the ergonomic variety. What this means is investing in ergonomic chairs that offer adjustable lumbar support. The benefits are countless as these chairs can reduce MSDs (musculoskeletal disorders), improve productivity from 5 to 50%, and reduce stress.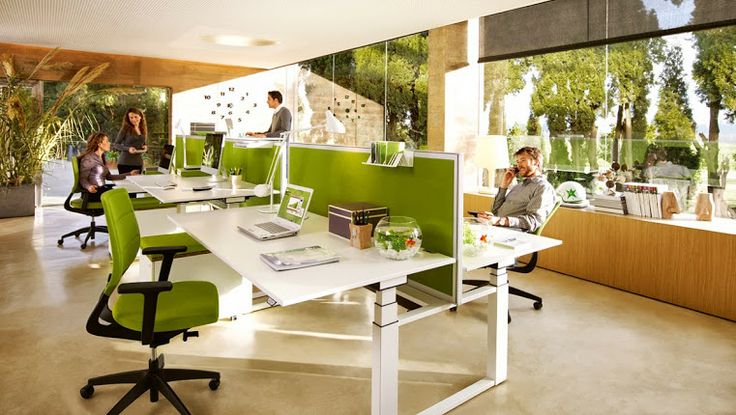 Furthermore, consider the employees' need for privacy and the desire to individualize their work environment. One way to do this is by setting up screening. They come in different types, such as freestanding screening, desk mounted, full to floor, fly-by or wrap around screening. This ensures privacy without feeling too closed off from the team. Another way to keep privacy is by reducing the noise with soft furnishings like two-seater lounges, armchairs and thick floor-length curtains as they can decrease some of the disruptive sounds of the office. And if you want to bring life into the office, you can create separate the space with plants. Not only will this liven things up, but it will also improve the air quality of the office.
Apart from implementing screening, there's another way to ensure that employees have the option to work on something in complete silence. This can be achieved by having a designated quiet space. This space can be used for holding a meeting, conversation tête-à-tête, taking an important phone call or simply for the necessity of having a quiet alone time. Such an intimate space can be achieved by designing a glass office, a booth with high walls or a booth lounge with high back and sides.
Last but not least, an aspect you should really consider is creating a space for taking breaks where employees can recharge their batteries, socialise and simply feel good. You can choose comfortable sofas, armchairs, coffee tables or some other commercial furniture that can add to the "positive vibes only" atmosphere. The more you ensure that the different needs of the employees are met, the better the productivity will be. A happy employee is a productive employee.