Newborn Baby Carriers: Keep Your Little One Close to You
Newborns bring joy and hope to our lives and we want to make everything right from the start. One of the first things every parent wishes to know is how to calm a crying baby, but there are also many other challenges to overcome and get used to a life with a newborn. Most babies like to be snuggled up next to you, but holding them in your hands is not always possible, especially when you have some other tasks to finish around the house or take care of other children as well.
Newborn baby carriers are a big benefit to parents and caretakers. These soft padded carriers allow you to snuggle your baby without having your hands tied. There are many different ways to position, fasten and adjust and place your little one in a baby carrier, keeping him or her safe and sound all the time.
Are Baby Carriers Safe for Newborns?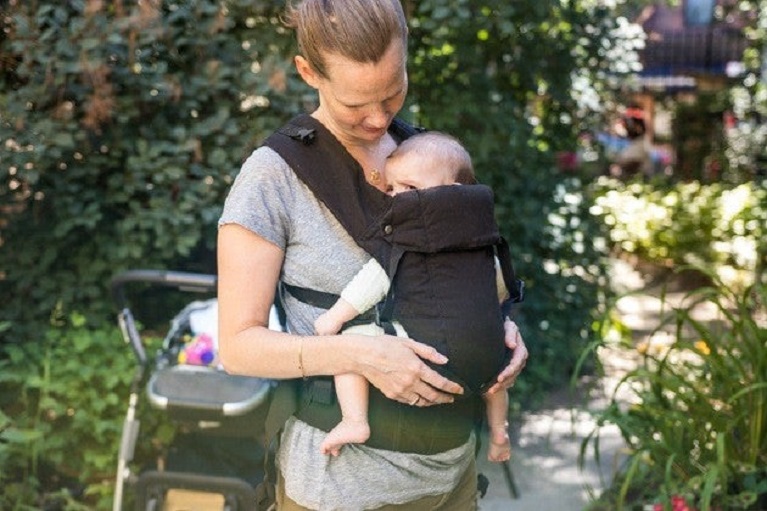 Baby carriers are not a new phenomenon, but in fact, they have been used for centuries in different cultures around the world. Many parents say it's a practical solution, regardless of your lifestyle, and some choose to carry their infants from the fourth trimester to toddler years.
Until they're 3 to 6 months old and have good neck and head control, babies should be worn only on the front, facing inward. After that, you can try other positions until you find the perfect one for both of you. Moving your baby to face outwards gives them more stimulation and entertainment at the same time.
How to Choose a Baby Carrier?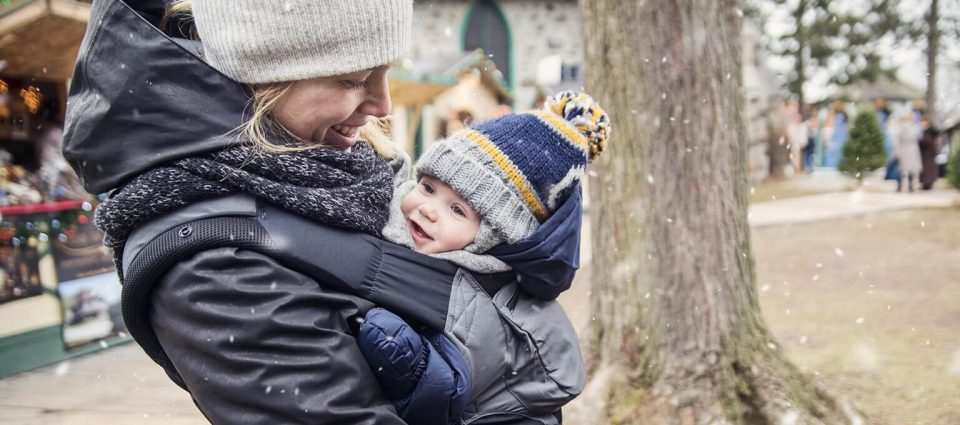 These days there are many baby carriers on the market and it can get overwhelming when you need to choose one. But you don't have to worry much as you can't necessarily go wrong. You can find a variety of newborn baby carriers that are technically safe, and selecting the best one usually comes down to your budget, lifestyle, body and your baby, of course.
Make sure the carrier is appropriate to their age and weight by checking the manufacturer's recommendations. In addition to getting a safe baby carrier, it's crucial to follow all instructions for usage. It's important to choose a carrier for a baby that allows your baby's hips and knees to sit in an ergonomic M position to promote healthy development. The carrier should allow your little on to rest in a natural, so-called frog position, with hips and knees bent, knees higher than bum, thighs supported and spine naturally curved.
Also, you may want to look for a carrier for a newborn baby that's easy to clean, which will make the entire experience more convenient.
How to Use a Baby Carrier?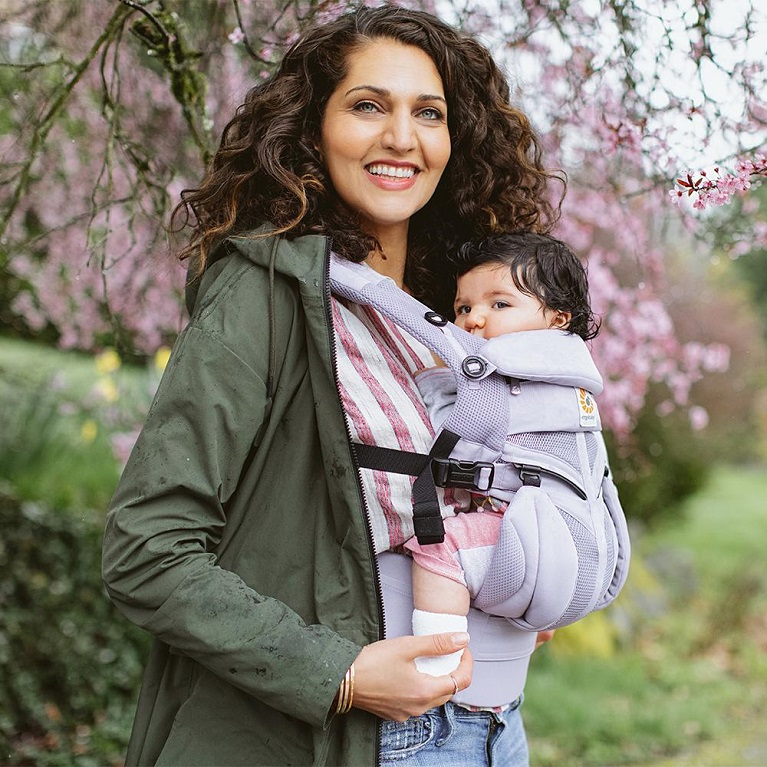 Once you've chosen your baby carrier, it's time to try it on. Tighten the straps before you put your baby in the carrier and then adjust them until you get a snug, secure fit. With a little practice, you're most likely to be able to adjust all straps firmly with one hand. Always check that the straps are secure and show no signs of damage and try to make this a habit before putting your baby in each time.
Make sure to wear comfortable shoes that are easy to walk in and look out for uneven surfaces, so you don't trip. If you're cooking don't carry your baby in a front-wearing carrier to avoid any risk of burning and avoid holding hot drinks and food or doing anything else that can be harmful.
Holding on to something stable every time you bend down or lean forward while wearing the carrier is a good idea and make sure you support your baby while doing it, even if they're strapped in. Also, take care when putting on and taking off the carriers as this is when falls are possible.
Benefits of Using a Baby Carrier
Hands-Free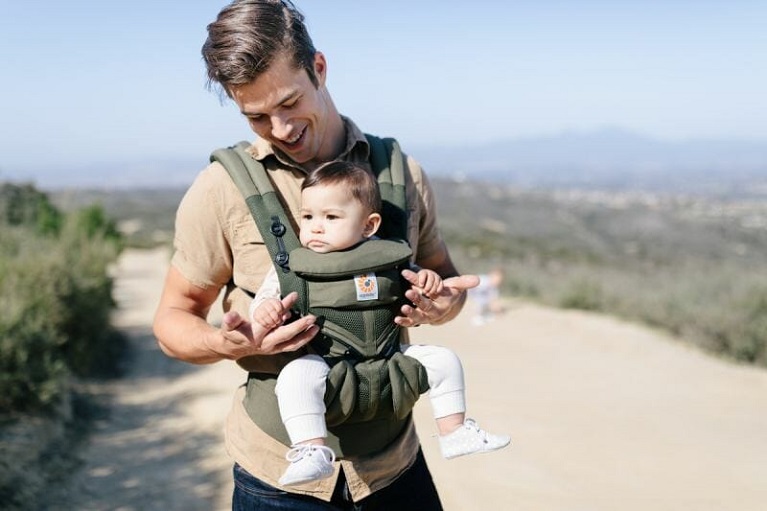 Babywearing is a win-win situation. Your baby gets all the cuddles and closeness, while you get both your hands free to get stuff done, work out, take care of their siblings and more.
Breastfeeding On-the-Go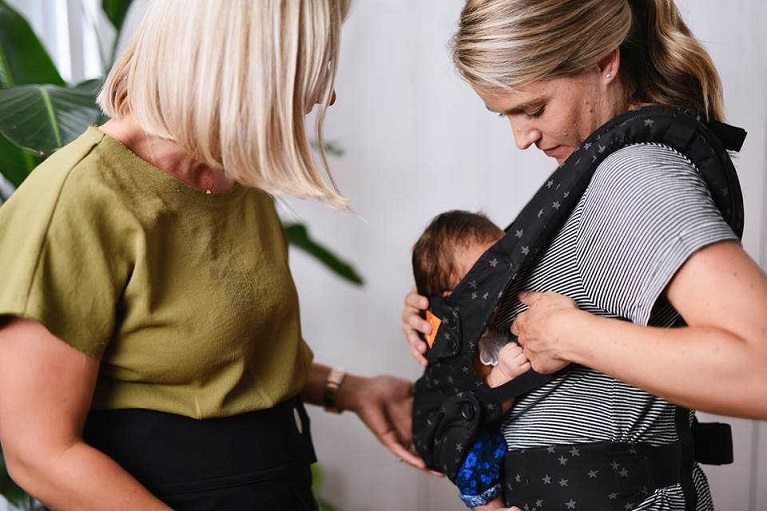 Breastfeeding your baby in a carrier is possible, though it may take a certain knack and practice. Check manufacturer's instructions as some may suggest not to breastfeed in their carriers. However, if your carrier allows breastfeeding your baby, make sure you check the baby can breathe easily and there are no trip hazards for you and support your baby all the time.
You can do this in a laidback position or vertically, however, you'll have to use your hands, but it gives you more freedom to move and frees up one hand to help you get your latch stored. After the feeding is done, remember to change your baby's position, so their head is facing up and is clear of the carrier and your body.
Alternative to a Stroller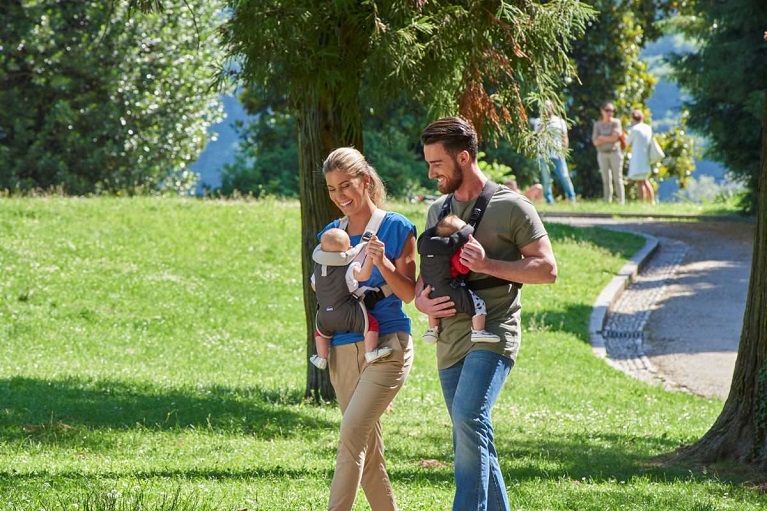 If you're working with a small space at home or in your car, a baby carrier can be a great alternative to a stroller. And not only at home or when on the road, but anywhere where taking a stroller doesn't make sense.
Convenient Seat
A baby carrier can turn into a convenient seat for your baby whenever you're out to eat or somewhere else where a high chair may not be available.
Allows for Exercise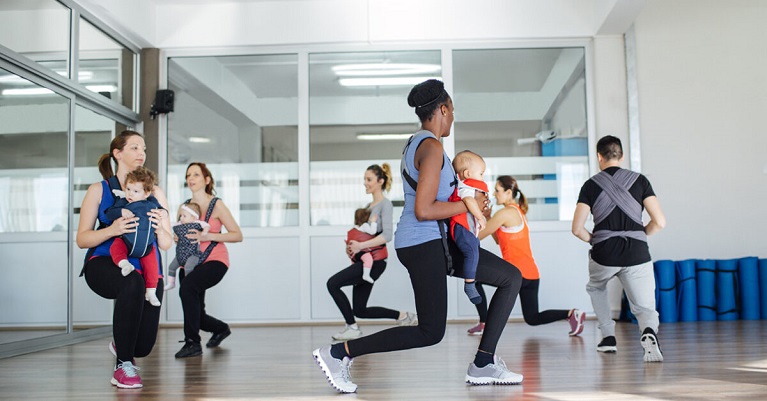 Babywearing allows you to do some exercises, like walking, low impact aerobics, or else, while keeping your baby warm and close. As they grow up, you replace the baby carrier with a baby bike seat and take them on a bike ride with you until they're ready for their first bicycle.